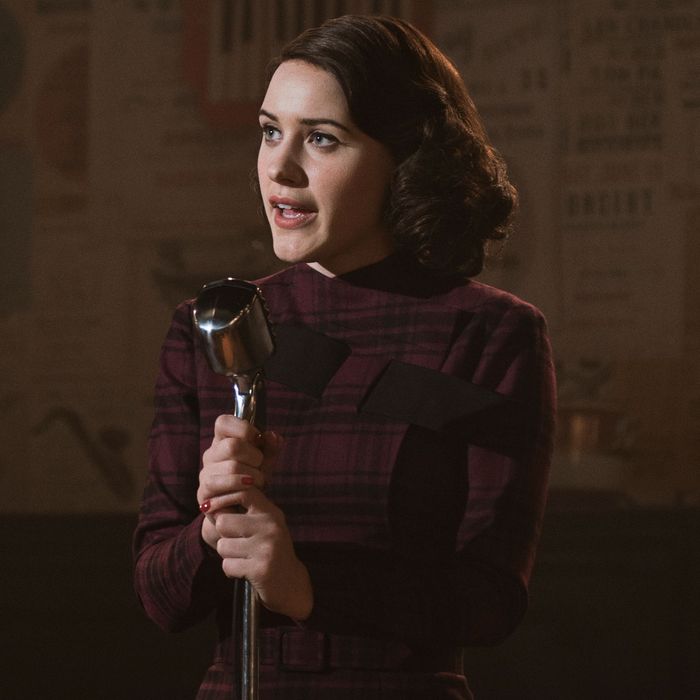 Rachel Brosnahan as Miriam Maisel.
Photo: Nicole Rivelli/Amazon Prime Video
Throughout the run of Gilmore Girls, Lorelai Gilmore made a determined effort to escape the suffocating expectations set by her parents and the wealthy society into which she was born.
At first, Miriam Maisel of The Marvelous Mrs. Maisel, the new Amazon series created, like Gilmore Girls, by Amy Sherman-Palladino, appears to be the anti-Lorelai. A young wife and mother with an Upper West Side apartment that stretches for days and happens to be located a floor away from her parents' place, Miriam (Rachel Brosnahan) has totally bought into the role of happy, well-coiffed homemaker. She supports her husband's side hustle as a stand-up comic. She considers it a triumph when the rabbi agrees to come to her Yom Kippur breakfast. She sees her mom and dad (Marin Hinkle and Tony Shalhoub), her go-to babysitters, at least once a day. Miriam, nicknamed Midge, even follows the same nightly routine as her mother: waiting until her husband is asleep to remove all her makeup, then reapplying it in the wee hours before he wakes up so he'll never see her face minus its extra coat of paint.
None of this suggests that Miriam will be anything close to a plucky underdog worth rooting for, but the trajectory of Mrs. Maisel changes, and really kick-starts the show into gear, toward the end of the pilot, when her husband, Joel (Michael Zegen), announces he's leaving her. That sends Midge — loosely based on Joan Rivers — straight to the Gaslight, the Greenwich Village club where Joel performs and where, fueled by alcohol, she does her own off-the-cuff, raunchy set that confirms that she's the one who's actually got comedy chops.
That moment, and every subsequent moment when Miriam throws caution to the wind while holding a mic in her hand, is when The Marvelous Mrs. Maisel really comes to life. Brosnahan, best known as the victimized Rachel in House of Cards, ignites every fire inside as Miriam, a woman who may value domestic life but is, at heart, an opinionated whirlwind who's finally liberated when she's running her mouth off in front of a roomful of New Yorkers. Once she makes up her mind to start pursuing stand-up herself, with an assist from the wise-ass manager at the Gaslight, Susie (Sherman-Palladino regular Alex Borstein), Miriam begins the transformation from traditional lady into outspoken rebel. David Bowie's "Rebel, Rebel" even plays over the closing credits of the second episode. While the song is not period-appropriate — the show is set in 1958 — it reflects the currents Miriam is starting to tap into, as well as the company she's keeping. (She strikes up a friendship with a true comedy rebel of the time, Lenny Bruce, played by Luke Kirby.)
The rhythms and story beats in this series will be recognizable to anyone who's ever watched a Sherman-Palladino project. (Like Gilmore Girls, this one is co-produced with Sherman-Palladino's husband, Daniel Palladino, who also writes and directs the third of the four episodes provided to critics.) Conversations unfold at a pace best described as rapid-fire. In the wake of her separation and increasing interest in hitting clubs late at night, Miriam starts to engage in regular combustible arguments with her parents. Which is to say, she turns into a Lorelai fairly quickly.
Gilmore Girls also was openly reverent of old movies, both in its plot — Rory and Lorelai were both deep admirers of bygone cinema — and in its spirit, which had a wisenheimer–meets–Frank Capra sensibility. As a period piece, The Marvelous Mrs. Maisel embraces that type of sensibility even more fully, but with a heightened combination of refinement and Manhattan moxie. The costumes, designed by Donna Zakowska, are so sharp and impeccably tailored, they could easily give anything on Mad Men a run for its fit-and-flare money. (Don't even get me started on the sculptured lines in this show's many wonderful hats.) The characters, meanwhile, are nearly all salty and eccentric in a Turner Classic Movies sorta way, even though many of them occasionally speak in a language that runs bluer than anything you'd ever see on that cable network.
The blandest figure on the show is probably Joel, in part because his behavior exists mainly as a catalyst for Midge's new career. Joel can't help but seem blah when held up next to his far more spirited and interesting wife, and that's by narrative design.
"Did you ever think you were supposed to be something and then realized that you're not?" Joel asks, referring to his stand-up, moments after telling Midge he's leaving her.
"Yes," she responds. "Married."
"That's good," he says. "You're good."
She is good. Her mind works faster than his does, and her tongue is more than capable of keeping up. Women, then and now, were not considered naturals when it comes to stand-up. So every time Midge fights her way into that scene, the show's heart really starts pumping. But every time The Marvelous Mrs. Maisel delves into the Joel-Midge relationship or the dynamics within the two families, it loses a bit of its pop.
It's much, much more exciting when Midge is at the center of the frame, all by herself, or sharing it with Susie, whom Borstein imbues with charming sarcasm and occasional peeks of vulnerability. "I was Carol," Susie says, describing a phone call with Midge's mom, who is so intimidating she makes Susie forget her own name. "And then I was Donna or some shit, and then I was Mrs. Miniver for, like, a full three minutes."
It's a line that makes you laugh out loud. Which is what The Marvelous Mrs. Maisel succeeds in doing more than often enough to make it worthy of watching.