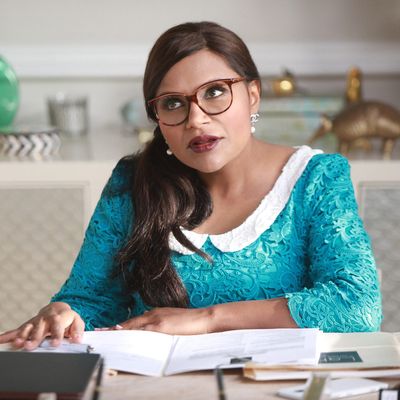 Mindy Kaling as Mindy Lahiri in the series finale of
The Mindy Project.
Photo: Jordin Althaus/NBC Universal Television/Hulu
"That's the funny thing about people changing," Mindy Lahiri says as The Mindy Project winds down for good. "It happens so slowly." Our heroine stands at a wedding, thinking about a dude, same as six years ago. Only nothing's the same. Not the characters, or the world outside, where what's funny about change is how fast it happens, not how slow. Where you can be the first at something and dated before you know it.
The first Indian-American to run a show, Kaling has to know the cruelty of the speed of change more than most. But in classic Indian-American fashion, she's adept at responding to it, "an A student," as she once told NPR. "I'm addicted to feedback, and I want to please people." Today, the teachers are different than they once were; now they live on Twitter, where the only thing you can take for granted about the primacy of white dudes is that someone will challenge it. Whereas Kaling came of age when they were prime, the only woman writer on staff at The Office, a 24-year-old in 2004. For years after, she seemed uneasy with the costs of being the only one, even as her character on The Mindy Project reveled in that position. In that same NPR interview, Kaling pointed out the inefficiencies for "others" in the business, calling the role "insidious." That is, "to be spending more of your time reflecting and talking … in smart ways about your otherness, rather than doing the hard work of your job."
The Mindy Project in turn often seemed to value the benefits of life as a white man over the costs of being other — whether by way of Lahiri's dating life, which skewed exclusively white male; the writing (or writing out) of other women on the show; an absence of people of color. These choices got heat, and over the show's six-season run, they changed, taking into account the new school of thought, in which "men aren't funny," to quote Lindy West's framing of the outing of Louis C.K.'s abuse inside the arc of the end of man. A world once defined by The Office, now anchored by Insecure and Atlanta.
In the penultimate season of TMP, Mindy Lahiri explicitly changes her mind in keeping with those bigger changes, waking one morning as a white man, a surreal setup that isn't so out there for a character once described by a colleague as so much like a white guy, he forgets she isn't one. In her white male form, Lahiri walks through the world with ease (partly due to stronger core muscles). Sexual pleasure comes swiftly; work camaraderie without asking; a job, too, arrives in her lap, one previously denied her for reasons based on gender. Only the job should rightly go to Irene Lee, a talented nerd of a doctor whose "otherness" turned Lahiri off back when that was her lot too. Lest the white dudes in charge think "we're in some little Asian clique," Lahiri says in an early scene, she wards off Lee's chumminess in the hospital lobby, ahead of interviews. Penance comes to her fictional self sure as a male orgasm: turned off by the ease of success for a white man, Lahiri argues that Lee should get the job. When she finally wakes in her original body, she is changed, happy to be "interesting" (a euphemism any second-gen person might recognize; "what an … interesting name," the checker at a Vermont store once said to my license, her face scrunched as if smelling something bad). "I like being an Indian woman," Lahiri concludes.
It's funny about otherness: It traps you whether you like it or not. Kaling was an other to fellow others before Lahiri acknowledged that otherness onscreen. Her show's finale fell on the night of the red-carpet premiere for The Problem With Apu, a documentary built on the anger of Kaling's co-others toward the Indian power player before her: a cartoon voiced by a white guy. That's Apu from The Simpsons, the head-bobbing, bug-eyed gas station clerk so parodic his surname feels too long to type. The comic Hari Kondabolu created the doc out of a bit of his that went viral after first airing on TV a few days before the The Mindy Project premiere. Kaling inspired it, as did Apu. "There's now enough Indian people where I don't need to like you just because you're Indian," Kondabolu says in the bit, Kaling's face on screen beside him. "Because growing up, I had no choice but to like this." Cut to Apu.
Kaling led the charge away from Apu partly by performing white maleness well enough to claim its authority, setting her in the trap of the "first." Pioneers inevitably disappoint: not as radical as their followers, or else they couldn't have cleared the path. Kaling's love of feedback — and social media — helps her keep up. Lahiri's princessy apartment now holds paintings by Maria Qamar, a.k.a. Hatecopy, the Pakistani Canadian artist whose work young brown people know by sight. Self-aware nods written into the script reflect the present and future without totally rewriting the past. "The universe sure does love white men," Lahiri says in an episode in season five, and after a beat, as if describing someone else, "Who am I kidding? So do I." In the same season, she frets she's not Indian enough. As her brother, Rishi, played by Utkarsh Ambudkar (whose hatred of Apu vibrates in the Kondabolu doc), puts it in the "coconut" episode: "You think you're white, and I think I'm black. We skipped over all that steez."
It's easy to confuse Kaling for Lahiri, their evolutions for each other's, though Kaling's gone on record asking we don't. Lahiri's materialism links to the bling of Kaling's Instagram account, which carries the wink of her Office-era blog, Things I Bought That I Love. Her mockery in 2014 of the use of the word brave to describe her body echoes Lahiri's mix of food and skinny jokes, a blend of self-love and deprecation debuted by Kelly Kapoor, Kaling's character on The Office. I found conflation in the desi women I polled ahead of the finale, between Lahiri and Kaling, flaws and strength. Tanvi Misra, a writer with the Atlantic Media Group, originally from Delhi, wrote to me of feeling a conflict of interest: the show's clumsiness on matters of race and gender eventually outweighed her pull toward an "imperfect Indian woman in the driver's seat." "No one brown girl will ever be able to tell a universal story for all brown girls," wrote Sujata Day, a screenwriter and actress on Insecure, adding that she feels indebted to Kaling for "paving her own way." India-born Iva Dixit, who helps run social media at The New Yorker, saw value in a brown woman as "fuck-up" enough to push through misgivings that made her stop around season three (she can quote chunks of script up until then), fuck-up-dom being a luxury typically denied those in America not male and white. All while promoting "a fantasy that I'd hitherto seen afforded only to the Jennifer Garners and Carrie Bradshaws of the world," Dixit wrote.
For me, this is the root of Kaling's appeal, how she and her fictional self push buttons by wanting the best for themselves. Her otherness matters, in this context. Her position outside the bounds of a classic heroine makes her self-love provocative. I think of Indian girls back home in Texas, at turns scary and dazzling. The ones with full makeup and 4.0s, whose princess act felt part of their drive to succeed, and thus radical, in line with Dixit's reasoning: to be solipsistic is to expect a lot from the world. To do so when the world offers less than a full plate to you is a political act. There's something so Indian about Kaling's ultra-American posturing, so immigrant in her hunger for more. (Though few Indians actually admit to their internalized materialism or racism — that's her comic's instinct.) "She reminded me a lot of my cousin," a childhood friend a few generations below me wrote of Lahiri. This friend also thinks like a white dude — dates them, and works in the sciences, competing with them; she loves the "Mindy Lahiri Is a White Man" episode. The qualities she recalls in her cousin align with my own sense of Lahiri's "type": "hilarious and extra and dramatic." Even Kaling's "A-student" mentality hums with the rhythm of a South-Asian household. Kaling might agree with the lesson my mom told me, so many times, its bruteness once a sign to me of a lack of imagination, where today I see insight: "If the teacher says the crow is white, you nod."
Lahiri might wonder if she's Indian enough, but Kaling only had to want it. When her fictional self bikes out of the finale's wedding, replaying the show's first episode ever, she's not supposed to be the same: not drunk this time, chasing a guy who can't handle her self-worth. Six years ago she rode to "Bad Girls" by MIA, a tune and artist white people recognize. Now she pedals to a song by Jai Wolf, a brown musician not quite there yet. "I see you Mindy Kaling," Wolf tweeted afterward. Because she's an A-student, and the teachers have changed.