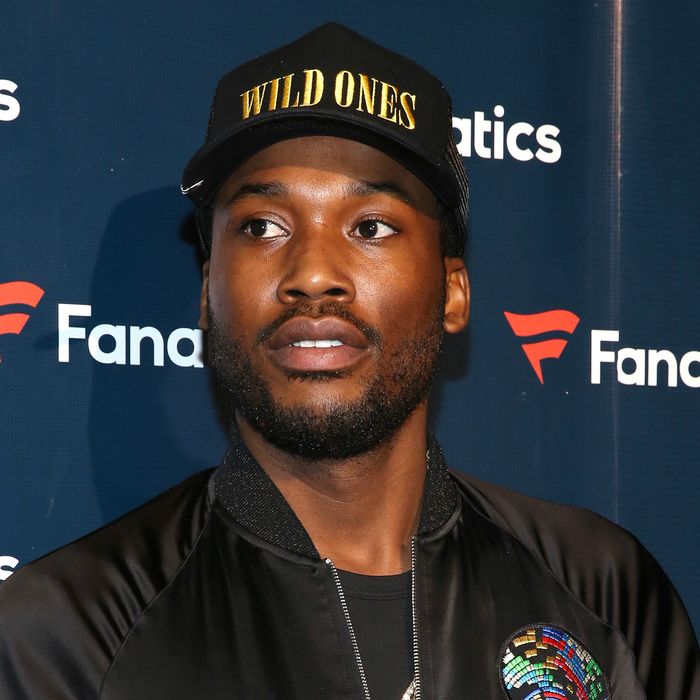 Photo: Robin Marchant/Getty Images for Fanatics
Tonight outside Philadelphia's Criminal Justice Center, where one week ago hip-hop star Meek Mill was sentenced to two-to-four years over probation violations stemming from a 2008 drug and gun-possession arrest, hundreds of the artist's supporters rallied. Among the celebrities who showed up to appeal for Mill's immediate release were basketball legend Julius "Dr. J" Erving and rapper-producer Rick Ross.
Ross, no stranger to run-ins with the law, called Mill's sentence "a travesty of justice." The rapper led hundreds of fans spanning more than a full city block in the chant "free Meek Mill." Ross also asked that the Philadelphia court take a second look at the case and to reconsider the sentence so that the rapper can get back to being "a great father" and "a great entrepreneur." The crowd went wild, many chanting "free Meek" and others singing some of his most famous songs like "B Boy" and "Dreams and Nightmares."
Actor and director Sixx King, who helped emcee the hour-long event, told attendees, "We are here today to demand the immediate release of Robert Williams, a.k.a. Meek Mill." Trying to quiet the crowd, he called Mill a "survivor of an environment that funds prisons over programs."
A major theme of the rally put the spotlight on mass incarceration. Several local activists criticized the way the criminal-court system treats people of color and those in poverty. A poster for tonight's event read: "Our criminal justice system has failed Meek Mill and millions of others like him. We stand for justice."
Many of the fans that showed up just footsteps from Philly's City Hall echoed frustration over the prison system's treatment of African-Americans. One young black woman in the crowd said the courts treat people of color worse than animals at the zoo. Other young people — including dozens of black teenagers holding signs and smartphones high in the air — held posters asking for Court of Common Pleas Judge Genece Brinkley to recuse herself from Mill's case.
Brinkley has come under fire by Mill's attorney, Joseph Tacopina, who told Billboard just last week, "Both the probation officer and the district attorney recommended no incarceration for these violations. But this judge excoriated both of them, challenged their credibility and overrode both law enforcement agencies recommendations and went from zero to two to four years, which shows she clearly had a personal vendetta against this guy."
Tacopina also claimed that Judge Brinkley crossed the line several times in the courtroom, first by making recommendations about the rap star's management (she allegedly suggested Mill leave Roc Nation to sign with a friend of hers in Philly) and by showing up personally to Mill's community service. "She's doing something that a judge would never be doing," Tacopina told Billboard, "having a personal interest."
During tonight's rally, Dr. J echoed what many in both the legal and music communities have said of the 30-year-old rapper's recent sentence; he called the punishment "excessive" and "cold." The former 76er also questioned the judge in the case, asking why she decided against the recommendations of her own D.A.'s office. All told, Mill has served eight months in prison. By next year at this time, he will have officially been on parole for a decade.
According to the New York Times, Judge Brinkley scolded Mill in the courtroom last week for his six different parole violations, citing two arrests just this year, the first for a fight he had at the St. Louis airport and the second for popping wheelies in New York City while he was shooting a music video. Charges in the first case were dropped and Mill agreed to a dismissal deal in the second.
Most legal experts and music bosses expected the rapper to walk last Monday. When he didn't, the hip-hop community erupted on social media. Jay-Z, who first signed Mill to Roc Nation, called the judge's decision "unjust and heavy-handed," and T.I. posted a photo of he and Mill, saying, "This too shall pass" and "We got real love for u out here KING."
The Roots' Tariq Trotter (a Philly native who goes by Black Thought) tweeted recently, "I stand for @meekmill. I hope my city does the same." It did tonight with an outpouring of love for the rapper and frustration with the criminal-justice system.
Despite the ongoing legal battles, Mill's latest album, Wins & Losses, made a strong number-three debut on the Billboard charts this summer. In his track, "Young Black America," Mill even waxed about his legal woes: "Could've been a lawyer until they came and shackled you. Felons on your records so them jobs ain't gettin' back at you."
It's expected that Mill's attorney will appeal the sentence, though no announcement has been made about when that may happen. "Realistically," Tacopina told Complex, "he should be getting no time. We're going to appeal it and we're gonna pull out every stop we can to make sure that happens. He doesn't deserve to have any time on this ridiculous case."