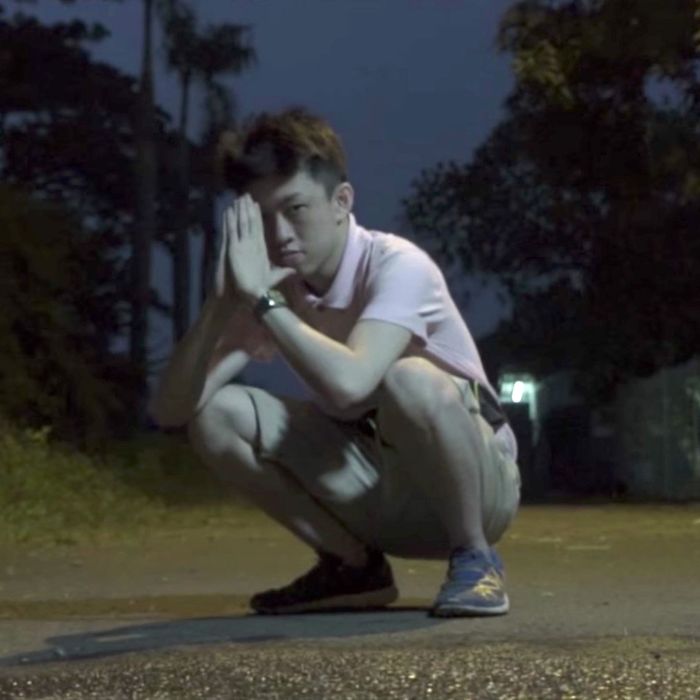 Born to an Indonesian-Chinese family in Jakarta prosperous enough to keep him out of the city's violent public school system, Brian Imanuel spent much of his time in home school wandering online. He learned English by watching YouTube tutorials. Through social media he made friends with Americans who educated him in youth culture by sending him links to memes and rap videos. Imanuel built up a presence on English-language Twitter, Vine, and YouTube as a comedian. His ultimate goal was to move to Los Angeles and study cinematography, but he had a long way to go. He was only 16 years old.
It was February 2016 when Imanuel released a self-directed and self-edited rap video on YouTube titled "Dat $tick." Produced by a local EDM artist named Ananta Vinnie under Imanuel's guidance, the beat matched trap hi-hats and bass with a spacious, menacing, and exotic synth loop; on top of it, Imanuel delivered crisp lyrics about cop-killing and poverty with a voice that could only be described as very — and very prematurely — low. Figuring out the tone was more or less impossible: Though the video had elements of straight comedy (Imanuel was dressed in a pink polo shirt, khaki shorts, and a Reebok fanny pack) and straightforward rap, it was clearly something novel. Not to mention problematic: Displaying the pitfalls of learning about rap culture purely through online engagement, Imanuel thought it fitting to use the N-word in the song; following callouts, he learned better manners. Amplified by Imanuel's already considerable fan base, the video went viral almost instantly: Currently, it's been viewed over 73 million times. Imanuel had succeeded beyond his wildest skits and memes. He was no longer himself. He was a musician. He was Rich Chigga.
Less than two years later, Rich Chigga is headlining his own tour in America; last night witnessed Irving Plaza packed to capacity for the first of two back-to-back shows. His ascent from the isolation of home school to a crowd of over a thousand has been as dizzying as his catalogue is small. With no more than a dozen tracks to his name, the line to see him stretched well over a block. Trekking to the back of that line, you could tell that the audience was primarily, though far from exclusively, Asian-American. Once inside the venue, the crowd's anemic response to the preshow DJ playing System of a Down, coupled with an ecstatic response to "XO Tour Llif3," indicated that it was overwhelmingly young.
After a few songs from opener Duckwrth that received a hospitable welcome, Imanuel emerged wearing a black tour T-shirt, black jeans, and black sneakers, and sporting a fresh side fade. Whatever awkwardness or stage fright he might have experienced earlier in the tour had clearly vanished. Aided by a jubilant crowd response, Imanuel was radiant with mischievous charm. Much like Chigga himself, his set was compact and forceful. Even after a surprise visit from native New Yorker and fellow SoundCloud phenom and 88rising signee Joji and encore repetition of "Dat $tick," there were only 13 songs total, none of which were long; still, confident stage presence and impeccable beat selection ensured that the show, though wiry, felt substantial nonetheless. Imanuel's taste for globular synth bass and driving rhythms complements the roughness of a concert venue sound system well. Both leading hits like "Dat $tick" and "Gospel" and lesser-known songs like "Seventeen" and "Back at It" had the crowd readily bouncing, though not bumping; despite the floor being packed and the tunes being amped, no mosh pits emerged. (Chalk it up to audience culture, perhaps: aAter all, East Asian societies, with their high population densities and their resulting need to minimize overt strife, are as antithetical to moshing as it gets.)
All brevity aside, the show felt like a milestone for artist and audience alike. East Asian youth are as voracious as it gets when it comes to consuming culture online, but lag behind when it comes to producing their own music. For many in the crowd, it was the biggest show they'd attended in America, where the main attraction was a hip-hop artist who shared their background. In Imanuel's coming of age as a performer they can see their own arrival: Though other Asian-Americans have tried to make inroads into the rap world with minor success, Rich Chigga's mainstream potential is unprecedented. It's bigger than just him; the further he progresses, the easier it is to prove to the nation's cultural gatekeepers that this overlooked demographic has both the economic clout worth catering to and the creative energy worth amplifying. Imanuel isn't just the first Asian millennial to hit it big in America; he's helping to ensure that he won't be the last.