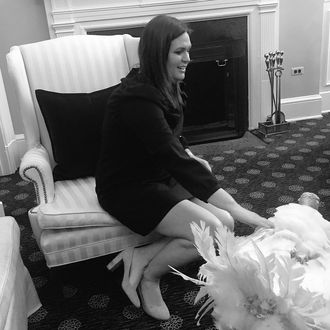 As any human might reasonably react to having a photo opportunity with a cute and feathery turkey, White House press secretary Sarah Huckabee Sanders excitedly tweeted some pictures of herself and one of the pardoned gobble-monsters in the days leading up to the annual Turkey Pardon. There are two black-and-white photos! She looks pretty happy! But who's not happy is Bradley Whitford and Allison Janney of West Wing fame, as Sanders decided to compare herself to Aaron Sorkin's beloved walkin' and talkin' drama. "We had a surprise visitor in my office today and got to live a real life version of an episode of the 'West Wing'" she tweeted.
Josh Lyman — er, Whitford — was swift with his rebuttal. "I know C.J. Cregg. C.J. Cregg is a friend of mine," he wrote. "You're no C.J. Cregg."
"Thanks for having my back, Josh," Janney seemingly responded in character. "Love, C.J."
Let the real vs. fake press secretary battle begin.