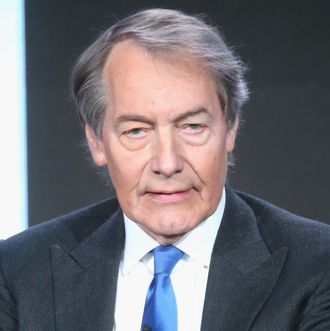 Rose.
Photo: Frederick M. Brown/Getty Images
CBS announced it has uncovered more accusations of sexual misconduct against its former employee Charlie Rose, now from within its own company. On Tuesday, the network fired Rose after eight women associated with PBS accused the TV host of inappropriate behavior. CBS This Morning, which Rose previously co-anchored, reported on Wednesday that an independent investigation not conducted through the company's human resources department found allegations from three anonymous CBS employees dating later than 2011, which the Washington Post had originally reported was the most recent allegation of such behavior. One woman claims Rose "groped her rear" at a work-related event; another says he "grabbed her inappropriately and whispered a sexual innuendo in her ear." The third woman declined to make the details of her allegation public. Rose previously denied the accuracy of some of the original allegations; CBS could not reach Rose for comment on the latest.
In response to the new allegations, CBS News' communication office said in a statement to CBS This Morning, "This is new information. Beyond that we have no comment at this time." The women reportedly did not file complaints about Rose's alleged behavior to HR. A source told CBS This Morning that the network was unaware of the specifics of the allegations prior to Monday and that an investigation is ongoing. Gayle King said during today's broadcast that the show will not "shy away" from reporting on Rose, though she told Stephen Colbert on Tuesday night that talking about Rose is "painful" for her.