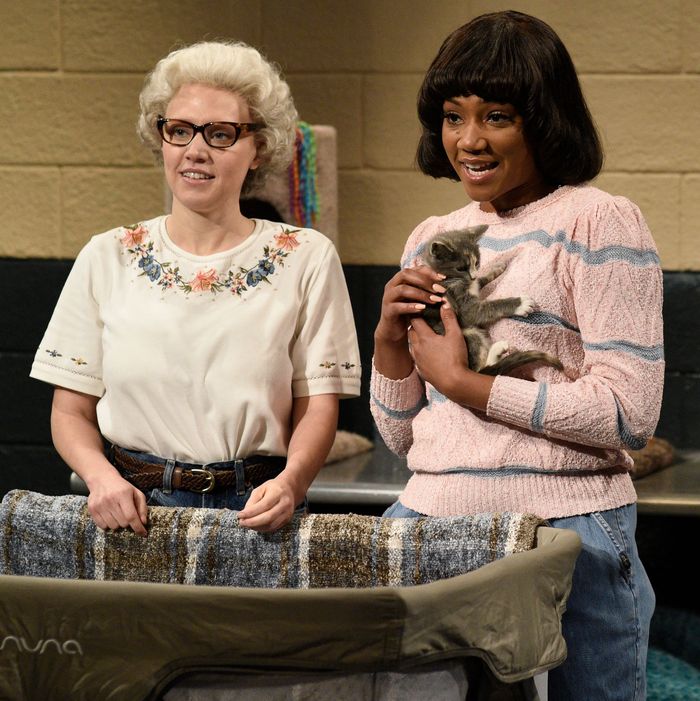 Photo: NBC/NBCU Photo Bank via Getty Images
The best episodes of live television have a nervous excitement to them. People are stoked to be there, on camera, knowing they have the power to cuss but that they're not going to. Tiffany Haddish, who blew up this past summer from her role in Girls Trip, brought that enthusiasm. Haddish was the first black female standup comedian to host SNL. During her monologue, she talked about watching Dana Carvey as a kid in foster care. When people go on SNL because it's their lifelong dream rather than because it's a promotional obligation, it's more fun. Even when the material was meh, Haddish crushed it on Saturday. Is it any surprise? Her slogan is "She Ready," not "She Nervous About Reading Cue Cards."
Cold Open
See what we can accomplish when we don't make everything about Trump? I can see why Baldwin has become a defacto cast member. The cold open is generally where the crazy political story goes, and there is a new crazy political story every week helmed by Trump. But it's time for other nutjobs to get their due. This week, the cold open focused on Roy Moore and fellow Alabaman Jeff Sessions. Kate McKinnon has slowly been turning Sessions into the White House's Dobby. He's a plucky house elf/possum that gets more outlandish with each appearance. This week she had a heart-to-heart with her daddy, a possum. By the end of the season, I predict that she will be covered in fur and hanging upside-down in a closet.
Monologue
Let's just get this out of the way: that dress! Queen! Queen in McQueen! Haddish brought some much needed pizazz (and a good deal of nae nae) to the monologue, a sometimes lifeless affair. Two common tropes of the monologue are a standup doing their own material, and a musical number. Tiffany Haddish did both—performing bits about her time in foster care then showing us how she'd dance at church in her exquisite Alexander McQueen dress.
Tournament Fighter
Haddish starred as a nae nae-ing video game character from a long-running franchise named Boo Boo Jeffries. Who's Boo Boo Jeffries? In her own words, "if you don't know you're stupid!"  Boo Boo Jeffries is the most fully-realized character in western literature since The Catcher in the Rye. I know everything about her from a five minute sketch. What's her biggest strength? Her relationship with her mom. What's her weakness? Fighting. Mikey Day also has some fun as the other video game character – his performance of resting animation was a super fun detail.
Lion King Auditions
Ignoring for a moment that they wouldn't do on-camera screen tests for a voiceover job, this was pleasant! Everybody got to do some impressions, and I got pumped some more about Beyonce being Nala. Of particular note were Beck Bennett's impression of Nick Offerman and Heidi Gardner as Kristen Schaal. Previous versions of this sketch have mostly had the screen tests of the uber famous. Nick Offerman and Kristen Schaal are comedy-famous, but not famous-famous. Benett and Gardner did very accurate and funny impressions, but comedy people goofing on comedy people feels a little onanistic.
Message from the DNC
The sexy young faces of the Democratic party such as Tim Kaine and Nancy Pelosi do a victory lap after Tuesday's election. Again, I'm very into Alex Moffat's Chuck Schumer. Larry David is back as Bernie, criticizing comedians who are politically incorrect and making offensive Holocaust jokes.
Kyle and Beck and Leslie and Colin
Tiffany Haddish tore her own wig off and Colin Jost was punched repeatedly. Five out of five stars!
Weekend Update
The dress returns! SNL doesn't do fun recurring live bits as much as in the coke-fueled good old days, so this was great. Chris Redd came on dressed like herald in Coming to America for 20 seconds of screen time. It's important to get weird sometimes, no matter how nervous it makes dad (Lorne).
Cecily Strong stopped by the Update desk as Claire from HR, who quizzed Colin Jost on how to not be a predator in the workplace. The questions seemed easy enough, yet men in power keep getting them wrong. Weird! The thinly veiled rage Strong emitted was perfection itself/very relatable.
The Last Black Unicorn
Haddish plays the last black unicorn, who can tell the future with her magical horn. Aidy Bryant finds out that her future is not great. Her son will be on drugs, but on the plus side her daughter will sell drugs! Haddish fully committed to this sketch. She whinnied at least once every 45 seconds, just like a real unicorn.
Get Woke with Tamika
Leslie Jones helms this talk show sketch about an ill-prepared host who tells us what is or is not woke. Get Woke with Tamika is sponsored by Breitbart News and Russia, implying that she was given a show because her incompetence makes real woke folks look dumb. I would have liked to see more false flag material, because I am a fan of internet conspiracies and I have a bugout kit. Well I don't have one, but I know what they are.
The Dolphin Who Learned to Speak
Even male dolphins are creeps, who knew? In this faux-BBC doc, Bryant and McKinnon play scientists who taught a dolphin how to speak in the '70s. Unfortunately, this dolphin was super horny and couldn't focus on developing speech until one of the scientists volunteers to "yank him off." Eventually the dolphin does learn some speech, but mostly different ways to ask for more handjobs.
Whiskers R We
Live animals on live TV is always a delightful shitshow. That's why it's always a delight for this recurring sketch to come back. Kate McKinnon runs a cat shelter with a woman who is seriously crushing on both her and cats. Previous installments featured Kristen Wiig, Melissa McCarthy, and Charlize Theron. Chris Redd comes through as Katt Williams. It's an impression that will never come up again, so I'm very happy he got to do it this time. Again, Haddish brings energy to a sketch that can get kind of list-y. Her absurd mugging to camera and yelling of "I got the pussy!" when one of the kittens gets away made this a great end to an historic night.