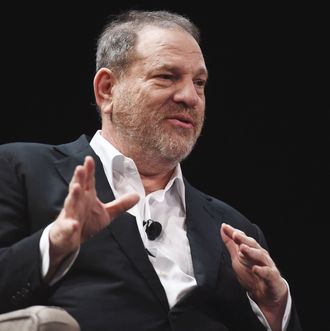 Harvey Weinstein.
Photo: Ilya S. Savenok/Getty Images for the 2015 Tribeca Film Festival
An unnamed actress has filed a lawsuit in Toronto against Harvey Weinstein claiming he sexually assaulted her twice in 2000, the Toronto Sun reports. The lawsuit also names Disney, which owned Weinstein's Miramax at the time of the alleged incident. The actress, referred to as Jane Doe in the suit, calls Weinstein a "serial sexual predator" who allegedly performed oral sex on her without her consent. She says she met Weinstein on the Toronto set of an unnamed Miramax film. The following day, she was asked to meet with Weinstein in his hotel room to discuss future roles in his films. After his assistant, Barbara Schneeweiss, left the room, she claims the conversation shifted from business to Weinstein asking if she liked massages. Then, she says, he forced himself on her.
"He overpowered her, pushed her onto the bed, and took his penis out of his pants. After exposing his penis, he told Doe that he had made various 'famous actresses' careers and could make Doe's career as well," the lawsuit reads. She claims Weinstein then forced her down and performed oral sex on her while she resisted; she eventually broke free and escaped the room. When Jane Doe brought her agent and a friend with her to meet with Weinstein again to confront him — he'd allegedly left her several messages saying they had a "misunderstanding" — she says he asked to see her in private. She claims he then "threw his weight onto her and tried to stick his tongue down her throat." Jane Doe reported the second incident to the others at the meeting. She worked with Weinstein on one other Miramax film three years later and alleges that, though he continued to "harass" her, she never met with him again after the incidents in 2000.
Jane Doe reported the alleged assaults to Toronto police in October. She's suing Weinstein, Schneeweiss (who now works for the Weinstein Company), Mirimax, and Disney for $4 million in damages for physical pain and psychological distress. Disney has responded to the suit, saying she has no legal basis for the claim against the company. More than 60 women have accused Weinstein of sexual misconduct; another accuser is currently suing the Weinstein Company for negligence.