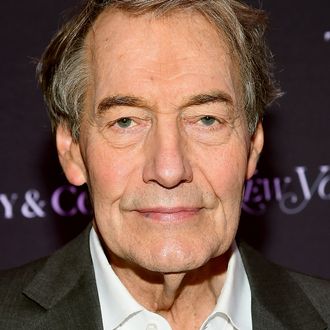 Charlie Rose
Photo: Ben Gabbe/Getty Images
Veteran television host Charlie Rose became the latest powerful man to be accused of sexual harassment on Monday, after eight women accused him of misconduct in a new report by the Washington Post. The allegations range from groping women without their consent to walking around naked in front of them and making lewd phone calls.
According to the Post, each of the women either worked for Rose, 75, or aspired to work on the Charlie Rose show between the late 1990s and 2011, when they were between the ages of 21 and 37 years old. Three of the eight women spoke on the record, while the other five spoke on the condition of anonymity out of fear of harming their careers by speaking out against the 60 Minutes contributor and CBS This Morning co-host.
The Post notes that many of the allegations have "striking commonalities," with five of the women claiming Rose put his hand on their legs — even up to their upper thighs in certain instances. Meanwhile, two women allege Rose walked around naked in front of them after emerging from the shower, and another says Rose groped her buttocks at a work party.
Reah Bravo, a former intern and producer for Rose's PBS show starting in 2007, told the Post that Rose made repeated advances in cars, hotels, and on planes. "It has taken 10 years and a fierce moment of cultural reckoning for me to understand these moments for what they were," she said. "He was a sexual predator, and I was his victim."
One of Rose's former assistants, Kyle Godfrey-Ryan, who worked for him in the mid-2000s, said Rose would repeatedly call her late night or early in the morning to describe fantasies of watching her swim naked, and appeared without clothes in front of her (before firing her after she told a friend about the harassment). Another woman, whose name wasn't released by the Post, said Rose was naked under a bathrobe at his home when she was there to discuss a job opportunity, and that he repeatedly tried to put his hand down her pants without consent.
Rose told the Post in a statement:
"In my 45 years in journalism, I have prided myself on being an advocate for the careers of the women with whom I have worked. Nevertheless, in the past few days, claims have been made about my behavior toward some former female colleagues. It is essential that these women know I hear them and that I deeply apologize for my inappropriate behavior. I am greatly embarrassed. I have behaved insensitively at times, and I accept responsibility for that, though I do not believe that all of these allegations are accurate. I always felt that I was pursuing shared feelings, even though I now realize I was mistaken."
Shortly after the Washington Post report was published, CBS News announced it had suspended Rose, and PBS said it was halting production and distribution of his show.
This post has been updated to reflect that Rose has been suspended by CBS and production of his PBS show has been halted.