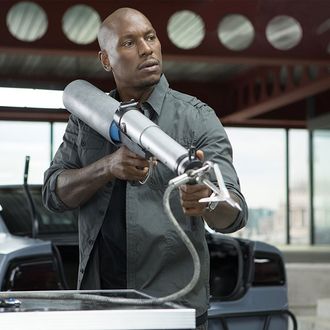 Tyrese.
Photo: Universal Pictures
You can only push a man so far before he pushes back, and it seems Tyrese Gibson has been pushed far enough by his Fast and Furious co-star the Rock (even if Rock's pushing has mostly come in the form of totally ignoring Gibson's screeds against him on social media). The "feud" — if you can call something a feud that only has one participant — between the two men has been playing out across social media for months now, and it stems from Gibson's anger about the Rock prioritizing his own schedule over shooting the next movies in the Fast franchise. And now, Gibson is escalating his rhetoric to threats of action: If the Rock returns for Fast & Furious 9, Gibson says "there will no more Roman Pierce," his character in the franchise.
If you're wondering what Gibson means by "You mess with family and my daughters survival I mess with yours," remember that Fast 9 is allegedly being delayed so the Rock can shoot the Fast spinoff in which his character, Hobbs, and Jason Statham's, Deckard Shaw, go on a rogue side mission without the Family. There was also the video (that Gibson himself posted) of the Rock calling his latest album, Black Rose, "dog shit" and a waste of his life. That was really the Rock's only participation in this social-media-based dustup, but what started with Gibson politely pleading with Rock — "I'm only doing this on behalf of our families so we can keep them all in private school…… God Bless you good brother!!!! — has now escalated to Gibson calling his maybe future co-star a "clown" and saying "spin off these nuts selfish champ…" Unfortunately for Gibson, the fact that the Rock is a billion-dollar movie star means Universal will likely not aid him in his quest to back Rock out of the Fast franchise.