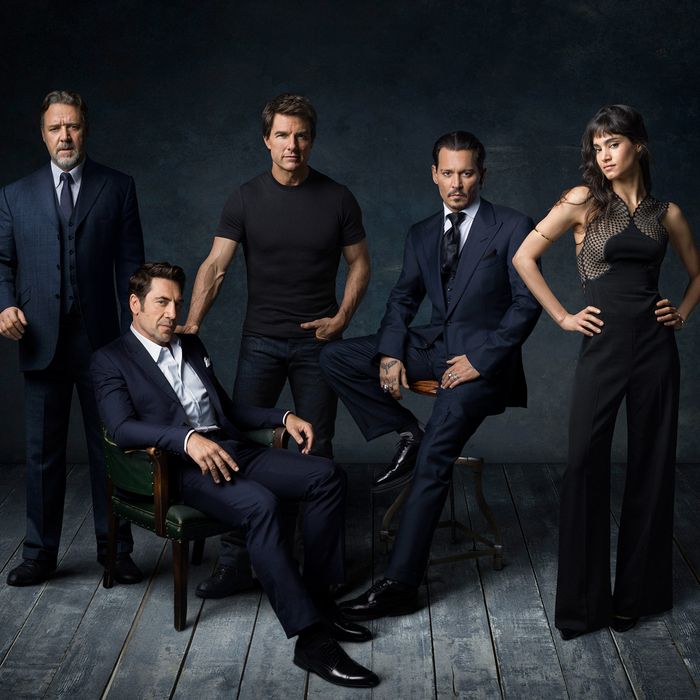 Photo: Courtesy of Marco Grob/Universal
Friends: There is bad news to share. Universal's Dark Universe franchise — the one that "brought together" Russell Crowe, Johnny Depp, Javier Bardem, Tom Cruise, and Sofia Boutella in a Sears Portrait studio — is reportedly dead on arrival. Sources have told The Hollywood Reporter that writer-producers Alex Kurtzman and Chris Morgan, the franchise's main architects, have exited. Per THR: Kurtzman, a Star Trek: Discovery EP, is focusing on television and Morgan has returned to the Fast and Furious where he'll pen a spinoff for the Rock and Jason Statham (hallelujah).
Even outside of Kurtzman and Morgan's exit, the Monsterverse still appears to be in shambles. To recap, Universal planned to reboot its old intellectual property, with the hottest starts over 40: The Invisible Man with Depp, Dr. Jekyll with Crowe, Frankenstein's Monster with Bardem, and Bride of Frankenstein, to be directed by Bill Condon. However the studio's attempt at launching the franchise, The Mummy with Cruise and Boutella (which boasted 2017's most poetic movie line) flopped. In early October, according to THR, Universal "pulled the plug" on production of Bride of Frankenstein, and has not released adjusted release dates for the rest of the films. The report states that other options for the Monsterverse properties include offering Dark Universe IP to other filmmakers or producers, or hiring a new brain trust. "We've learned many lessons throughout the creative process on Dark Universe so far, and we are viewing these titles as filmmaker-driven vehicles, each with their own distinct vision," Universal president of production Peter Cramer told THR. "We are not rushing to meet a release date and will move forward with these films when we feel they are the best versions of themselves." But … [dramatic Lady Bird pause] what if this is the best version?