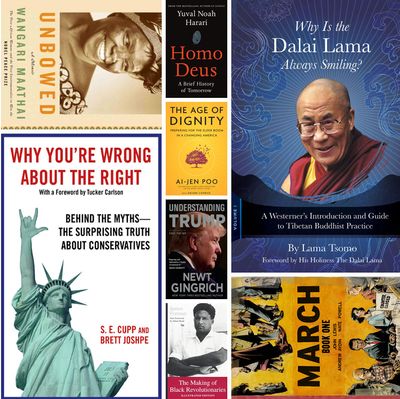 Bookseller One Grand Books has asked celebrities to name the ten titles they'd take to a desert island, and they've shared the results with Vulture. Below is CNN anchor Van Jones's list.
Writing My Wrongs, by Shaka Senghor
This powerful memoir is authored by a man who found freedom within himself and has emerged as a national leader, despite spending 17 years in solitary confinement.
The Age of Dignity, by Ai-jen Poo
The explosion in the number of elderly Americans will transform our society. This book shows us what we must do to ensure that the elderly and their caregivers — mostly immigrant women of color — can live with both dignity and respect.
The Making of Black Revolutionaries, by James Forman
This memoir is culled in part from the actual day-to-day field reports of civil-rights workers who risked their lives in the 1960s South. The author uniquely reveals the daily and hourly terror that had to be faced to defeat Jim Crow segregation.
Strangers in Their Own Land, by Arlie Hochschild
Much has been said about the white working class in red state America since the election of Donald Trump, but nobody nails the details and nuances better than Hochschild.
Homo Deus, by Yuval Noah Harari
Hang on to your hats! The future is going to be a crazy place.
Why Is the Dalai Lama Always Smiling? by Lama Tsomo
A beautifully written, historically grounded and thoroughly practical guide to Tibetan Buddhism. Must read!
Why You're Wrong About the Right, by S.E. Cupp
An intellectual firebrand and rising star tries to defend the conservative tradition to the younger generation—and succeeds brilliantly.
Unbowed, by Wangari Maathai
The author helped plant 1 million trees in Kenya, fought for democracy, and became the first black woman to win the Nobel Peace Prize. One of the planet's greatest heroines, in her own words.
Understanding Trump, by Newt Gingrich
The legendary Republican leader gives a genius explanation of the phenomenon that bowled over the political Establishment and took power.
March, by John Lewis, Andrew Aydin, and Nate Powell
This is an amazing work of art and history — a three-part graphic novel that dives deep into some of the struggle, strategy, beauty, and brutality that defined our country's civil-rights movement. A vital tool for people, young and old, to learn about the past and be inspired about the future.