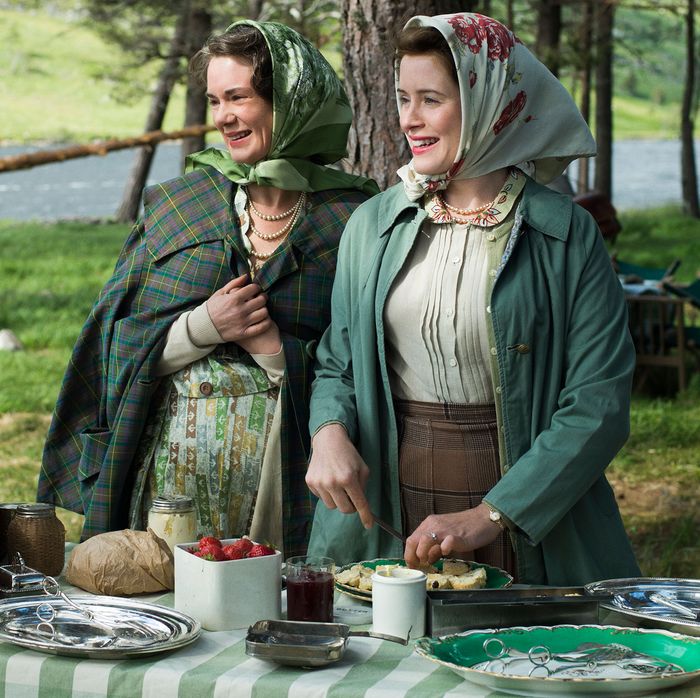 The Crown.
Photo: Alex Bailey/Netflix
On Thanksgiving, it is our solemn duty as Americans to eat too much food, collapse onto a sofa, then binge-watch television in a tryptophan-induced haze.
Obviously the potential viewing choices are as endless as they have ever been. But in the interest of winnowing things down a tad, here's a guide to some of the television programming you might consider mainlining on turkey day and during the rest of what is, for some, a four-day weekend.
What to Watch on Thanksgiving Day
If you'd prefer to pass on the parades and football games, here are some viewing options to indulge in on Thursday.
She's Gotta Have It on Netflix
Spike Lee's TV adaptation of his very first film starts streaming on Thanksgiving Day, and it's a fun, fascinating look at how Brooklyn has changed since Lee started making movies in the '80s. It also boasts an electric performance from DeWanda Wise, previously seen on Shots Fired and Underground, as the modern-day version of the sexually liberated artist Nola.
A Tom Hanks-giving on HBO 2
You spent part of Halloween with David S. Pumpkins, so it just makes sense to give thanks for Tom Hanks by watching a Thanksgiving Day marathon of his movies on HBO2. At 9 a.m. ET, the premium cable channel rolls out back-t0-back Hanks features, starting with Bachelor Party, moving to Volunteers, Dragnet, and Catch Me If You Can, and closing it down with last year's Sully.
South Park marathon on Comedy Central
Beginning at 9 a.m., you can indulge in a day's worth of Thanksgiving-themed episodes of South Park, which switch to a Christmas theme starting at 9 p.m. because the holiday season comes at you fast.
Treksgiving on BBC America
This is the ideal Thanksgiving marathon for Star Trek fans who have no interest in leaving the house for three days. BBC America has programmed an array of episodes from various incarnations of the sci-fi series, starting at 9 a.m. on Thursday when the network fires up the original Shatner-Nimoy version. Those episodes keep rolling until 1 p.m. Friday, at which point BBC America mixes in episodes of Voyager and Next Generation that run through Saturday.
Outlander marathon on Starz
If you've been meaning to block out time to catch up with the very good third season of this epic romance, you can do it from 11 a.m. to 9 p.m. on Thanksgiving. The best part: getting to watch the epic lovemaking between Claire and Jamie while sitting next to your grandfather and shifting uncomfortably on the sofa.
Friendsgiving on TBS
From 1 to 6 p.m., watch every Thanksgiving episode of Friends in consecutive order. Because it's not Thanksgiving until you see Courteney Cox dancing around with a turkey wearing sunglasses on her head.
The Simpsons marathon on FXX
There is no better after-dinner aperitif than a bunch of Simpsons episodes. (It's true. Even Julia Child used to say so.) Starting at 8 p.m., FXX has programmed a night's worth of Homer holiday fare, starting with a batch of Thanksgiving episodes, then switching to a couple of Halloween-ish ones for some reason, and taking us into Black Friday by starting to celebrate Christmas.
What to Stream on Thanksgiving Day (or Any Time Over the Weekend)
You probably already have a running list of shows you've been meaning to catch up on, but consider placing high priority on these options.
Godless on Netflix
This exceptional Western lands on Netflix just in time for the Thanksgiving weekend. As my review very strongly states, it's worth the time investment.
At Home With Amy Sedaris on TruTV
This cockeyed guide to cooking, crafting, and entertaining provides all the comforts of watching an HGTV or Food Network program, and spikes it with the weirdness that only Amy Sedaris can provide. All episodes are streaming on TruTV.com and accessible to cable/satellite providers; they're also available to Sling users who subscribe to TruTV.
The Good Place on NBC and Hulu
If you've missed any part of the excellent second season of this philosophical comedy, it's important that you catch up since (a) more episodes are coming after the holidays, and (b) per NBC's announcement of a third season, more will be coming next fall as well. Watch on demand, on NBC.com, or on Hulu.
The Crown on Netflix
The second season of this sumptuous royal drama arrives on Netflix on December 8, so take the weekend to watch or revisit the first ten transporting episodes.
Mr. Robot on USA
I've said it before and I'll say it again: Mr. Robot has gotten good again in season three. See what Elliot's been up to by streaming the latest episodes on USA's website or on demand, or via Hulu Live TV, fuboTV, or Playstation Vue.
Curb Your Enthusiasm on HBO Go
Haven't had a chance to reconnect with Larry David and his issues with every aspect of society? Then delve into his neurotic mind with the ninth season on HBO Go or on demand. It's like listening to your weird uncle's rants at the Thanksgiving dinner table except, you know, funnier.
Mozart in the Jungle on Amazon
I swear, if you give Mozart in the Jungle a chance, you really will be charmed by its characters (especially Gael Garcia Bernal's infectiously enthusiastic conductor, Rodrigo De Souza) and its exploration of classical musical circles, a world rarely explored on television. The fourth season is due to arrive on Amazon next month, so this is a good time to watch seasons one, two, and/or three.
Still seeking more suggestions? Check out our running list of the best TV shows of 2017.