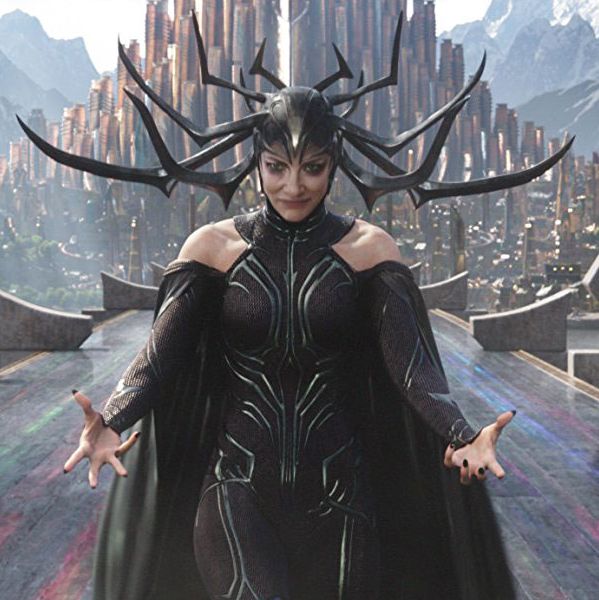 Cate Blanchett in
Thor: Ragnarok
.
Photo: Marvel Studios/Walt Disney Studios.
Marvel Studios may have the golden touch, but that hasn't translated into golden statuettes. An Oscar win is just about the only industry accomplishment that eludes the top-tier comic-book studio, which puts out several well-reviewed blockbusters a year. It's not unheard of for a comic-book film to find favor with Oscar — Heath Ledger earned a posthumous Best Supporting Actor trophy for The Dark Knight, and just last year, Suicide Squad won gold for Best Makeup and Hairstyling — yet Marvel has never managed the feat. What's to account for this losing streak, and does the studio have a chance of breaking it anytime soon?
We've seen 17 movies so far in the interconnected Marvel Cinematic Universe that began with 2008's Iron Man, with nine Oscar nominations earned among them. To understand how Marvel has fared with Oscar, let's look at the categories that this company has historically been competitive in.
By far, the easiest race for Marvel to crack is Best Visual Effects. All but two of the studio's Oscar nominations have come in this category, from the first Iron Man to last year's Doctor Strange. Still, no comic-book film has won the Best Visual Effects Oscar since 2004's Spider-Man 2, which was made well before Marvel Studios began its MCU and kicked off our current superhero moment. Over the last decade, the Academy has tended to give the Best Visual Effects trophy to a film that is also nominated for Best Picture, and since Marvel has never penetrated that lineup, the studio has lacked the edge to put its films over the finish line.
Marvel Studios managed a Best Sound Editing nomination for the first Iron Man, but the studio hasn't figured into that category since. You'd think this would be a place for its superhero movies to shine, since action films are often nominated in the sound categories, but the sound branch has seemed almost hostile to comic-book movies after 2008, when Iron Man lost to The Dark Knight. No superhero movies have been nominated for Best Sound Editing since, and though Marvel's films are all top-tier when it comes to their tech accomplishments, there is rarely a distinctive entry where the sound design asserts itself. Don't look for any future nominations here unless Marvel produces a truly unusual film where sound is a key element.
And then there's Best Makeup and Hairstyling, the Oscar that Suicide Squad somehow managed to win last year, despite doing this to Common. Marvel has been nominated just once in this category, but it was for a film that frankly should have won: 2014's Guardians of the Galaxy, where the hair and makeup accomplishments were plentiful and creative. Alas, Guardians lost to The Grand Budapest Hotel, which triumphed primarily for Tilda Swinton's old-age makeup. A single transformative look, if executed properly, can often triumph in this category over a blockbuster that demonstrated far more breadth: That's how films like The Iron Lady and La Vie en Rose have won the Best Makeup and Hairstyling Oscar for simply, subtly modifying the lead actress. Had Suicide Squad been up against a Best Picture contender with even one significantly tweaked look, it likely would have lost; instead, it triumphed over an unusually weak field in a year where Marvel had nothing much to offer.
Can the studio count on some nominations for its three entries this year, Guardians of the Galaxy Vol. 2, Spider-Man: Homecoming, and Thor: Ragnarok? I think the latter two films will likely fall short of the Best Visual Effects race this year, which promises to be crowded with more prestigious contenders like Dunkirk, The Shape of Water, and Blade Runner 2049. Guardians of the Galaxy Vol. 2 has the best shot at making that final five, and an even better chance at once again scoring a Best Makeup and Hairstyling nomination. Alas, the dozens of transformed characters that Guardians can boast — among them Mantis, the new hero played by Pom Klementieff, and the gold-painted Sovereigns led by Elizabeth Debicki — will likely prove no match for Gary Oldman's incognito performance as Winston Churchill in the political drama Darkest Hour. Once again, a single face is all it takes.
But there is hope on the horizon, since two of Marvel's 2018 films are uniquely positioned to make headway with the Academy. The first is Avengers: Infinity War, which is Marvel's biggest movie yet by leaps and bounds. The sheer tonnage of superhero theatrics, and the movie's ability to pull so many disparate characters into crowded action scenes, may provide a distinctive reason for the Academy to finally recognize what Marvel has accomplished over the last decade by finally handing the studio a visual effects Oscar.
The even better shot, I think, will come earlier with February's Black Panther. This film, which truly does bring elements to the superhero genre that have not been seen onscreen before, has a strong chance of breaking into a category that Marvel has never been competitive in, Best Costume Design. The twice-nominated costumer Ruth E. Carter has helped design a wowser world of Wakanda with outfits that aren't simply catnip for cosplayers but could dazzle Academy members, too. While the Costume Design trophy often goes to traditional period pieces, the last two winners in this category, Mad Max: Fury Road and Fantastic Beasts and Where to Find Them, happened to be big studio blockbusters. That bodes well for Black Panther but is an even better sign for both Marvel and Carter, both long overdue for Oscar.