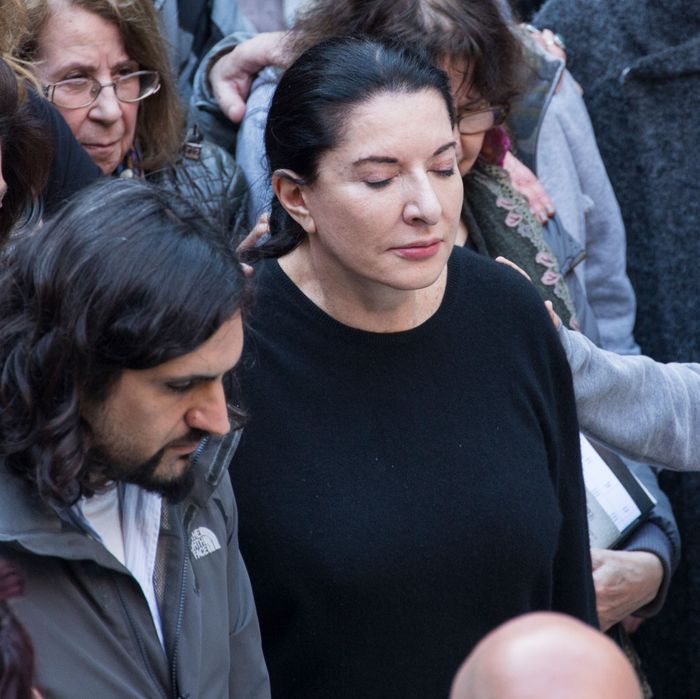 Marina Abramovic.
Photo: Natalia Tsoukala/Courtesy of NEON & MAI
Marina Abramovic called me last night from Kiev: "My blood pressure is sky-high," she said, before sighing dramatically and detailing her struggles with Lyme disease, likely caught from an unnoticed tick at her country house outside of Hudson, New York.
Hudson was bedeviling her from the other side of the world in other ways too. On November 12, the New York Post ran an article that asked: What exactly happened to the $2.2 million raised for the Marina Abramovic Institute, a performance space she'd announced in 2013, which would house various types of long-durational artworks, including hers, as well as an archive and site for various semi-occult, quasi-scientific brain-wave experiments, as well as what might be thought of as a consciousness spa, in an old theater in Hudson, New York. Last month, at a talk at the Serpentine Gallery in London, she'd confirmed what has been obvious for some time: The stalled four-year-old plan for the brick-and-mortar Rem Koolhaas–designed Marina Abramovic Institute was dead. "We really have to get rid of the building," she told me.
The costs had ballooned from $20 million to $31 million, which proved impossible to raise — and the Post wanted to know if she was going to give the donated money back. The story began: "The artist is present, but the cash is gone."
"This is terrible for me," Abramovic said, before detailing how she personally contributed $1.1 million of the $2.2 million the institute raised. "The majority of those funds were direct contributions of my own money, which I earned as an artist." As for the Kickstarter, which raised $661,452 (after Kickstarter's administrative fee: $596,667), the purpose of that money was clear on the page: "This Kickstarter will cover the first phase of MAI's development: the design process." And that went toward the bill for Koolhaas's firm for the schematic design (which cost $655,167.10). Artnet reported last week that backers wouldn't be getting refunds.
Everyone who gave at least $1 was promised a hug from her (assuming you could make it to the hug events in London or New York); other slightly higher-priced rewards included a livestream in which "Marina will teach the Abramovic Method eye gazing exercise." At the $10,000 level: "A dinner night with Marina during which she will teach you and other backers at this level how to cook a series of traditional soups, which you will all enjoy together." One person complained to the Post that she didn't get her promised DVD, which Abramovic's staff said was because that backer failed to respond to an email asking for her address. Meanwhile, she set about doing things like appearing in a Jay-Z video in exchange for a donation, and mentoring Lady Gaga.
After we got off the phone, her office sent me a rundown:
Total Cash Donations : $1,176,424

Purchase and maintenance of building including minor renovations: $1,221,644*

Total: $2,398,068

*Marina Abramovic donated the building to MAI in 2013




KICKSTARTER CONTRIBUTIONS for Design work from OMA New York

Amount of money from Kickstarter Campaign: $661,452

Amount Received after Kickstarter fee: $596,667

WEB DONATIONS

Total: $39,156.83

THIRD PARTY DONATIONS

Total: $152,184.67

OMA NEW YORK DONATION:

A portion of the work by OMA New York was donated to MAI

Total: $142,167

OMA NEW YORK COSTS

Design Team:

OMA (Design Architect): $655,167.10

Other Specialist Consultants: $354,502.67

Other Payments:

Owner's Rep: $102,392.83
Still, the Post is right about one thing: the understandable frustration that Hudson residents feel that the big, much-hyped building in the middle of town remains empty and dilapidated and full of pigeons. But it proved to be a money pit — $700,000 for asbestos alone — in addition to the unfeasible ambitions of the Koolhaas design itself. And so the institute will sell it, and focus on its traveling circus of projects around the world. MAI today partners with arts institutions to "create a platform" for local performance artists, "while also engaging the broader public in participatory exercises from the Abramovic Method." According to her office, one of those residencies, at Terra Communal, in São Paulo, Brazil, in 2015, brought in 250,000 people in two months; another, last year in Athens, attracted 51,000 visitors, also over two months.
As for the Lyme disease, she's still mystified. "I didn't even find a single tick," she said.
*This post has been updated to reflect a recent report from Artnet.