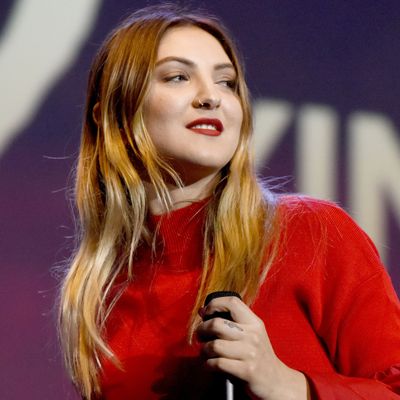 She's written chart-toppers, now her solo work has earned her two Grammy noms.
Photo: Tim Mosenfelder/Getty Images
This morning's 2018 Grammy nominations brought with them several surprises, from a few controversial absences to several unexpected but deserved inclusions. One of the latter choices is Julia Michaels, who's been nominated both for Best New Artist and Song of the Year for "Issues." Though not a household name just yet, Michaels has been quietly and quickly building a profile in the music industry behind the scenes. She recently reintroduced herself as a solo artist. You've already been hearing her handiwork for years through her pen. Let's get better acquainted with who she is and what she does.
So, she's a songwriter?
More like the songwriter of the last four years. Much like Jack Antonoff has led the changing of the guard in pop, she's been integral to the sonic shift toward minimal, mid-tempo songs. She's particularly notable for being one of the few exceptions to the largely Scandinavian-dominated army of songwriters and producers pulling the strings on the charts. At just 24, she's written for everyone from Pink to Britney Spears to Gwen Stefani to Ed Sheeran to John Legend. But it's her work with Selena Gomez and Justin Bieber that has gained her notoriety.
Together with her frequent writing partner Justin Tranter, of Semi Precious Weapons, she's responsible for Justin Bieber's "Sorry" and Selena Gomez's "Good for You." She co-wrote most of Gomez's Revival, transitioning the star from tween pop to a sound more convincing of a young 20-something. Tranter once described her process to the New York Times, "Julia writes the songs as if she's the artist. I'm the extra piece to the puzzle." He also noted that she leads most of their studio sessions.
Any other songs she's written that I would know?
Selena's "Bad Liar"; Britney Spears's "Slumber Party"; Linkin Park's "Heavy"; Hailee Steinfeld's "Love Myself"; Nick Jonas's "Close"; Gwen Stefani's "Used to Love You"; Ed Sheeran's "Dive"; Pink's "Barbies"; Bieber's "Friends."
That's hella songs.
Enough to fill an entire Wikipedia page.
How did she get to be so in-demand?
For starters, she comes from an industry family. Her older sister, Jaden, is also a songwriter who's worked with Carly Rae Jepsen. Her father, Juan Manuel Cavazos, changed his name to John Michaels in an effort to be more marketable as an actor. (Julia's birth name is Julia Cavazos.) She started out as a session songwriter after her sister got her through the door and, by 18, had her music featured in commercials for The View and wrote transition music for The Hills. She went on to write the theme song for Disney's Austin & Ally and then started writing for Demi Lovato, Selena Gomez, and Fifth Harmony while being mentored by famed songwriter Libby Robbins. "It's so interesting how there are ebbs and flows in the industry. I had all these singles come out within a two-month period, and then nothing for almost two years. You start to feel a little irrelevant," she's said of her gradual rise. "You realize how many people there are trying to be songwriters and how competitive it is and how political things can be. Artists had songs for two years that they held on to and then decided not to use. And it's like, 'Ahh, my heart!'"
So all of a sudden she's a singer now?
Well, it wasn't that opportunistic. While songwriting, she would often lay down reference tracks for the artists who would go on to record them, singing her lyrics the way she felt they needed to be sung so an artist could follow her cues from the demos. But according to Billboard, one day Republic Group president Charlie Walk listened in on her session for Hailee Steinfeld's "Love Yourself" and saw potential. "I just thought, 'Who's that girl?'" he said. "Everyone said, 'She only wants to write.' But I wouldn't accept that. Deep down inside, I think she knew she was an artist." She didn't think much of herself as a solo artist, but after Jason Derulo let her sing her own part on a song she wrote for him, 2015's "Trade Hearts," credited under her own name, she decided to test the waters. (She'd also previously recorded a couple EPs that never gained traction, so you can understand her hesitation.)
What do I need to know about her solo music?
She's known for her biggest hit, "Issues," which she initially wrote with Tranter for another artist. It's a down-tempo earworm about the anxieties that develop within a relationship. There was reportedly a bidding war over the song, and Michaels nearly gave it away; she eventually had to fight to retain the rights to the song for herself. "I thought, This song is too much my story to give to someone else," she told Billboard. "Maybe this is a sign. Maybe I want something different." It's since gone multi-platinum and is now Grammy-approved, but of course, it's still her songwriting they've praised most. (Song of the Year recognizes the lyrics; Record of the Year goes to the performance.)
Where else can I hear her?
She recently put out an EP called Nervous System and is pushing her latest single, "Uh Huh" from it, but we recommend the ballad "Worst in Me" to really discover what her range is all about.
Cool. That's all?
One time the VMAs cut her off mid-performance to promote more famous artists. It was rude. Don't do that, Grammys.