It was July 3, 2010, and Amar'e Stoudemire was the most-wanted man in New York City. The star basketball player had just opted out of his contract with the Phoenix Suns, and rumors were flying that he was about to sign an insanely lucrative five-year contract with the New York Knicks worth almost $100 million. Stoudemire arrived in the city that afternoon and, like so many out-of-towners had before him, he decided to commemorate the occasion by taking in a Broadway show.
"Rock of Ages," he tweeted. "It's going to be great."
When Timothée Chalamet saw that tweet, he zipped up his white hoodie and sprang into action. The then-14-year-old LaGuardia High School student stuffed a Knicks jersey into his backpack and raced from his Hell's Kitchen home to the Brooks Atkinson Theatre near Times Square, hoping to win an autograph from the hotly pursued basketball star. Rock of Ages had already started by the time Chalamet got there, but he camped out for two hours until Stoudemire finally emerged from the theater, a New York Yankees cap pulled low on his head but his nearly seven-foot body still pitched to the heavens.
Chalamet darted in, offering his jersey and a felt-tip marker. The boy had come prepared. So had the paparazzi, who'd been staking out the Brooks Atkinson alongside him.
Chalamet, who is now 21 and starring in the film Call Me by Your Name, recalled the story recently at the Regent Beverly Wilshire Hotel, building to a triumphant smile. "In fact," he said, "the first picture of Amar'e ever holding a New York jersey was in the Daily News, and there's a young me holding the jersey up to him to get him to sign it!"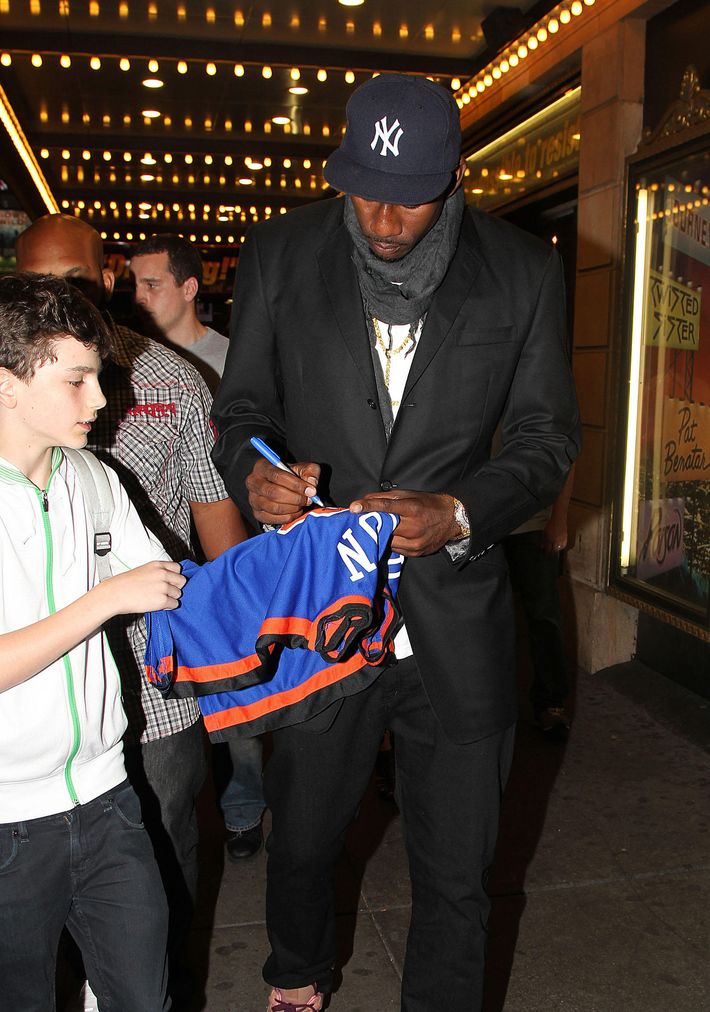 Chalamet is on the verge of becoming a major actor, but to spend any time with him is to learn that he is still a big fan at heart. Just this week, after winning the Breakthrough Actor trophy at the Gotham Awards, an excited Chalamet used his speech to pay tribute to New York artists who inspire him — "John Leguizamo! Cardi B! Martin Scorsese!" he extolled — and now, thanks to Call Me by Your Name, Chalamet has devoted young fans of his own. They call him "King" on Twitter, and they dig up his old audition videos and school projects to disseminate like contraband on Tumblr. They wish Chalamet "good morning" and "good night" every day without fail, and they change their screen names to incorporate his. All this for a movie that has only just come out in the United States, and an actor who is tipped to be nominated for an Academy Award but is not yet a household name.
"It's thrilling," Chalamet said, "with a grain of salt." As an example, he described to me an October screening of Call Me by Your Name at Lincoln Center where he sat onstage, basking in applause and audience adoration, and then fell backward out of his chair: "To do that in front of 1,300 people was devastating in the moment, but also a great lesson of, 'You know what, man? Nothing's changed.'"
Nothing, perhaps, except the fans who found it so endearing that a clip of his fall then got over a thousand likes on Twitter.
All that attention is fitting, given the story that has put Chalamet in the spotlight. In Call Me by Your Name, he plays precocious Elio, who spends six summer weeks in Italy fixated on Oliver (Armie Hammer), the handsome grad student who has come to work with Elio's professor father. Before he becomes Oliver's lover, Elio is the strapping American's most ardent fan, and in the André Aciman book that Call Me by Your Name is based on, Elio's thoughts spill out in first-person as he analyzes every word uttered, swimsuit worn, or move made by his crush. Call Me by Your Name isn't just a love story between two people, it's a story of being sustained by the act of love, of stoking it constantly and delighting in the pain and joy that it brings. Though the story takes place in the early 1980s, it's easy to imagine a modern-day Elio who, instead of scrawling unsent love notes to Oliver, would post those missives to a social-media account to be read by online friends in the throes of their own obsessions.
Chalamet is well-cast to portray that feeling. Like Elio, he enthuses about what he loves; he also occupies that liminal phase between boy and man, and is now transitioning from aspirant to full-time artist. Chalamet grew up in New York City and has been acting since he was a child, popping up in Homeland and Interstellar as well as leading the John Patrick Shanley play Prodigal Son, but unlike many former child performers, who can become hardened and artificial over time, Chalamet remains an appealing open book.
"Timmy is, without a doubt, the most emotionally accessible human being I have ever come across in my life," Hammer told me. "You say something to him and you watch the entire thought process play out on his face." I can confirm that: During a conversation about one of Call Me by Your Name's music cues — Joe Esposito's addictively cheesy ballad "Lady, Lady, Lady," which plays as Elio watches Oliver dance with a girl friend — Chalamet went from smiling to choked up in the span of a few seconds. "God, even talking about it now brings tears to my eyes, and I don't know why," he said.
Director Luca Guadagnino needed that level of vulnerability for Call Me by Your Name, since many near-wordless stretches of the film involve Elio alone, including an already famous final shot that plays out in minutes of stunning close-up. Chalamet was recommended to the director by Call Me by Your Name producer Peter Spears, whose husband is Chalamet's agent, and in their initial meeting, Guadagnino found himself beguiled by the young actor's emotional acuity. Once he was officially cast in the film, Chalamet relocated to Italy weeks early to take language and music lessons, reading Aciman's book over and over as preparation. "There is the intellectual research that does go into it, and I try to do that as diligently as I can," Chalamet said, "but when it comes time to shoot, in my experience, I try to throw it all away and trust that I've done the work."
To judge from the rave reactions he has gotten from critics and fans, that hard work has paid off, but Chalamet was quick to credit his collaborators. (Guadagnino, he told me, "is one of the most talented filmmakers of his generation, in my naïve 21-year-old opinion.") He also said he couldn't have gone to those intimate places without the musicians who've had a profound effect on him as an artist, including rapper Kid Cudi: "I've been inspired to do emotionally substantial work like Call Me by Your Name because of an album like Man on the Moon," he said. Lil B is another rapper that "I feel like some people might roll their eyes at," Chalamet said, "but he really had a transformative effect on me when I was 15 and 16, preaching about live and let live, loving and accepting people for who they are." Chalamet is such an acolyte that he once raised his hand at a public Q&A with Lil B and asked the rapper to knight him; he was beckoned to the stage, where Lil B had him drop down on one knee and then brought his forehead to Chalamet's own. "There's a video online of it," said Chalamet, who then grinned. "It's recognizably me. I'll see if someone can find it."
(UPDATE: They did, within half an hour.)
His fans have already exhumed plenty of other Chalamet clips, including a treasure trove of rap videos that Chalamet performed as "Lil' Timmy Tim" during his stint at LaGuardia, some of which went nearly as viral as his co-star Hammer's jubilant dance scene in Call Me by Your Name. "You know, there was a certain relief in that," he said. "The first reaction is obviously a big 'Aww.' But for better or worse, people know what a goofball I am now." Still, Chalamet is particular about how he navigates social media. Hammer has quit Twitter more than once, and Chalamet understood how one could reach a breaking point. "You don't want to expose yourself to it too much," he said. "Even in the brief moments where you do swipe through your mentions a little bit, there could be, like, the errant mean thing that somebody said as a joke, and with most actors, there's a sensitivity to these things."
It helps that he has been too busy to fully indulge. The day after Call Me by Your Name's triumphant debut at the Sundance Film Festival in January, Chalamet auditioned to play Steve Carell's drug-addicted son in the drama Beautiful Boy, then had to quickly drop 20 pounds from his already-slim frame to commit to that role through the summer. "It was a great way to digest how Call Me by Your Name was being received, as a sidebar," he said. "I was just trying to be disciplined and devoted to the work." With that under his belt, and a Woody Allen film that Chalamet stars in but has not yet figured out how to address, he has begun preparing for his extensive Call Me by Your Name publicity tour by studying early interviews of LeBron James and Jennifer Lawrence on YouTube. "When I go back and watch her early press kits, or even LeBron's, I'm so impressed because they were so poised and well-spoken." Has he ever run into the Hunger Games star? "I did get to meet her once briefly," Chalamet said, joking, "I camped out at a press line for Mother!"
In the meantime, he's trying to look on the bright side of fame, hoping that Call Me by Your Name and his supporting role in Greta Gerwig's Lady Bird will help him book more movies of that caliber. "The most humbling part of these experiences is realizing how ladder-oriented it is," he said. "And that's only fair. It's a testament to gatekeeping, I guess, and you do have to earn your stripes." Another potential perk: People will now have to learn how to spell his name correctly. "My mom's two-decade exhale of relief!" he said. "On the projects I was working on when I was 12, 13, 14, she was sending many an email to non-obliging producers saying, 'It's not Timothy with a y, there's an accent on the first 'e,' and the accent faces this way!'"
And then there's the chance that one of his heroes might now admire him, too. As Chalamet and I walked out of his hotel room, I mentioned that the singer Frank Ocean, whose lyrics Chalamet frequently tweets, would almost certainly check out Call Me by Your Name at some point. "You think he's gonna see it?" Chalamet said. "Oh my God, that would be insane!"
He lurched into me, dizzy, and grabbed my arm for balance. "I've lost feeling," he said, before mumbling with such excitement that I couldn't even make out the words anymore.
Spoken like a true fan.