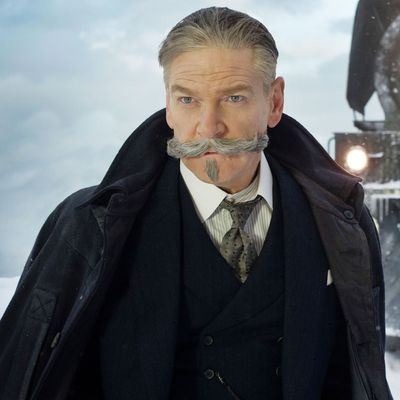 Photo: Nicola Dove/Twentieth Century Fox Film Corporation.
There was a time when fussy Belgian detective Hercule Poirot, the creation of English novelist Agatha Christie, was so famous that his "death" warranted an obituary. You read that correctly: A fictional character's final appearance (in the novel Curtain in September 1975), was given an obituary in the New York Times. Poirot, who first appeared in Christie's 1920 novel The Mysterious Affair at Styles, was so prominent in popular culture that Thomas Last wrote, "His death was confirmed by Dodd, Mead, Dame Agatha's publishers, who will put out 'Curtain,' the novel that chronicles his last days, on Oct. 15."
The fastidious sleuth is now returning to the public eye in the form of Kenneth Branagh, with his adaptation of one of Christie's most famous mysteries, Murder on the Orient Express. Over the course of a nearly 100-year "career," Poirot has appeared in various forms, such as radio drama, theater (played by Charles Laughton), anime (where he was joined by Christie's other sleuth, Miss Marple), video games, television, and, of course, film.
Poirot's screen history spans over 85 years, and he's been played by ten actors whose performances have ranged from deferential to parodic. (We'll only be ranking nine of the actors, as the work of theater actor Austin Trevor, the first man to ever play Poirot onscreen, is lost. You can, however, see a very brief clip of him from 1935's Lord Edgware Dies, in the documentary profiling David Suchet called Being Poirot.) For the purpose of this "suspect list," the actors will be evaluated on how well they measure up to the hallmarks of Poirot's character: fastidiousness (as Poirot's Watson, Captain Hastings, says of his preference for cleanliness in The Mysterious Affair at Styles, "I believe a speck of dust would have caused him more pain than a bullet wound"); mustache ("upward curled," writes Christie in Murder on the Orient Express); little grey cells (how he regularly refers to his shrewd intuition); voice (he's Belgian, but constantly corrects people for mistakenly thinking him French); walk (a "rapid, mincing gait, with his feet tightly and painfully enclosed within his patent leather boots," writes Christie in Hallowe'en Party); and general appearance ("a little man with enormous mustaches," writes Christie in Murder, "with an egg-shaped head"). In other words, the man who plays Poirot onscreen should be the epitome of refinement and intelligence — and more than a little quirky.
9. Andrew Sachs, Revenge of the Pink Panther, 1978
Andrew Sachs is perhaps best known for his role as the bumbling Spanish hotel staffer, Manuel, in the Britcom Fawlty Towers, created by John Cleese and Connie Booth. The role hasn't really aged well, as a good portion of the jokes are racist stereotypes about his inability to understand English. However gifted Sachs was as a comedian, Manuel comes off as broad and caricaturish, which is also true of Sachs's Poirot. He appears in Blake Edwards's Revenge of the Pink Panther for a mere 32 seconds, escorted by the nurses at a psychiatric institution. He's thin, small, balding on top, with a lazily upturned pencil-thin mustache, and wearing a wrinkled white jumpsuit. Even if Poirot were in the hospital, there's no doubt that he would never look anything less than pristine. Sachs's brief performance is a failure on all counts: big, loud, and apathetic about knowing the character well enough to parody him in an interesting way. Most gallingly, he announces, "You can call me Hercule!" Straight-up nonsense: No one has ever called him "Hercule." Mon dieu!
8. Tony Randall, The Alphabet Murders, 1965
Tony Randall, perhaps best remembered for his role as Felix Unger in The Odd Couple, had a one-time stint as Poirot in Frank Tashlin's adaptation of The Alphabet Murders. His iteration of the detective (and the things he's detecting) is more parodic and comedic, so it's almost as if he's playing Poirot in name only. (Christie herself objected to this movie's script, which diverged from the novel.) Randall isn't really doing Poirot at all here, except for being condescending and having a fancy mustache (which isn't really that impressive to begin with). He's skinny! He walks normally! Condescension is not the same as fastidiousness, so he doesn't really read as camp, and his accent is inconsistent. The film itself is fine, but Randall is too broad to really be considered a good Poirot. And as far as his detective skills go, there's barely a brain cell in there, never mind a little grey one.
7. Satomi Kōtarō, Agatha Christie's Great Detectives Poirot and Marple, 2004–2005
Leave it to a Japanese anime to bring the worlds of Hercule Poirot and Miss Marple together, with the young and rebellious Mabel West tying the two worlds together as Marple's great-niece and Poirot's new junior assistant. There's something so quaint about Poirot that the animated form suits him well. But Satomi's Poirot, even in its cultural relocation, never really feels like Poirot, instead fitting him into a more generic investigator archetype. Even when he mentions his "little grey brain cells," as they're referred to in this series, it doesn't feel quite right. None of his classic mannerisms are present — there's no fussiness, and his presentation of his solution is rudimentary. He's framed as a sort of grandfather figure that also solves crimes, a complement to Miss Marple's grandmother-like characterization. The series has its pleasures as a relatively faithful animated take on several of Christie's short stories, but the Christie essence and sensibility is missing.
6. Peter Ustinov, Death on the Nile (1978), Evil Under the Sun (1982), Appointment With Death (1988), Thirteen at Dinner (1985), Dead Man's Folly (1986), Murder in Three Acts (1986)
David Suchet played Poirot for 24 years, but Ustinov comes in a close second for pure doggedness. A multi-award-winning actor with a long, established résumé, Ustinov's portrayal of Poirot — beginning with Death on the Nile — is less of a tailored performance, and more of a generic precursor to Peter Falk's Columbo, for no discernible reason. Ustinov plays Poirot as "detective" first, and a "character" second, hardly bothering to imbue the performance with any kind of idiosyncrasy typical of Poirot in the books or other screen adaptations. For better or worse, he fades into the background against the ensemble casts he's interrogating. He's no more or less clean than other detectives, leaving that quirk entirely by the wayside. And his mustache is one of the more unremarkable in recorded mustache history. Ustinov's Hercule Poirot is distinctive in the history of Poirot portrayals because of how bland he is, how unmemorable.
5. Alfred Molina, Murder on the Orient Express, 2001
Most attempts to "modernize" Agatha Christie have still been period pieces, but with slight changes in tone, approach to storytelling, and production values; all of Christie's mainstay detectives — Poirot, Marple, and Tommy and Tuppence — have reckoned with reboots and slight time shifts. In 2001, director Carl Schenkel (The Mighty Quinn) and writer Stephen Harrigan brought Hercule Poirot into the 21st century with a television adaptation of Murder on the Orient Express, starring Alfred Molina. Truly modernizing Poirot was not a good idea; attempts to graft Agatha Christie's formulas into a more explicitly modern world were ill-advised. (For example, he nearly marries someone in the first ten minutes.) Molina seems to generally understand the pompousness of Poirot's character, a self-assuredness that alienates a majority of the people he encounters. And he's an excellent actor, doing what he can with a script that struggles to transport the story into a contemporary context. Overall, Molina is much more serious about Poirot than some of the other actors on this list, which results in a performance that avoids making the character the punch line of a joke, but isn't very fun to watch. Maybe the biggest problem is that Molina mostly plays Poirot as any other detective, with an accent that sounds generically French, and doesn't have the specificity needed for the character's other attributes. And sadly, his mustache is not up to snuff — it looks like, well, a normal mustache.
4. Ian Holm, Murder by the Book (TV Movie), 1975
Not unlike Sir Arthur Conan Doyle, Agatha Christie grew to detest her most famous creation, finding all the little idiosyncrasies that made him appealing to audiences rather insufferable. She had written the final Poirot mystery, Curtain: Poirot's Last Case, three decades before its publication in 1975, primarily as a logistical move to ensure that there would be a degree of closure for the series — and also so, when the time came for possible publication, she'd be ready. The TV movie Murder by the Book, directed by Lawrence Gordon Clark and written by Nick Evans, dramatizes the meeting between Christie and her agents, where her agents propose that it's finally time to kill off Poirot. In a proto–Stranger Than Fiction turn of events, Hercule Poirot himself appears at the door, ready to fight for his "life." Ian Holm (Alien, The Lord of the Rings) as Poirot is up against Peggy Ashcroft's Christie in a fairly fascinating little production, an interesting exploration between author and creation, artist and commerce. Holm's mustache is sharp and Dali-esque, and he plays Poirot as if he has a wire wrapped around his body — stiff and with little flexibility. It's a shame that this performance has been forgotten, relegated to the rabbit hole of YouTube, as the film explores the relationship between Christie, her art, and her memory. (In one part of the film, Christie tells Poirot that no one onscreen has ever gotten Poirot right. She remarks, "They always wanted him to be played by fat men … No one has ever had the right sense of superiority." He suggests maybe David Niven would be good.) Holm's Poirot seems more furious and sad, as he's facing his "death," and his theatrical presentation of his crime-solving is imbued with more pathos because of the meta-framework. This makes his performance less amusing, more a character worthy of serious consideration. His Poirot doesn't smile — but who would, knowing their end was near?
3. Kenneth Branagh, Murder on the Orient Express, 2017
His head is not especially egg-shaped, he's not very stout, and his mustache is out of control. And yet … Kenneth Branagh's Poirot is fairly delightful. He's fastidious and fussy enough to make a big deal about the size of his hard-boiled eggs (Freudian joke, perhaps?), passionate enough to throw himself into a tizzy when he recognizes red herrings strewn across the train, smug enough to announce himself as "one of the greatest detectives in the world" to a bunch of strangers, and sustains an interesting balance of a classic Christie sensibility and a contemporary approach. Branagh plays Poirot just a little bit camp, too, embracing a sentimental side of the character that we've rarely seen without becoming too self-serious. A former female lover has been grafted onto his backstory, which Branagh, hilariously, cannot sell. But with Branagh's ocean blue eyes, he's the closest we'll get to Hot Poirot Who Fornicates. (You know, until the inevitable CW origin series.) There's enough of a twinkle in this Poirot's eyes for him to be an adequate introduction to the character, even if he isn't perfect.
2. Albert Finney, Murder on the Orient Express, 1974
Albert Finney is the only actor to play Poirot and garner an Academy Award nomination, and Sidney Lumet's adaptation of Orient Express was proof that the public was still interested in Christie's work. Finney's version of Hercule Poirot is a dream, in large part because he turns the character into a nightmare. Finney's Poirot is a real pain in the ass: he gets mad at bunk mates on the train, he wears a net for his meticulously kept mustache, he will hound a suspect if he thinks they're hiding something, and he will loudly complain about service. Covered in makeup and padding to accentuate both the aesthetic and movement of the character, Finney appears to waddle across the titular train, and his Belgian accent is on point. (Surprisingly, though, Christie was a bit ambivalent about Finney's Poirot's mustache.) All in all, Finney manages to make the character curmudgeonly in an enjoyable way. And his surroundings are just as joy-inducing: Lumet's film featured a cast of stars so bright (including Lauren Bacall, Michael York, Sean Connery, Anthony Perkins, and Ingrid Bergman, who won her third Oscar for the film), you could go blind watching it.
1. David Suchet, Agatha Christie's Poirot, 1989–2013
David Suchet played Poirot for longer than many of us have been alive. From 1989 to 2013, ITV's television series Agatha Christie's Poirot was critically and culturally acknowledged as both the best presentation of Christie's books and of her No. 1 detective. Suchet has come to be the only, the essential Poirot — he is to Poirot what Jeremy Brett was to his BBC version of Sherlock Holmes in the 1980s. The attention to detail to embodying this character is obsessive. His head is perfectly egg-shaped, he looks and walks a bit like a penguin, his accent is a perfect mix of French and Belgian, and he has an impeccable balance of smugness, tenderness, and childlike spirit. His "no, no, mon ami" is iconic in its own right. His dandified presentation — all of his clothing pristine and symmetrical, his mannerisms carefully calculated as if to preserve his sophisticated presence — is amusing without being condescending to the character. Poirot's antics in the books always had a touch of queerness to them, a little dash of camp, and Suchet is able to bring that subtle element to life without making him the butt of the joke.
However,  the series shifted gears around 2000-2004, transitioning from enjoyably straightforward mystery television episodes to feature-length episodes with high production value and tonal dread. Suchet's performance, too, became less explicitly fun, with an explicit fury that reads as out of character. But up until his final episode, Curtain (2013), Suchet's performance is so on point, so precise and loving that he remains the definitive Poirot. Hats off to Mr. Suchet — and good luck to Mr. Branagh, who has a big mustache to fill.