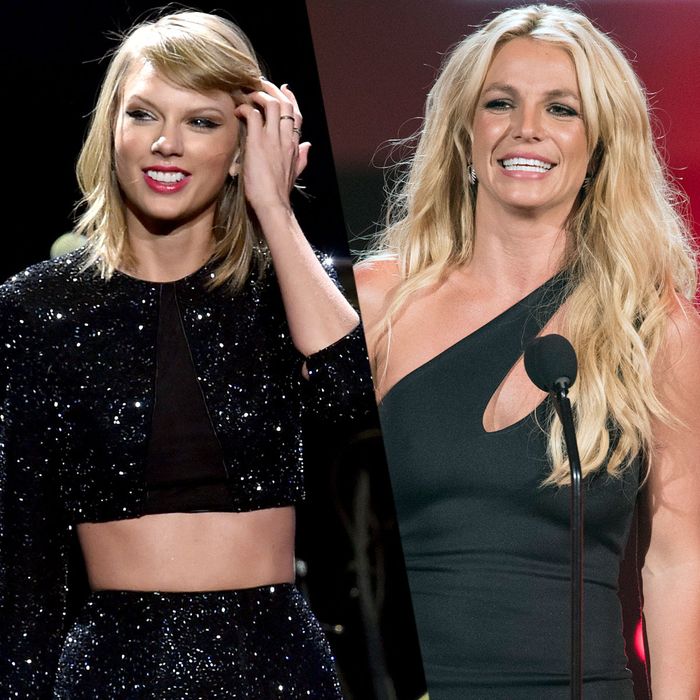 A look at their budding art careers.
Photo: Getty Images
Taylor Swift and Britney Spears represent two vastly different generations of pop stars, and yet they've recently found common ground in their no-longer-secret passion for a new creative direction: painting. Not your mom's drunk-on-wine painting — though you know Britney definitely indulges — or your kid's paint by numbers. We're talking about the distinguished, pinkie-up fine arts. But which of these ladies has mastered the form? Let's take a closer look.
For Spears, her artistic endeavors outside of music have become a blossoming side hustle. She has taken to Twitter with videos of her on a balcony, playing with watercolors to the sounds of Lenny Kravitz and Mozart. To watch her rest her tiny easel atop a bed of ivy and transform into van Gogh is free therapy. She allows scribbles and flowers to grow on the canvas wherever they may sprout, like a natural Bob Ross. Recently, one of those paintings sold at auction for $10,000 to benefit victims of the Las Vegas shooting — indeed, Britney is now a valued artiste. It's Picasso, bitch.
Swift has also started to establish herself in the art world. Part of her Reputation release involves a magazine for Target customers that features a small collection of her original artwork that maybe one day would be worth a small fortune, too, if it weren't mass produced. The pieces are currently going for much less than Spears's $10,000 (the magazines are only $20 each), but can you really put a price on #art? And is it fair to assess the quality of either amateur artist's paintings? Who are we to judge what the untrained eye views as "good."
If nothing else, both Britney and Taylor make aesthetically pleasing paintings. (We'll leave any deeper criticism to Jerry Saltz.) While Britney dabbles mostly in free-handed doodles —she even delicately holds the brush between her fingers, and eyes her works in progress like someone who knows they're doing a parody of a serious artist — Taylor does landscapes. She's a fan of watercolor splotches too, and those designs frame the many lyric sheets printed in her magazine. But her brush comes alive when she's inspired by nature, an openness anyone would crave after a year like hers where the walls closed in.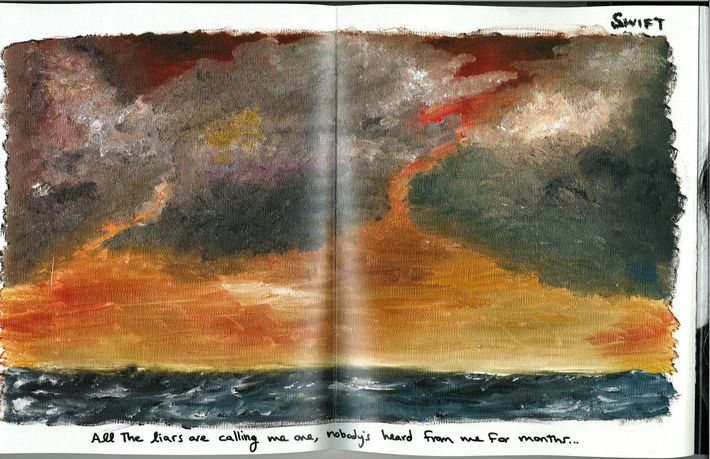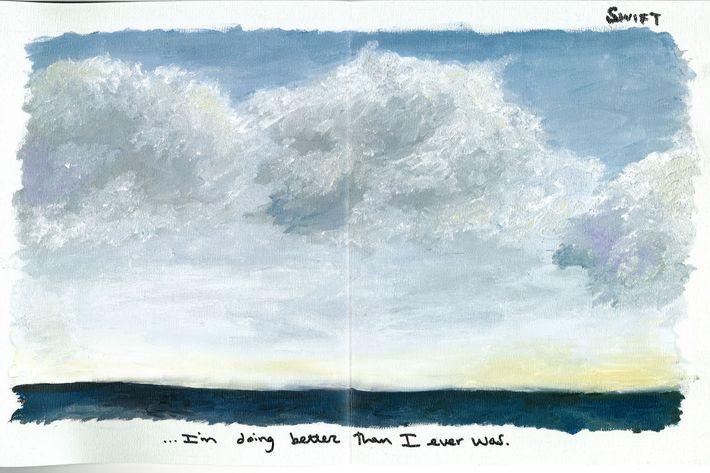 She paints sunsets over the ocean, seemingly drawn from life. (From what we saw in her TGIT performance, she's got a nice beachside view from her house.) Two identical paintings come with separate captions: "All the liars are calling me one, nobody's heard from me for months," and "Don't read the last page." Britney's works are presented without context. Intrigue! Then, for contrast, there's Taylor's cool-toned clear skies over the ocean. That caption: "I'm doing better than I ever was."
But Taylor's masterpiece, and the one she seems most proud of because she blew it up to be a fold-out poster, is more fall-foliage inspired. Splashes of crimson, forest greens, burnt oranges, and purples border a beige sliver with yet another caption: "is this the end of all the endings?" It means everything and nothing, like a fortune cookie that starts taking on a life of its own the longer you stare and read it back.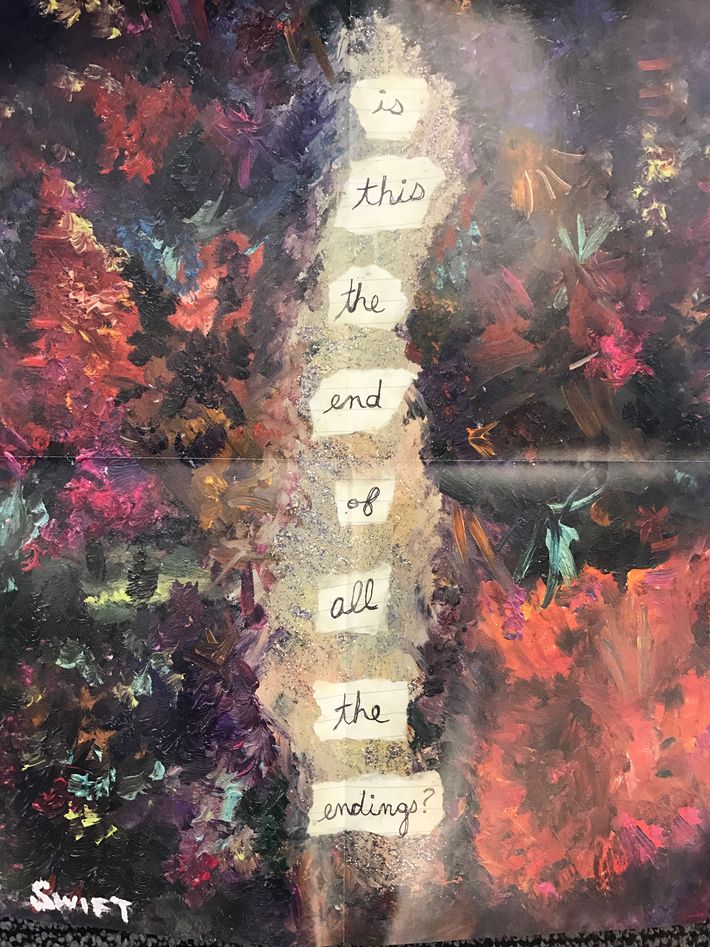 Ultimately, it's not really a debate or question of whose art is better. That Taylor and Britney's paintings exist at all — and for our public consumption! — is what's best.