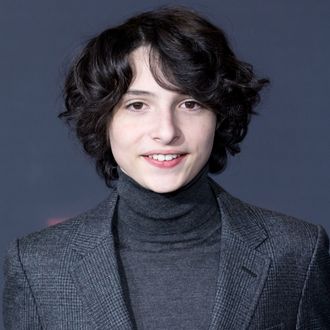 Finn Wolfhard.
Photo: Greg Doherty/Patrick McMullan via Getty Image
The kids of Stranger Things have been embroiled in a terribly adult controversy. On Wednesday night, 14-year-old star Finn Wolfhard tweeted a plea to fans not to "harass" him and his co-stars, writing that while he doesn't want to "ex-communicate" people who love the show, "anyone who calls themselves a 'fan' and actively goes after someone for literally acting and doing their job is ridiculous." To anyone who doesn't follow the minutiae of a fandom built around a group of teens whose worlds were turned upside down overnight, the child star's tweets might read as overdramatic or harsh. But the unfortunate tension between the Netflix show's young cast and those who've acted with an unhealthy obsession toward them — especially adults — has been building for months. Here's a look at the storm of events that prompted Wolfhard's response.
November 2016: The first whiff of something wrong came in the months after the Stranger Things season-one premiere when fans online began aggressively shipping main characters Eleven (Millie Bobby Brown) and Mike Wheeler (Wolfhard), who are both children, with the hashtag #Mileven. (The two share an innocent kiss at the end of the first season.) The problem, it seemed, was that some fans could not differentiate between the characters and the stars and began conflating their desire to see a romantic development between the duo with both Eleven and Mike and Millie and Finn. One fan-made image of Wolfhard and Brown edited to look like the Joker and Harley Quinn circulated online, and was later criticized.
According to Reddit, Wolfhard addressed the issue of shipping the characters on his brother's Twitch stream (where fans flooded the comments demanding Wolfhard's take on #Mileven) last November, writing, "its [sic] true, people don't understand that we're people who aren't the characters in the show … and then they attack my friends." It appears a fan had found the phone number of Wolfhard's friend and harassed him to get to Wolfhard.
October 19, 2017: Nearly a year later, BuzzFeed published a lengthy post titled "Fans of an Actor in It and Stranger Things Are Worried He Is Being Sexualized by People." The subject of the article was Wolfhard, whom concerned fans felt was being treated inappropriately. They pointed out chatter on social media now shipping Wolfhard's character in It and another young boy in the remake (Jack Grazer), as well as messages directly to Wolfhard calling the 14-year-old "baby daddy." "Forcing heterosexuality or Queerness onto children is weird. Let them figure out that shit themselves. Y'all are weirdos," one person tweeted. They said the issue escalated when fans began shipping the actors, not their characters. Grazer wrote a message on social media saying that both the ship and the speculation about his sexuality were "annoying" and needed to stop.
October 27: Retired senior NBCUniversal executive Mike Sington tweeted a photo of Millie Bobby Brown at the Stranger Things 2 premiere commenting on her "grown-up" looks, which prompted backlash from former child actress Mara Wilson, as well as Patricia Arquette. Wilson wrote, "The people that were mostly a threat to me as a child were not Hollywood insiders, but grown-up male 'fans.'" Sington later apologized for his tweet, saying he didn't mean to add to the "the objectification or even sexualization of a minor."
October 30 – November 4: Days later, 27-year-old model Ali Michael posted a message on Instagram asking Wolfhard to "hit me up in four years." Her comment was quickly criticized for sexually propositioning a minor. She later apologized, saying, "It was never my intention (nor has it ever been) to sexualise a minor in any way shape or form." Wolfhard later told TMZ that her comment was "nuts and gross" and called her apology "weird."
November 3: The Daily Beast published a piece criticizing Stranger Things creators the Duffer Brothers for forcing a young actor on the show to kiss her equally young co-star. In an after-show episode of Beyond Stranger Things, the Duffer Brothers admitted that they planned an unscripted kiss between new character Max Mayfield (Sadie Sink) and Lucas Sinclair (Caleb McLaughlin) without warning the 15-year-old actress. (It was her first kiss.) Sink recalled, "I get there, the first day of Snowball … one of you, I think it was you Ross, you say, 'Ooh, Sadie, you ready for the kiss?' I'm like, 'What! No! That's not in the script … that's not happening.' So the whole day I was so stressed out." Duffer responded, "You reacted so strongly to this — I was just joking — and you were so freaked out that I was like well, I gotta make her do it now … that's why I'm saying it's your fault." The Duffer Brothers later reacted to the controversy, saying the kiss was "a lot of fun" and all the young cast members "enjoy it." Sink also clarified that she "never objected" to the kiss and that the Duffer Brothers created a "comfortable space." She continued: "And if I felt uncomfortable with anything, I wouldn't have done it."
November 4: Appearing to have directly provoked Wolfhard's most recent response, in a since-deleted tweet, the actor was accused of being "heartless" for not stopping to greet fans who staked out his hotel; fans described him as being "so rude." The criticism sparked a wave of support from Wolfhard's co-stars, including Shannon Purser, who called these fans' behavior toward a child intimidation and explained that "no actor is under any obligation to stop for anyone." Game of Thrones' Sophie Turner also voiced concern that adults were stalking and then berating a child, leading a discussion about consent and access when it comes to child stars.
November 8: Wolfhard tweeted a message to Stranger Things fans, asking them to stop harassing him and his co-stars and to be mindful of the language they use online.