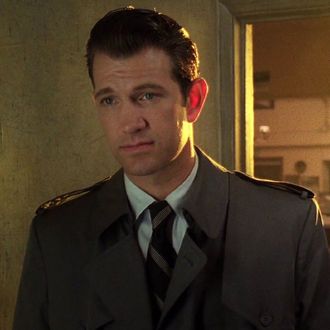 A tall drink of water.
Photo: New Line Cinema
It's been a solid few months since the unnerving conclusion of Twin Peaks: The Return, and with more time inevitably come more questions. (Especially, of course, what year was that?) But fan theories aside, knowing and ruminating on the full extent of The Return's conclusion has provided fans with some pseudo closure about certain characters who didn't appear. Catherine Martell's soapy shenanigans would've been a bit jarring from the main DoppleCoop narrative, for instance, as much as it would've been nice to see Piper Laurie emasculate a bunch of men again. Same with Lara Flynn Boyle's Donna Hayward, and even Joan Chen's Josie Packard. (Both Laurie and Chan confirmed that the show's darker narrative contributed to their characters not returning. As Laurie put it, "My character was more on the silly, comic, fun side.") But when you get out of the town's dramatic and romantic entanglements, there were two notable omissions from The Return that made people scratch their heads, especially when thinking about the integral role of Fire Walk With Me's mythology: Red Room survivor Annie Blackburn (Heather Graham) and FBI Special Agent Chester Desmond (Chris Isaak).
Mark Frost threw fans a bone and expounded on Annie's fate in his new canon novel Twin Peaks: The Final Dossier, although her ending isn't exactly a cheery one. But neither Frost's book nor The Return gave any indication as to Chet's fate, whose "normal" life seemingly abruptly ended in Fire Walk With Me when he tried to pick up Theresa Banks's ring under a car at the Fat Trout Trailer Park. If Phillip Jeffries, who co-founded the Blue Rose Task Force, managed to live on as a teapot, surely Desmond is doing something equally cool in an alternative dimension, no? Per Frost's recent AMA session on Reddit, we'll sadly never know what became of him: "Chet was discussed, but we found no easy way to bring him back from wherever he is." Poor guy. Two words: waffle iron.