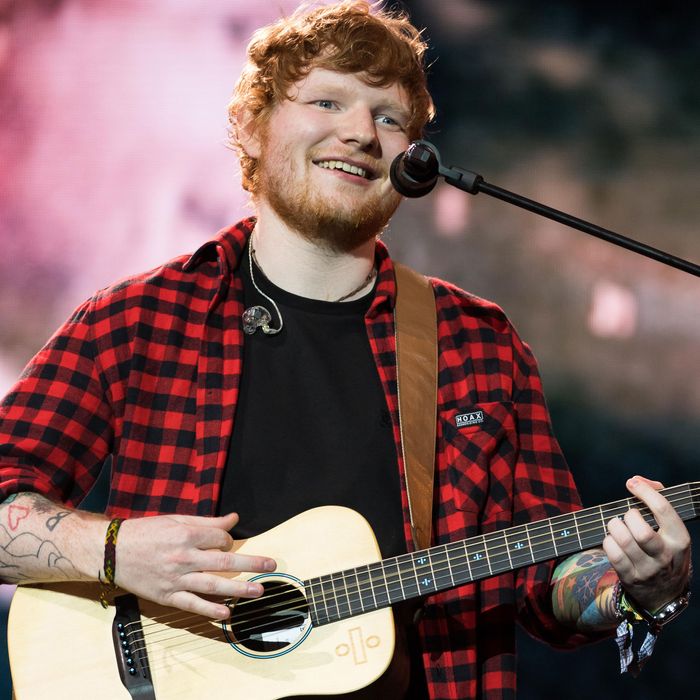 Ugh.
Photo: Ian Gavan/Getty Images
So much goes wrong on Taylor Swift's "End Game," the second track from her new album Reputation. It has a promising first few seconds with Taylor singing over '80s-indebted synths accompanied by a bit of ad-libbed moaning from Future. But the air quickly lets out when Taylor begins sing-speaking about having "some big enemies." Future, a rare rap collaborator for Swift, almost saves it. They're an odd couple, but his efforts and her openness to adopt a different vocal style make the pairing less awkward than it could've been. For a minute there, you might even catch yourself vibing to it … and then in swoops Ed Sheeran. This is the song's greatest offense: It affords Sheeran his biggest stage yet to stretch his rapping muscle.
Sheeran cannot rap. He appreciates and respects rap, but has never mastered the craft. On his guest spot on Swift's album, the honorary squad member could've sung with her or backed her up on guitar. But Swift seems to have decided that because there is a featured rapper on this song, all other guests must follow suit. And so, Sheeran gives it his all:
Now well, when I was young, we connected

When we were little bit older, both sprung

I got issues and chips on both of my shoulders

Reputation precedes me and rumors are knee deep

The truth is it's easier to ignore it, believe me

Even when we'd argue, we'd not do it for long

And you understand the good and bad end up in a song

For all your beautiful traits and the way you do it with ease

For all my flaws, paranoia and insecurities

I've made mistakes and made some choices, that's hard to deny

After the storm, something was born on the 4th of July

I've passed days with the phone, this end game isn't won

With four words on the tip of my tongue, I'll never say it
You might argue that he's not trying to take his attempts at it seriously, but his insistence on monetizing his verses by putting them in highly visible places invalidates that argument.
This is also not even the first time Sheeran has rapped. He's rapped on his own albums, at concerts, on other people's songs, and on radio appearances. This man has freestyled. His most high-profile attempt at crossing over, until now, was his 2014 Pharrell collaboration, "Sing." Everyone has the right to live their truth, and maybe Sheeran really believes his truth is that he's a rapper.