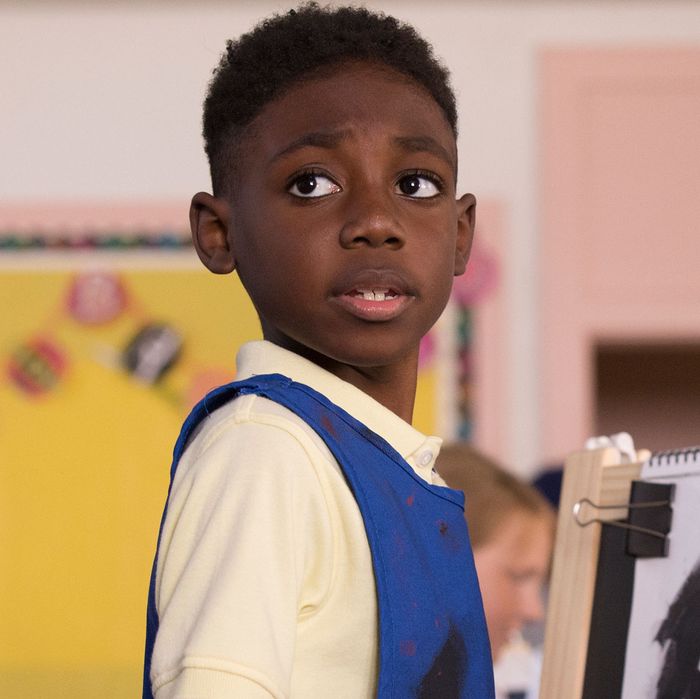 Meet the new Liam, played by Christian Isaiah.
Photo: Paul Sarkis/Showtime
There are some fresh faces joining Chicago's South Side for Shameless's eighth season, which premiered Sunday night. New to the Gallagher family is a character who's technically been there all along: Liam, the youngest of the six siblings, has been recast after twins Brenden and Brandon Sims portrayed the character since season three. (He was previously played by twins Blake Johnson and Brennan Johnson as a baby, still seen in the opening credits.) Cast in the role now is 9-year-old Christian Isaiah, and he made quite a memorable debut.
In earlier seasons, Liam represented the show's rare cute factor, wandering around the house in a diaper and dipping his toothbrush in the toilet. (Adult supervision, viewers quickly learned, is hard to come by in Shameless.) By season four, Liam was caught in the crossfire of a plot development with near-fatal consequences: He accidentally overdosed on cocaine left out in the open by his oldest sister and legal guardian Fiona (Emmy Rossum), leading to her arrest for child abuse. Liam survived, but a doctor warned the family that his multiple seizures could cause long-term brain damage.
As Liam got older, he's been mostly mute — it's never clear if that's his natural temperament, a result of the overdose, or both — appearing often in the background with the occasional line, generally as an excuse for absentee dad Frank (William H. Macy) to offer unsolicited racial commentary. (Liam is black, but both his parents are white.) Come season seven, Liam sees the first seeds of his own story line, as told through Frank finagling him a spot in a private elementary school in a bougier side of town after Liam's school in the South Side unexpectedly closes. With Isaiah now taking over the role, Liam has gone from the Gallagher with the least amount of screen time to the character quietly carrying one of the season's most intriguing subplots. In season eight, Liam's transition to his new school isn't as seamless as he'd like. He hints to Fiona one morning during drop-off that he's rarely being educated. We quickly learn that he's routinely pulled out of class to be used as a token so parents of prospective students touring the playground can see there's at least one child of color meeting the quota. "Racial, economic, and cultural diversity is one of the hallmarks of a Hopkins Academy education," some white lady tells a white dad. She points to Liam, eliciting the saddest wave you've ever seen. Later, Liam draws a disturbing all-black scene of a person six feet under (likely his recently deceased mother) while all the other kids paint vibrant, happy things.
Liam's development comes with age, but in just one episode with Isaiah in the role, Shameless has found more for the character to do than the previous seasons combined. The show's casting director John Levey tells Vulture they recast Liam with that exact hope. "The family dynamic made [showrunner] John Wells think that it was important to raise the stakes for Liam and raise his visibility," he says. They landed on Isaiah for his "wide-eyed innocence," his empathy for Liam's new story, and his comedic sense. The latter skill is crucial to how Liam processes his school's latent racism: Liam can sense he's being discriminated against, but he's been brought up to find humor in even the most dire situations to survive. "Some cracker told me my life mattered today," he deadpans to his older brothers, in the best line of the season so far.
In future episodes, Isaiah leans further into the absurdity on a play date at a rich classmate's house. He's awestruck at the rows of sneakers and this child's private bathroom — "I have my own bathroom when no one else is home," he jokes — resembling a kid in a candy shop at the sight of basic amenities like a quality shower head. He later casually introduces his friend to the hood, much to the horror of the kid's mother and nanny. Shameless has gradually embedded gentrification into its narrative — a tenant in the building Fiona recently bought, played by Gossip Girl's Jessica Szohr, factors heavily into where that subject is headed — but no story line conveys the microaggressions such shifts in the cultural makeup of a community can cause better than Liam's new, larger role. As Isaiah tells Vulture over email, "I am bringing the character to life my way."