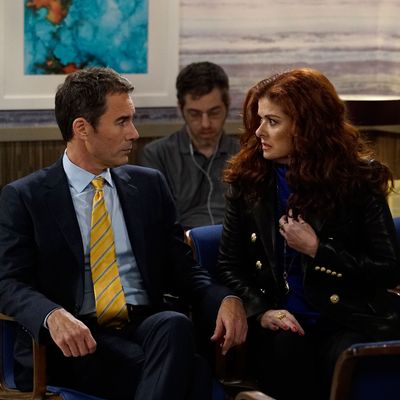 Photo: NBC/Chris Haston/NBC
Well, ladies and Debra Messing stans, we knew this day was coming. As soon as it was announced that Shelley Morrison would not return to Will & Grace as Karen Walker's maid Rosario, most knew that her iconic character had to be killed off. Now it's finally happened. Rosario died from surgical complications after collapsing at Karen's house and was laid to rest the only way that a sitcom knows how: with a lot of jokes and then a touching moment where Karen finally admits she was her best friend as the show fades away to the credits.
It's sad that Morrison couldn't make one more appearance on the show before calling it quits to give us all a little bit of closure, even if it was to just kill Rosario off. Hell, Charles C. Stevenson reprised his role as Smitty, the bartender whose tragic tales always make Karen laugh, and he looked like he was going to collapse into a pile of ash if a strong wind kicked up. I was seriously worried for him. He looked one bad Martini shake away from breaking a hip.
While we're talking about characters returning, I didn't mind seeing Smitty again because he had a bit part, and even if people hadn't watched the original series, he would still be just a funny old bartender (though one that got a rather exaggerated round of applause from the "live studio audience"). What I didn't totally love was the return of Minnie Driver's Lorraine Finster. She was a character from deep into the show's run and one of Karen's many nemeses. Luckily for those of us with short memories, she introduced herself to Karen at the funeral by saying, "You married my father and I slept with your husband, so that makes us family in my book." Not only is it a great line, but some of us needed that refresher course.
Driver is great here and Lorraine gets some really good gags — especially when she wants to help Karen by "stealing her car, getting an eight ball, going to Atlantic City, and whatever happens, happens" — but she really has no purpose. When Leslie Jordan reprised his role of Beverly Leslie last week, he and Karen had a whole hilarious story line about trying to convince Beverly's wife that he's really straight. Lorraine just seems tacked on, like there was a small window in Driver's schedule (she is currently starring in Speechless on another network, after all), so she had to be in this episode, and they needed to find her a few things to do.
(A quick aside: Karen mentioned a few episodes ago that she's still married to Stan, but Lorraine was with Stan when he died. So what, exactly, from the past seasons are we supposed to believe and what are was just supposed to dismiss? It's a silly sitcom, one way or another, but I think we need some delineation of what is "canon" and what was just silliness that we're pushing aside in order to keep the series going.)
One of the problems with the original Will & Grace was that it started to rely too much on guest stars to give it oomph. So far, with this revival, they're doing something similar, but each week it seems like they're dragging out a deep cut or a character from the past for one more go-round. If this thing is going to stick, it needs to do so on its own merits, which means relying on the core four.
Because, man, are they great. Will and Grace's stupid squabble about him getting a lease for the office next to Grace's is dumb, but they both get their moment to excel. Grace goes over to Karen, who is grieving in the bar next to Rosario's funeral, and starts sobbing about her own mother's funeral. Will also gets to go over and have a tender moment with Karen.
But it is Jack who steals scenes the entire episode, from him scarfing down Rosario's Jell-O to trying to convince the priests and nuns at Rosario's funeral that they were living as man and wife. My personal favorite was when he had to bring the "books full of magic spells" (a.k.a. Bibles) into the church and threw them into each pew before joining Will and Grace on the altar.
And then there's a scene that will go down in W&G history and inspire a thousand GIFs: Jack going next door to the bar to cheer Karen up, but she winds up forcing him to sing and dance. He belts out a very awkward version of Pharrell's "Happy" while going from the Electric Slide to the "Ease on Down the Road" to the choreography from the "Thriller" video like he's just walking down the street. It is a damn fine comedic performance.
Megan Mullally is trying to get (another) Emmy with her performance in this episode, whether it's pretending that she doesn't know what happened after Rosario died or getting angry with Jack and everyone else to make sure that Rosario's funeral slash quinceañera goes off without a hitch. She is great, of course, giving some killer lines like, "I've been on my own since I was nine months old. I breastfed myself," with a typical lift of one boob. Or my personal favorite: "Aren't we all just whores looking for a dirty pole to take one last ride on?" Karen is firing on all cylinders this episode, and she caps it all off with a nice, sweet moment, where she finally mourns Rosario in her own special way. I think we'll all miss Rosario very much, but at least we have Jack and Karen (and Will and Grace, too, I guess) to look forward to when the show returns after its winter hiatus.