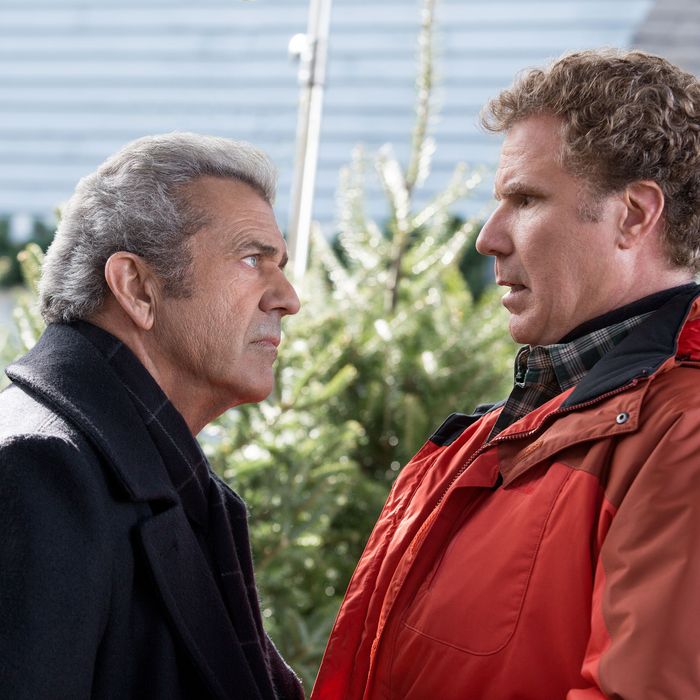 Mel Gibson (left) and Will Ferrell in
Daddy's Home 2
Photo: Claire Folger/Paramount Pictures
In Daddy's Home 2, the sequel to 2015's $250 million–grossing hit that's in theaters Friday, Mark Wahlberg and Will Ferrell play "co-dads" — the biological father and stepdad to a pair of Boston-area kids — who put aside their differences to maintain progressive domestic bliss. John Lithgow is Pop-pop, an exuberant fussbudget fond of ugly sweaters and kissing his son on the lips by way of hello. And then there's … Mel Gibson.
Despite his well-documented history of racially incendiary remarks, drunken outbursts, and assaulting women, Gibson was cast in this ostensibly family-friendly film as Grandpa Kurt, a man who tells his grandchildren a joke that begins: "Two dead hookers wash up on the shore …" Though he's turned in a series of antic performances in such films as The Beaver, Machete Kills, The Expendables 3, and Blood Father, Mel hasn't done anything remotely appropriate for children since providing the voice for a flying rooster in the stop-motion-animated comedy Chicken Run in 2000. Instead, he's spent the better part of the last decade in movie jail: ostensibly giving up alcohol while serving as a punch line to late-night talk-show jokes and trying to exit the shadow of his tabloid infamy.
And yet here's Gibson, giving Wahlberg a noogie on the Daddy's Home 2 movie poster.
The general (and understandable) consensus on Gibson's casting has been, thus far, categorically negative. "Hey, Hollywood, How About Not Casting Mel Gibson in Cheery Family Comedies?" asked LA Weekly. "What the Hell Is Mel Gibson Doing in the Family Comedy 'Daddy's Home 2'?" asked the Daily Beast. GQ declared Gibson unremorseful and his "redemption" unearned. So how does a guy with that much cultural baggage end up in a PG-13 kids' flick? And at a moment when accusations of harassment and assault by powerful men are roiling Hollywood on an almost daily basis, it begs the question: To what extent will Gibson's involvement in a family film — in any film — keep people away from theaters?
To hear it from the filmmakers (and one well-placed source close to the production), Gibson landed the job as a kind of art-imitating-life inversion of his real reputation by being "believable" as the father of Walhberg's edgy character. "When we went through and read the script with Mel in mind, we felt he would be absolutely perfect for the part and we thought he would be very funny in the role," Daddy's Home 2 director Sean Anders told Vulture. "The movie we made has an optimistic view of people making mistakes but growing and changing for the better and in getting to know Mel, I learned he is ten years sober and has taken many unpublicized steps to make amends."
There was, of course, plenty of problematic behavior for which the disgraced actor-director is still making those amends. In 2009, Gibson's former girlfriend Oksana Grigorieva accused him of punching her, giving her a black eye and broken teeth. He also reportedly told Grigorieva during a recorded telephone call from around that time: "You look like a pig in heat, and if you get raped by a pack of niggers, it'll be your fault." (Gibson pleaded no contest to a misdemeanor battery charge against Grigorieva in 2011 and was sentenced to 36 months of probation.) During his 2006 DUI arrest (for driving 80 miles per hour with an open bottle of tequila in the car), the two-time Oscar-winning actor-director called a female police officer "sugar tits" and more famously told another Malibu police officer, "Jews are responsible for all the wars in the world."
But even in a post-Weinstein world, Paramount, the studio distributing Daddy's Home 2, is standing behind Gibson. At a time when harassment scandals have compelled Netflix to suspend production on House of Cards and led to the suspension or ouster of high-ranking entertainment-industry executives such as Amazon Studios' Roy Price and National Public Radio's Michael Oreskes, the studio has made no effort to obfuscate or back-burner Gibson's promotional involvement in Daddy's Home 2. "He is participating in the [press] junket, a premiere and is making various in-studio appearances," Katie Martin Kelley, Paramount's executive vice-president of domestic publicity, told Vulture.
According to an influential marketing and crisis-management executive who works with several major studios, Gibson's co-starring status can be understood as a kind "welcome back" gesture into the mainstream movie fold. But despite this, and though Gibson landed Oscar noms for last year's Hacksaw Ridge, he shouldn't expect to make his way back onto the A-list anytime soon. "Mel is out of solitary confinement. But he's only on the prison yard; he's not out of movie jail yet," the executive says. "He's a very good director. Hacksaw Ridge got some nominations, Apocalypto was great. But he's never going to get the lead in a studio film again."
Of course, any diagnosis of Mel as box-office kryptonite — or catnip — must necessarily consider Daddy's Home 2 within the context of other recent comedy sequels that underperformed their original installments: Ted 2 (which took in $330 million less than 2012's Ted), Horrible Bosses 2 ($102 million less than the original), and Dumb and Dumber To ($77 million less than Dumb and Dumber) among them. As an additional X factor, DH2 enters the multiplex within days of Bad Moms Christmas, a yuletide-comedy sequel to last year's Bad Moms. According to industry "tracking" estimates, Daddy's Home 2 is expected to gross $25- to $29 million over its opening weekend in theaters, a significant drop off from the $38.7 million first-weekend haul of Daddy's Home.
To hear it from Paul Dergarabedian, senior media analyst for the measurements and analytics company comScore, whether or not Daddy's Home 2 manages to connect with audiences, Gibson gets an image overhaul from the implicit endorsement of his A-list castmates. "If you look at the co-stars in that movie, it pretty much is inferred that they are giving their cosign to Mel Gibson," says Dergarabedian. "If Mark Wahlberg is playing Mel Gibson's son, he is obviously very powerful and well-known in Hollywood. John Lithgow, Will Ferrell — it's sort of saying, 'We are going to welcome you back and put you in this big movie along with us.' All their reputations are tied together within the framework of this movie."
He adds: "I don't think that at this point anyone has to relitigate what happened with Gibson. He has evidently walked the straight and narrow long enough that it's time to give him another chance. Hollywood gives people second and third chances. And if it's good enough for Ferrell, Wahlberg, and Lithgow, it's up to the audience to decide if it's good enough for them."
This article has been updated to include tracking data.