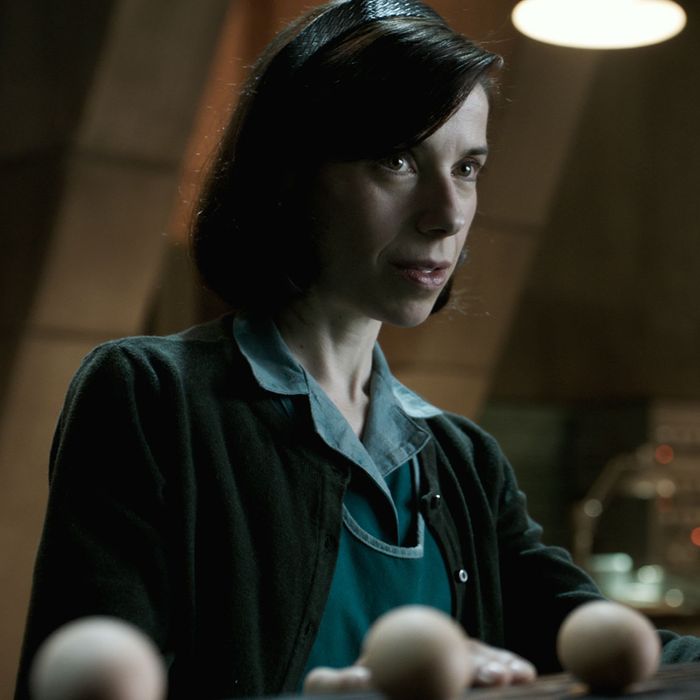 Photo: Fox Searchlight Pictures
This year's Best Actress race is stacked with laureled veterans and exciting newcomers, and it promises to be a real contest. Which of these talented women will make the final five? (This piece originally ran during TIFF).
The Actress: Sally Hawkins, 41
The Awards History: Hawkins was nominated for a Best Supporting Actress Oscar for 2013's Blue Jasmine. The Golden Globes nominated that performance, too, but Hawkins also won a Globe almost ten years ago for her acclaimed breakthrough in Happy-Go-Lucky.
The Role: In Guillermo del Toro's 1962-set fantasy The Shape of Water, Hawkins plays Eliza, a mute janitor who cleans a top-secret government facility alongside her friend Zelda (Octavia Spencer). Don't mistake Eliza for meek, though: She has a lust for life that's on display in her more private moments, and we often find her exulting to music, encouraging her closeted neighbor Giles (Richard Jenkins), and enjoying a healthy amount of morning masturbation. Into this mix comes a mysterious fish-man (Doug Jones) who's been captured by a rigid official (Michael Shannon) and transported to the facility where Eliza works. The government wants this creature prodded and dissected, but Eliza, a romantic who's taken with the fish-man from their first meeting, senses a kindred spirit. If she can manage to break him out of containment, perhaps an unlikely love affair could bloom between them.
Eliza is a dreamy outsider, and the only love that's stronger than the one budding between her and the fish-man is the love that del Toro clearly has for his protagonist. The Mexican director has found a screen avatar that would seem to be his opposite in so many ways: Eliza is American, small and silent, no match for the garrulous del Toro, who is so blessed in personality and girth. And yet, the affection she has for the fish-man is the purest distillation yet of del Toro's love for classic monsters, and even more so, his ability to relate to creatures ostensibly unlike him. The Shape of Water isn't just a romance, it's a compassionate act.
The director wrote his film with Hawkins in mind, and it's quite the showcase. When she signs, del Toro puts the subtitles right next to her, as though he can't bear to have you look away from Hawkins and her expressive face for even a second. Another film would draw out the potential romance and delay the breakout of the fish-man until the final act, but del Toro escalates this relationship quickly, confident that Hawkins can sell the entirety of it to you in just a few short scenes. Though Hawkins, a Brit, has been acting in film for the last 15 years, this is such an expansive role in such a handsome production that it makes her feel like a discovery.
In Her Favor: This year Best Actress category may be packed with former winners like Meryl Streep, Frances McDormand, Emma Stone, and Kate Winslet, and Hawkins would automatically become a more appealing pick if voters feel like handing an Oscar to someone who's never held it. That she delivers her emotional performance without saying a word further distinguishes Hawkins from the rest of the pack, even as it recalls a past Oscar winner, The Piano's Holly Hunter. The role is so special, and Hawkins so skilled and tender, that I think she could become the front-runner.
Working Against Her: Barring an upset, Hawkins is likely to be the least well-known of the Best Actress nominees. Women like Stone and Winslet can make headlines all Oscar season just by showing up in a fantastic frock or saying something to feed the 24-hour celebrity-news cycle, while Hawkins can't count on that kind of saturation coverage. Also, for as significant as her character is, The Shape of Water is more of an ensemble than you might expect, and several stretches of the film pass without her perspective. Still, Hawkins is going into this awards season in a strong position. In the end, the quietest performance may make the most noise.