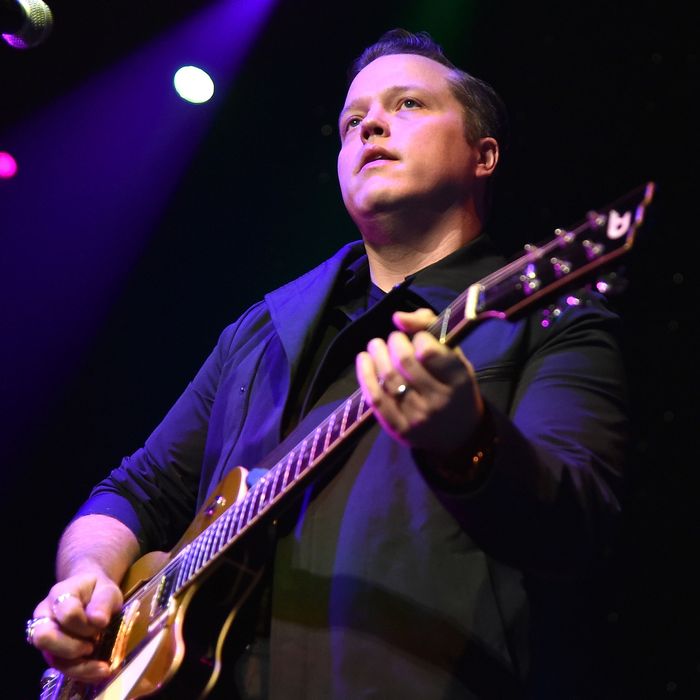 Photo: Mike Coppola/Getty Images for Blackbird Productions
This has been a strong year for Americana — country's alternative, roots-focused cousin. While Jason Isbell has finally made his way into the mainstream consciousness as the South's answer to Bruce Springsteen, artists like Nikki Lane and Margo Price have been making country music cool with their tattoos, Stetsons, and East Nashville grit. And Valerie June, by adding elements of soul and blues into the mix, has been changing the definition of the genre altogether. This is by no means a complete list of Americana albums from this year — like many genres, the definition is malleable — but it is a survey of some of 2017's best.
10. Justin Townes Earle, Kids in the Street (New West)
After the underwhelming pair of albums Single Mothers and Absent Fathers, released in close succession in 2014–15, Kids in the Street is a return to form for Nashville's Justin Townes Earle. The album showcases his unique, blues-style fingerpicking, but also taps into the many genres he has referenced over the course of his career. On "Champagne Corolla" and "Short Hair Woman," Earle re-creates the 1950s Buddy Holly–style rock and roll that appeared on Harlem River Blues and Nothing's Gonna Change the Way You Feel About Me Now, on "What's She Crying For," he takes on Western swing, on "If I Was the Devil," he channels Lightnin' Hopkins's minimal blues, and on "Maybe a Moment," he returns to the contemplative tone of his 2012 song "Am I That Lonely Tonight?" Rather than drawing on his parents for inspiration (his father, Steve Earle, left his mother when he was young), or his own failed relationships, Earle instead shifts the focus to his childhood, and the city where he was raised. The album's title track sums up this sense of reflection, as Earle looks back on his formative years in Nashville, and the way the neighborhood has changed since.
9. John Moreland, Big Bad Luv (4AD)
John Moreland's fourth solo album marks a subtle shift from his unwaveringly bleak earlier work. While still very melancholic, several songs on Big Bad Luv suggest a more optimistic outlook for the Texas-born, Tulsa-based singer-songwriter. "It Don't Suit Me Like Before" and "Lie I Chose to Believe" are both fast-paced and (relatively) upbeat southern-rock songs, with some glimmers of hope in the lyrics. "I used to have a prisoner's point of view / Now I only care for being seen by you," he sings at the end of the former, possibly referring to his new wife, Pearl Rachinsky — the two met and married after he recorded his previous album, 2015's High on Tulsa Heat. This sentiment is amplified on the song's final track, "Latchkey Kid," when he sings: "Cause I've found a love that shines into my core / And I don't feel the need to prove myself no more / And when I look into the mirror, now I see / A man I never knew that I could be." These shades of light and dark, and variations in instrumentation, make Big Bad Luv Moreland's most accessible album to date. So accessible, in fact that the mainstream country star Miranda Lambert has become a vocal supporter. "How does @JohnMorelandOK know everything? A song for every emotion," she wrote in a tweet earlier this year.
8. Ryan Adams, Prisoner (PAX AM/Blue Note)
Prisoner, Ryan Adams's first album since his divorce from Mandy Moore, sees him, both musically and lyrically, returning to the heartsick vibes of his work in the early 2000s. After recording several albums in his own studio in Los Angeles, Adams decided to record Prisoner in New York, where he lived on and off between 1999 and 2009. Sonically, it walks the line between the minimal alt-country of Heartbreaker, and the Brit-pop-inspired Love Is Hell, with some hints of Big Star, '80s Bruce Springsteen, and a serious nod to Johnny Marr. Thematically, Prisoner is a breakup record of Heartbreaker caliber, but without Heartbreaker's sense of anger and resentment. "Was I alone, am I still? / Nobody gets in, nobody ever will / You deserve a future and you know I'll never change," he sings on the album's final and most introspective track. Throughout the album, Adams's writing is sharp, catchy, and moving at the same time. And unlike the hit or miss track lists of several of his mid-career projects (III/IV, 29, Orion, Rock n Roll, I'm looking at you), almost every song on the album plays an important role in the overall narrative.
7. Nikki Lane, Highway Queen (New West)
Nashville's most fashionable rebel, Nikki Lane, continues to raise hell on her third album, Highway Queen. Her trademark, Loretta Lynn–like sassiness is definitely present on several songs, including "700,000 Rednecks," "Big Mouth," and "Highway Queen." But Lane also expresses a more introspective, and often sad, sensibility on parts of this album. On "Foolish Heart," she examines the fear and vulnerability involved in falling in love, and on "Forever Lasts Forever," she discusses sadness and the sense of loss that divorce brings. "The only ring left on my finger is a lighter shade of skin / Untouched by sun," she sings, accompanied by a mournful pedal-steel guitar.
6. David Rawlings, Poor David's Almanack (Acony Records)
With the help of his longtime partner Gillian Welch, David Rawlings finally comes into his own as a solo artist on Poor David's Almanack. Combining his nimble fingerpicking skills with his and Welch's sublime harmonies, the album sounds like the perfect counterpoint to Welch's own records. On Poor David's Almanack, Rawlings returns to the Appalachian folk and country of those Gillian Welch records while maintaining his own style — in particular, an occasional affinity for Crazy Horse–style sloppy guitar theatrics, and a goofy, tongue-in-cheek sense of humor.
5. Valerie June, The Order of Time (Concord Records)
On The Order of Time, Valerie June's sound spans the breadth of Tennessee's music history, mixing soul, country, gospel, blues, folk, and bluegrass. The instrumentation ranges from pedal steel, banjo, and fiddle on some songs, to organ, saxophone, and electric guitar on others. Building on her 2013 breakout record, Pushing Against a Stone, The Order of Time makes reference to classic blues and gospel themes of the church, bone-crushing work, and bad men, but also draws on a few more abstract ideas. The lyrics to "On the Astral Plane," the album's first single, are almost opaque ("Dancing on the astral plane / In holy water cleansing rain / Floating through the stratosphere / Blind, but yet you see so clear"), but as with most of June's songs, even if you don't understand what she's getting at, they still sound important. Her high-pitched, nasal vocals, refined since Pushing Against a Stone, still communicate a wide array of tones and perspectives — sometimes childlike, and at other times tired and worn. "The voices come to me, like when a composer writes a symphony," she told Rolling Stone in March. "They sing to me and I sing to you what I hear."
4. Dori Freeman, Letters Never Read (MRI)
On Dori Freeman's second album, she perfects her modern take on traditional Appalachian music. Freeman, who is from Galax, Virginia, began playing music with her father and grandfather singing old-time and bluegrass songs at local "picking parties," and became a fan of British songwriters like Rufus Wainwright and Teddy Thompson as a teenager. After she sent Thompson (son of Richard and Linda) her music via Facebook in 2014, he took her under his wing, financed her debut release via Kickstarter, and produced both of her two albums. On Letters Never Read, Freeman's vocals are clear and sweet (showcased most impressively on the a capella track "Ern and Zorry's Sneakin' Bitin' Dog"), and her lyrics are sharp, witty, and heartbreakingly observant. Her songs are clearly influenced by her Appalachian roots — and she is not afraid to lean into them — but they also include nods to jazz, pop, and contemporary alt-country.
3. Lillie Mae, Forever and Then Some (Third Man Records)
Forever and Then Some, the debut album from Jack White's favorite fiddle player and sidewoman, Lillie Mae Rische, approaches country, bluegrass, and folk through a gritty, punk filter. Produced by White, the recordings are rough and off the cuff. On several tracks, the tape starts before the song begins and keeps running after it ends. Rische's songs are mainly written in a minor key, and even the most upbeat tracks have a haunting, melancholy quality to them. Though the instrumentation is sometimes intentionally coarse, Rische's musicianship is clear. She has been singing onstage since the age of 3, when she started playing with her family band, and has played the fiddle since the age of 7. There is a sense that, having perfected her technique at a young age, she is now able to have fun with it — occasionally creating discordant harmonies, and letting her fiddle screech like a cat in heat.
2. Margo Price, All American Made (Third Man Records)
Margo Price turns from the purely personal to the political on her second album All American Made. Still utilizing the '60s and '70s country palette that dominated her debut project, Price tackles issues like gender inequality ("Pay Gap," "Wild Women"), poverty and disenfranchisement in rural America ("Learning to Lose," "Heart of America"), and the state of the country at large ("All American Made"). Surprisingly, Price wrote the album's achingly relevant title track several years ago, but didn't include it on her first album. After the 2016 election, the song gained new meaning for her, and Price felt that it was necessary to record it. While Price doesn't see All American Made as a "political concept record" (there are still some personal narratives on it), she certainly isn't shy about her beliefs. "I think it would be really foolish to not address some of the topics and the issues in the world around us," she said. "We need to not turn a blind eye to what's going on."
1. Jason Isbell and the 400 Unit, The Nashville Sound (Southeastern Records)
Jason Isbell completes his transition to Alabama's own Bruce Springsteen on The Nashville Sound. Balancing the personal details that made Southeastern so powerful with new social concerns, Isbell tells stories not only from his own perspective, but from those of his fellow Southerners. On songs like "Last of My Kind" and "Cumberland Gap," he manages to empathize with the frustrations and struggles that people within his hometown face (both at home, and out of state), without being condescending. It's as if, by writing from these other perspectives — which, if life had gone differently may well have been his own — Isbell is trying to figure out what the hell went wrong — what leads people to think like they do, and vote like they do. And maybe if he is indeed on the Bruce route, he'll help people in other parts of the world understand too.