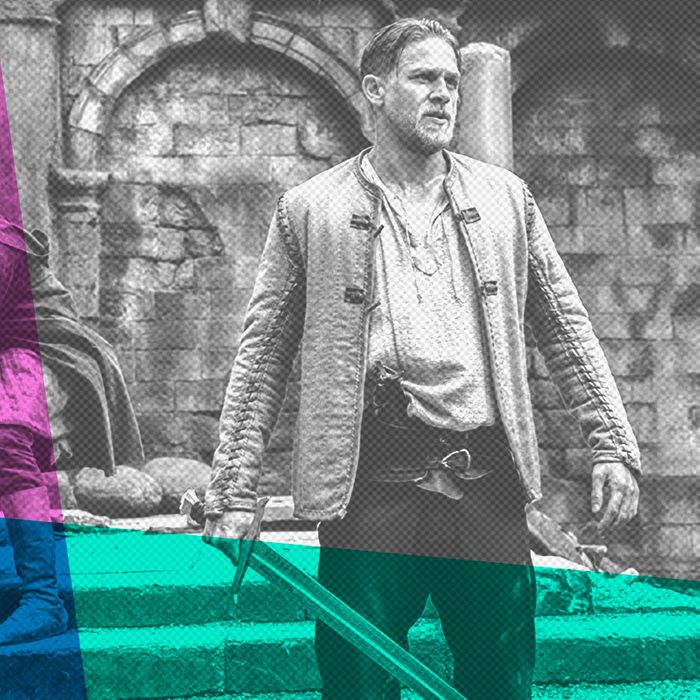 Charlie Hunnam in
King Arthur: Legend of the Sword.
Photo-Illustration: Vulture and Warner Bros.
What can we learn from Hollywood's recent failures? Casting a gimlet eye back on 2017's biggest movie misfires — the critically lambasted duds, the underperformers, the would-be event films that flopped upon release — certain startling consistencies arise. All but one of the year's eight worst-performing big-budget films were based on preexisting "IP" (or intellectual property) such as novels, toys, comic books, TV shows, and ancient mythology, underscoring the risk-averse, pre-digested "we've already seen it even before we've seen it" quality that governs studio-think, and by extension, mainstream moviedom these days. What's more, three quarters of this year's flops were never intended as stand-alone movies. Six out of the eight examined here — The Dark Tower, Ghost in the Shell, Transformers: The Last Knight, The Mummy, and King Arthur: Legend of the Sword — were specifically green-lighted to jump-start new film franchises or better yet new "cinematic universes" (which, of course, they didn't).
The takeaway? Audiences seem to have grown cynical of the whole Marvel-inspired interlocking universe trope. And in an era when summer moviegoing (the studios' most reliable money-making time frame) hit a 25-year low, with revenues tumbling more than 14 percent and tying with 2014 for the worst year-over-year decline in modern history, that emphasis on spectacle, formulaic filmmaking, and empire-building (at the expense of creating relatable characters or even coherent story lines) proved to be bad for business.
With that said, let's run a diagnostic of 2017's biggest flops.
The Dark Tower
Passed from filmmaker to filmmaker — Damon Lindelof and JJ Abrams to Ron Howard and Akiva Goldsman to (ultimately) Danish director Nikolaj Arcel — and bounced between studio distributors (Paramount, Universal, Warner Bros., and Sony among them) for a decade, the $60 million adaptation of Stephen King's fantasy-action-horror book series finally hit theaters in August to bad buzz. New York's David Edelstein, to name just one critic who wasn't overly impressed, complained that the postapocalyptic Western, which stars Idris Elba and Matthew McConaughey as dimension-hopping adversaries, has a cut-and-pasted quality that "feels like a copy of a copy of a copy" of another movie. Even worse for long-suffering fans of King's 37-novel "magnum opus," The Dark Tower pulled in an anemic $50 million domestically, derailing its intended prospects as a series of films.
Baywatch
Hoping to replicate the critical and commercial triumph of 21 Jump Street's R-rated TV-to-film conversion, Paramount's dick-joke-laden Baywatch adaptation pulled in a dismal $23 million over Memorial Day weekend — nearly $20 million less than predicted by prerelease tracking estimates. The pectoral spectacle of frequently shirtless Dwayne "The Rock" Johnson and Zac Efron wasn't enough to combat the film's cripplingly awful reviews. And its 19 percent "freshness" rating on Rotten Tomatoes became inescapable water-cooler conversation in Hollywood when Deadline reported Baywatch insiders blamed the site for "slowing down the potential business of popcorn movies."
The Mummy
Conceived as a splashy reboot of Universal's iconic Mummy franchise — as well as a kind of opening salvo for the studio's "Dark Universe" of interconnecting monster movies — this aggressively ridiculous, Tom Cruise–starring fantasy-thriller took in $409 million worldwide; it ranks as one of the year's notable underperformers, if not an outright flop. IndieWire echoed the common critical refrain, calling The Mummy, "Obviously the worst movie that Tom Cruise ever made." With its reported production budget of $195 million and additional tens of millions of dollars in distribution and advertising costs, the movie turned a small (by studio standards) profit, but only after meeting an eye-watering break-even figure: $345 million.
King Arthur: Legend of the Sword
Warner Bros. spent eight years developing this "classic IP" inspired by (if not entirely based on) Arthurian legend and featuring Sons of Anarchy star Charlie Hunnam as the titular king of Camelot. But over its debut weekend, the $175 million action-epic managed to earn a paltry $15.4 million (eventually grossing a total of just $148.7 million) to rank among 2017's worst flops. Industry observers were quick to blame director Guy Ritchie's all-flash-no-substance filmmaking style and Hunnam's lack of leading-man star power, also pointing out the movie's primary PR narrative — "a King Arthur movie for 'Game of Thrones' fans" — failed to connect with precisely those fans. In the end, Warner Bros.' plans for a six-film cinematic universe will go down as legendary Hollywood hubris.
Monster Trucks
Paramount's live-action-computer-animation hybrid (about, you know, monsters that live inside trucks) was already being pronounced a flop long before it reached theaters in January. The previous summer, the $125 million PG-rated film's first trailer inspired widespread internet WTFery. Then, in September, Paramount's parent company Viacom made the unusual move of disclosing that it would take a $115 million write-down on its earnings estimate "related to the expected performance of an unreleased film" — a film later revealed to be none other than Monster Trucks. Closer to release came a flood of negative reviews. Soon the project — which had been conceived by the studio's then-president Adam Goodman but was essentially orphaned when he was fired in 2015 — slunk from theaters, grossing a mere $64 million in global ticket sales.
Valerian and the City of a Thousand Planets
A long-gestating passion project for its writer-director Luc Besson (The Fifth Element) that's based on a '60s French comic book few Americans had ever heard of, the $180 million sci-fi thriller arrived in theaters with a dual distinction: as the most expensive independent feature and most expensive European movie ever produced. Starring Cara Delevingne and Dane DeHaan as galaxy questing space investigators, Valerian would have needed to gross at least $400 million to turn any kind of profit. Instead, the movie earned a ruinous $40 million domestically, opening on the same weekend as Christopher Nolan's ecstatically received Dunkirk, and topped out with a mere $225 million in the worldwide box office.
Ghost in the Shell
Based on cultishly popular Japanese manga/anime of the same name, Ghost in the Shell found itself basically ghosted by a theatrical audience upon release in March; the futuristic thriller cost $110 million to make but only took in a disappointing $40 million in North America. Problem A: the movie's "whitewashing" controversy that saw fans refusing to accept star Scarlett Johansson as a kick-ass special ops cyborg who is identifiably Japanese and named Major Motoko Kusanagi in the source material. Moreover, the fanboy loyalists Paramount identified as Ghost's core consumers remained "meh" on the movie and failed to turn out.
Transformers: The Last Knight
Critics have never exactly been kind to director Michael Bay's bombastic, multibillion-dollar-grossing Transformers films. But when Rotten Tomatoes' "freshness" rating for this fifth installment of the alien robot action series peaked at 15 percent, the negative reviews — and resulting negative word of mouth — underscored a growing feeling of franchise fatigue. The Last Knight took in just $45 million over its opening weekend in theaters to become the first Transformers film that failed to crack the $90 million mark over that time period. And although it eventually grossed more than $600 million worldwide, the movie's lackluster domestic take — $130 million — has been widely viewed as taking an L for Paramount, tamping down expectations for the studio's intended Transformers Cinematic Universe (which is set to kick off with Transformers Universe: Bumblebee next December).