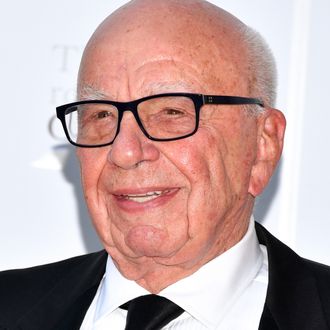 Photo: Dia Dipasupil/Getty Images
Editor's note: On Thursday, the Walt Disney Co. announced it will acquire most of 21st Century Fox in a $52.4 billion deal. In the story below, which was published last month, Josef Adalian spoke with TV insiders about the potential outcomes of a Fox sale.
News that Rupert Murdoch has discussed selling off huge chunks of his 21st Century Fox film and TV empire — first to the Walt Disney Co., and more recently to Comcast and Verizon — has sparked a wave of speculation about how such a move would shake up Hollywood. Much of the guessing has focused on what the acquisition would mean for Disney or the other interested companies. If the Mouse House were to take control of film assets such as the X-Men and Fantastic Four franchises, it would be able to churn out even more superhero blockbusters. It could also use Murdoch's TV holdings — everything from This Is Us and The Simpsons to the FX cable network — to bolster its upcoming Netflix-like streaming service. But any Murdoch fire sale would also likely have a destructive side effect: It could very well lead to the end of Fox Broadcasting, at least in the network's current form.
This is an admittedly pessimistic prognostication, and to be sure, it's far too early to start writing an obituary for the Fox network. After all, Murdoch's talks with Disney broke off weeks ago, even before they were first reported by CNBC's David Faber. And despite Thursday's revelation in The Wall Street Journal that Comcast and Verizon are looking at 21st Century Fox, the mogul might just decide to keep his empire intact, or even try to get bigger (another report suggests Murdoch has inquired about buying CNN). But let's assume Murdoch ends up doing a deal. As reported by both CNBC and the Journal, the Fox network would likely not be a part of any agreement, either because of government regulations or because other companies simply aren't interested in owning a broadcast platform. This would leave Fox essentially a Hollywood island within a downsized Murdoch media empire. According to multiple TV-industry insiders interviewed by Vulture, the newly orphaned network would be forced to radically remake itself in order to survive.
Simply put, the big, high-quality scripted shows the network has long been known for — from decades-old The Simpsons to newer hits such as Empire — would no longer make much financial sense. Modern-day TV economics make it essential for linear networks, particularly broadcast ones, to fill their schedule with programs produced within the same vertically aligned company. That's because the money generated by selling ad time on TV series is rarely enough these days to generate substantial profits; in some cases, advertising revenue doesn't even cover the cost of making a show. So Fox shows such as Bob's Burgers or Empire become super profitable only after they move to platforms beyond the network — like when reruns end up airing nightly on Adult Swim or streaming on Hulu. This is why all but 4 of the roughly 20 comedies and dramas Fox will air this season are produced by its sibling production studio, 20th Century Fox TV. And it's why Dana Walden and Gary Newman, the two executives who oversee the Fox network, are also in charge of the Fox studio. The symbiosis between studio and network is the only way linear TV still works.
So what would happen to Fox were it to suddenly find itself divorced from its production partner? Multiple industry insiders interviewed by Vulture say it's likely Murdoch would dramatically scale down scripted programming and reshape the network to focus on sports, reality and talk shows, live events, and possibly news. Remember, Fox News and Murdoch's various sports cable networks (and team rights, including Sunday afternoon NFL games) would remain under the 21st Century Fox umbrella. Murdoch's skinnier bundle of assets would also include local TV stations in most of the country's biggest media markets. With those properties remaining, the new Fox "could become something that's sort of a hybrid of Fox News and ESPN," one industry wag speculates. "And they could also create syndicated [talk and court shows], which they sell to other local stations they don't own. They could transform it into something that makes more sense" in a world moving away from linear TV. Rather than a prime-time lineup filled with expensive Hollywood-produced shows that make money over the long term — assuming they turn a profit at all — the new Fox would rely on shows that are in the black from the start.
This doesn't mean scripted shows would disappear from Fox overnight, or even go away completely. In theory, Murdoch could hold on to a couple of 20th Century Fox TV's bigger hits (like Empire), using them as loss leaders as he transitions the network to something different. He could also air some low-budget scripted shows produced by an independent studio such as Sony or Lionsgate, or by Murdoch's own syndication arm, which currently makes unscripted shows such as Divorce Court and Page Six TV. The aim wouldn't be to find the next big blockbuster hit, but to make shows that pay for themselves upfront through traditional advertising. Murdoch might even put a populist-conservative spin on this new Fox, injecting some Fox News DNA into a less Hollywood-centric broadcast network. There would still be a programming outlet with a national footprint called Fox, but it would no longer be one of TV's big four broadcast networks.
It might seem odd that a mogul such as Murdoch, who spent decades building a bigger and bigger media kingdom, would suddenly look to scale back. But industry insiders note Murdoch has never been particularly enamored of Hollywood glitz and glamour. He's always been much more interested in the news business, be it publishing or TV. That lack of sentimentality about showbiz probably makes it easier for Murdoch to see the long-term trendlines: Only the absolute biggest media companies are going to survive into the next decade, and most — perhaps all — will end up partnered with a tech or telecommunications company such as AT&T, Google, or Apple. Maybe the talk of a Disney-Fox deal will turn out to be noise, distracting attention from a much different hookup in which Murdoch ends up combining forces with one of the tech giants. But if not, the network that gave us Bart Simpson, Jack Bauer, and Jess Day could end up joining Blockbuster and Tower Records on the ash heap of entertainment-industry history.