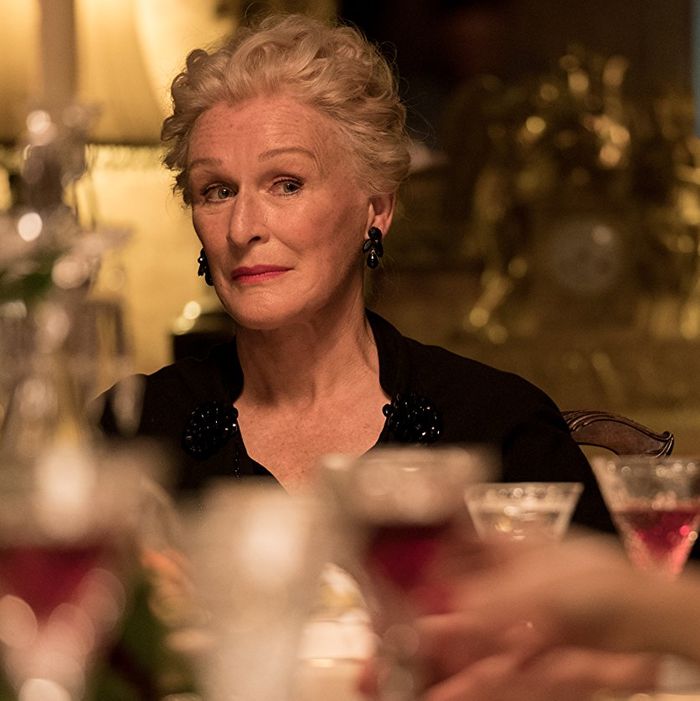 As Christmas rolls around, families across the country will be gathering to spend time with one another, swap gifts, and figure out what, exactly, net neutrality means. But between these joyous activities, there's always a lot of downtime — and thanks to the looming awards season, some of the finest movies of the year are out now. For your convenience, we've rounded up the best films either in theaters or on streaming services to watch, grouped by scenarios you're likely to encounter. Enjoy the Oscar contenders, the family movies, and the eggnog, snuck surreptitiously into the theater.
If You Want to Get a Jump on Your Oscar Pool
Phantom Thread
Paul Thomas Anderson's period piece on the post–World War II fashion scene in London is part screwball comedy, part Hitchcockian love thriller, and all Daniel Day-Lewis acting master class, as he portrays the enigmatic designer Reynolds Woodcock. David Edelstein finds the actor's potential final performance — which is all but certain to be nominated for Best Actor — so remarkable that it underscores the tragedy of his retirement. "We're not so much watching Woodcock the rarefied designer as Day-Lewis the rarefied actor," write Edelstein, "his immersion so uncanny that he can illuminate a soul at once titanic and stunted."
All the Money in the World
Controversy over Kevin Spacey's history of sexual misconduct seemed likely to doom Ridley Scott's thriller about John Paul Getty III's kidnapping. But the vet director managed to pull off the Herculean task of cutting Spacey out entirely from his role as J. Paul Getty, replacing him with Christopher Plummer, and getting the film out in theaters only two days after its scheduled release date, all in a month and a half's time. The effort paid off, too, as Edelstein ranked Michelle Williams's performance as Getty III's mother as one of the year's best, and the Golden Globes showered the film in nominations. After what could have been a disaster, Scott & Co. may be Oscar-bound.
I, Tonya
Not only does this movie work to make infamous figure skater Tonya Harding into a sympathetic character (rather than just a punch line), it could very well land its star Margot Robbie a golden statue. That's not all, as Allison Janney's performance as Harding's cursing, chain smoking, hellacious mother could nab the film multiple Oscar wins on the acting front. Edelstein found the elder Harding performance to be the film's real strong suit, writing, "Janney purges the moistness from her voice, so she looks and sounds like the husk of a cicada you find sometimes in summer. Her very soul is desiccated."
Call Me by Your Name
By now it should be pretty obvious that Luca Guadagnino's sumptuous, gay coming-of-age story is a front-runner for Best Picture, with stars Timothée Chalamet and Armie Hammer mining their chemistry all the way to likely acting noms. Edelstein wasn't short on praise: "Everything in Call Me by Your Name registers momentously, from the scene that definitively raises the question, 'Do I dare to eat a peach?' to the '80s dance numbers to the yearning Sufjan Stevens song over the stunning credits. Chalamet gives the performance of the year. By any name, this is a masterpiece."
The Post
The Academy has a track record for rewarding movies celebrating critical journalistic moments, and Steven Spielberg's latest may just continue in that tradition (especially considering current events): Tom Hanks and Meryl Streep star as the Washington Post's editor and publisher, respectively, determining whether or not to publish the Panama Papers during the 1971 government scandal. While Edelstein found the film to be "a good enough 'procedural' to keep you hooked," the real film's draw is Streep: "The beauty of Streep's performance is that you can see that essentially conservative Graham, even when she sides with Bradlee. Spielberg knows the movie is her show."
Mudbound
While our Academy Awards expert Kyle Buchanan thinks a streaming film may not be let into the upper ranks of the awards, there's been quite a bit of Oscar buzz for Mary J. Blige's performance as the matriarch of a black family in the South during and after World War II. Emily Yoshida found Dee Rees's tale of racism to be an engrossing epic, writing, "Mudbound could have easily turned out as a kind of dusty, respectable period drama that looks important while advancing nothing, but it exceeds expectations with every new layer. It's the kind of movie that feels like it's based on a novel in the best way." (Stream Mudbound on Netflix.)
The Florida Project
Sean Baker's tale of impoverished yet resolute families living in a motel in Orlando — with the promise of Disney World's manufactured innocence felt in nearly every scene — is magnificent. It's almost certainly headed for its share of Oscar nominations, especially for Willem Dafoe, thanks to his humanistic, subdued performance as the motel's manager and pseudo-patriarch. Yoshida was emphatic in her adoration: "This is a near-perfect film, and a heightening in every way of everything that was great about Baker's last movie [Tangerine]. The freshness of the future, indeed."
Roman J. Israel, Esq.
While Dan Gilroy's thriller isn't getting too much Oscar buzz, it's foolish to ever count out a Denzel Washington performance. This time, he plays a disgruntled lawyer who breaks bad. Edelstein found the film to be a solid people-pleaser: "This is a formula movie but Gilroy is no hack. He hits the expected beats but with more color and depth than you expect."
If Your Family Has a Hard Time Agreeing on What to See
Downsizing
The bard of banal life, Alexander Payne's latest effort stars one of America's favorite actors, Matt Damon (that is, so long as he isn't sharing his opinions on sexual misconduct), which should make it easy to draw your family to the theater. The film focuses on an alternate America in which one can literally shrink onself down, so as to save money and lessen their carbon footprint. While Yoshida found the film flawed, Payne's persistence helps: "[The film] rides its premise from the suburbs of Omaha to the fjords of Norway, and though there may be more than a few stops along the way where other writers would wrap things up, Payne presses on, determined — for the first time in a while — to find a note of optimism to land on."
Coco
Pixar rarely misses a beat, providing quality entertainment for all ages, and Coco isn't an exception. While Yoshida writes that the film starts a bit slow, "once it gets going — once young Miguel runs away and is transported to the land of the Dead by strumming on de la Cruz's magical guitar — the film loosens up considerably. Coco is as indebted to Ratatouille as it is to Studio Ghibli's Spirited Away, but the combination of sensibilities and the colorful, semi-spooky milieu of the afterlife realm where most of the film is set is not at all unwelcome."
The Disaster Artist
Whether or not your family likes James Franco, they should love The Disaster Artist, which details the making of the worst movie ever made in stellarly comedic fashion. And even if your family doesn't really like Franco – who stars as Tommy Wiseau, the enigmatic man behind the film – they might come away with a much warmer view of him. As Edelstein writes, "The Disaster Artist is primarily a pedestal for the ultimate James Franco performance — it's his Lincoln. Whatever my queasiness about laughing at a head case, I couldn't help myself from thrilling to Franco's timing, his relish, his swan dive into an egotism that has no bottom."
The Shape of Water
Guillermo Del Toro is known for crafting moving fairy tales fit for adults, and The Shape of Water is no different. Sally Hawkins stars as the mute Eliza, who works in a top secret facility during the Cold War going about her business, until she starts forming a bond with a humanoid amphibian (played beautifully by Doug Jones) locked up for experimentation. Edelstein enjoyed the movie, albeit with some caveats: "While Del Toro ups the gore and — disarmingly — the sex quotient, the story goes exactly where you think it will. It's an utterly lovely, complacent movie."
Wonder
Feel-good movies aren't hard to agree on, and Stephen Chbosky's film about the kindness ultimately found by a boy with facial deformations is sure to fill the hearts of you and your family. Jacob Tremblay of Room fame is a knockout in the starring role, as Edelstein writes, "Tremblay can convey worlds of emotions through understatement. Here, he shows that tilt of a head (generally down), the angle of a gaze, and the volume of speech (generally low) can be more eloquent than any expression. He uses that face the ways Greeks used masks: We project much on it."
Only the Brave
Joseph Kosinski's drama about firefighters, starring Josh Brolin and Miles Teller, prompted Yoshida to wonder why there aren't more firefighter movies. "There's less of a moral question about trying to stop a fire from destroying people's homes than, say, fighting in any war since WWII, and no anxiety-inducing hails of gunfire. But you still get the band-of-brothers mechanics of war narratives, and the smoke and struggle and life-or-death situations. It feels like a win-win to me."
Mountain Between Us
An absurd, absurdly pleasurable survival movie starring two very beautiful people — Idris Elba and Kate Winslet — is an easy sell. Edelstein writes that you'll be equally thrilled and amused by it: "It's said you have a choice at a movie like The Mountain Between Us: Laugh at it or go with it. I don't see those two things as mutually exclusive. I laughed at it and enjoyed the hell out of it. Survival sagas that aren't overloaded with existentialist baggage can be a treat, even with all their absurdities in plain view, and this one has two beautiful actors who gaze longingly at each other while subtext swirls around them like falling snow."
Faces Places
Avant-garde vet Agnes Varda's road trip through the towns of France, alongside her pal street artist JR, is a wonderfully enjoyable breeze. Yoshida writes that it had its hiccups, but nothing to stop you from enjoying the ride: "There is a real sweetness to this film, especially in Varda and JR's intergenerational chemistry, and its unfussy tone serves it well. In the opening minutes, Varda states her lifelong artistic mission to meet new faces and photograph them, and the composed, conflict-free interactions are a kind of fantasy of a world where you can go anywhere and be greeted with bemused curiosity at worst."
If You're Feeling Festive
Crooked House
Okay, so there isn't anything explicit about the movie's plot that connects it to the holidays, but the fact that it's an Agatha Christie adaptation gives it a sentimental tie to Christmas. It's not a half-bad murder mystery, either, as Yoshida writes, "There are enough twists and shocks to keep it engaging throughout … Crooked House knows what its job is: to set up a tangled web of colorful characters, throw in a few red herrings, set off its dynamite, and make its exit while the smoke is still in the air."
Murder on the Orient Express
Another adaptation of an Agatha Christie murder mystery, this time set aboard a snowy train. Kenneth Branagh and an all-star cast take a stab at one of the author's most famous novels. Edelstein wasn't entirely thrilled by it, but found it a good entry point for those unfamiliar with Christie's body of work: "I enjoyed parts of the movie, savoring the actors though aware that half of my own little gray cells were snoozing. A higher percentage might be engaged if you're a newcomer to Christie's world, in which case bring your knitting and a flask of Earl Grey and brace yourself for a mild ride."
The Last Jedi
The universally adored series' latest optimistic tale is an action-packed space opera that works well for those riding high off the festivities and family company. According to Edelstein, Rian Johnson has crafted one of the best Star Wars films: "He pinpoints the intersection between characters' desperate need to belong and the special effects that will lift those longings into the realm of myth. He achieves what no one else has since The Empire Strikes Back: a fusion of junkyard genre parts and passion."
Lady Bird
Greta Gerwig's film, which is bound to compete for some Oscars, does indeed have a scene set on Christmas, but this inclusion is more for the result you'll get from watching what is, according to Edelstein, "the near perfect" film: a greater appreciation for your loved ones. Writes Edelstein, "Gerwig has a gift for skipping along the surface of her teenage alter ego's life and then going deep. From that internal excavation comes the realization that we ought to appreciate our families, however irritating they may be.
Novitiate
For those feeling like Christmas is lacking in the religious and sexual departments, Margaret Betts's film about sexually charged nuns is just right for you. According to Yoshida, your holiday will get some extra thrill from Novitiate: "Betts has succeeded in capturing a watershed moment in the life of the Catholic Church — a push to adapt that is, in important ways, at odds with its very origins. Her irresolution makes for excellent drama." Plus, it's got a knockout performance from Melissa Leo as the fiery Reverend Mother.
If You Hate the Holidays
The Other Side of Hope
Aki Kaurismaki's latest follows the odd pairing of a well-off Finnish salesman turned restaurateur and the Syrian refugee he reluctantly agrees to house, potentially sparing him from the fate the rest of his family has sadly met. For those of us who despise holiday cheer, Edelstein writes that it has plenty of tragedy and cruelty: "In his semi-delightful, semi-sad new semi-comedy, The Other Side of Hope, characters in loudly colored clothes handle loudly colored props in pools of light amid the general gloom. Scenes of goofy sentiment follow scenes of intense cruelty in a seesaw of bright and grim."
Three Billboards Outside Ebbing, Missouri
Martin McDonagh's film isn't just an Oscar front-runner, it's also the perfect storm for those hoping to put a damper on Christmas: rape, murder, and an increasing amount of violence, which make for an at times overdone watch, according to Edelstein. Frances McDormand stars as a mother looking to get retribution for her daughter's unsolved rape and murder. As Edelstein writes, "The movie is instantly gripping, a finely calibrated a mixture of foggy melancholy and quirk, the rude comedy pushing at the boundaries of the tragic premise." It may later "become both broad to the point of silliness and even more hideously graphic in its descriptions and imagery."
My Friend Dahmer
A deep dive into the budding mind of a serial killer is exactly the opposite of Christmas cheer. Ross Lynch's portrayal of the murderer in his teenage years is "opaque in the spookiest way," according to Edelstein, who enjoyed the movie's unsettling vibes: "It would be misleading to call My Friend Dahmer 'entertaining,' but I got off on its fuzzy sense of dread, its poker-faced ghoulishness."