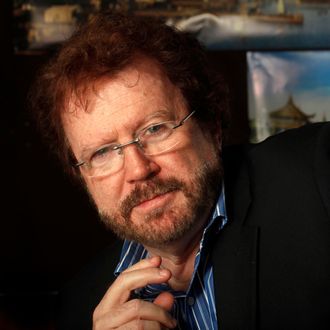 Photo: Bob Chamberlin/LA Times via Getty Images
Eight men have told the Los Angeles Times they were sexually abused by Gary Goddard, the Hollywood producer and theme-park designer. Actor Anthony Edwards, former actors Mark Driscoll, and Bret Nighman, and four other men who have asked to remain anonymous said Goddard abused them on Disneyland rides, during overnight stops during a statewide theater tour, and backstage in the 1970s. A eighth man, Linus Huffman, said Goddard attempted to use mentoring as a way to inappropriately touch him. The men claim that Scott Drnavich, a former actor who died in 1997, also said he was sexually assaulted by Goddard as a boy. Barbara Costa, the woman hired to care for the production's child actors on tour, told the Times that she was suspicious of Goddard's behavior, but that her higher-ups declined to take action. Goddard, through a publicist, has denied all wrongdoing.
In an online essay and subsequent Times interview, Edwards said Goddard molested him during the Santa Barbara–based California Youth Theatre's production of "Peter Pan," directed and choreographed by Goddard. Nighman recalled fighting Goddard off one night and watching him molest Edwards instead. Multiple men on the tour and friends of Drnavich's as an adult say that before his death he described being assaulted by Goddard multiple times. His mother told the Times he never told her about any abuse.
According to Costa and the men, some parents were concerned about Goddard's behavior on tour. He allegedly insisted on being the only adult to bunk with the young male actors, Costa said. During a 1990 reunion of the Santa Barbara theater alums, many men recounted being abused by Goddard, according to the Times. Driscoll told the paper the men went to Goddard's house and confronted him, and Goddard apologized.
In 2014, Goddard, along with frequent collaborator Bryan Singer, was accused of sexually assaulting actor Michael Egan III. Egan later withdrew his lawsuit. Singer is facing new scrutiny after he was accused of sexually assaulting a 17-year-old.
Goddard is currently taking a leave of absence from his company, the Goddard Group. "If it were possible to prove a negative, Mr. Goddard would debate these 40-year-old allegations," his publicist told the Times, adding that his client would "categorically deny" these allegations.