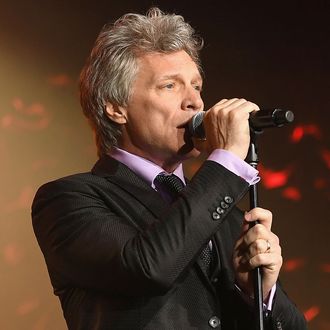 The boomer rock drama is still going strong.
Photo: Larry Busacca/Getty Images for Songwriters Hall Of Fame
For the better part of a decade, Jon Bon Jovi has been trying to get Bon Jovi inducted into the Rock and Roll Hall of Fame, and today, it finally happened. The band has been eligible since 2008, but the New Jersey rockers have only been nominated twice (once before in 2011), finally making it through on their second try this year. Jon now tells the New York Times, apparently using some language not fit for print, that the honor is overdue:
"Well. I mean … we're very happy about it," he said in an interview. "And um, you know. It's great." He paused. "I really want to say it's about time," he added, using a colorful adjective omitted here.




"Am I relieved? Yeah. Am I pleased? Absolutely. But," he repeated, "It's about time," using the same colorful adjective.
Jon's tepid reaction stems from years-long tension with the Rock Hall institution's overlords — namely Rolling Stone publisher Jann Wenner, who is chairman of the foundation that controls the induction process. Last year, Jon complained to Howard Stern that he'd had a "big falling-out" with the people in charge, saying that more than one member of the voting board had "made it their personal mission to fuck with me" and keep Bon Jovi off the ballot. "I called [the guy] a few choice words," he said, not naming the person when asked if it was Wenner. "And I'm never shy, when I see him, to call him a few more choice words."
He continued: "The criteria is actually that your music had an influence on generations that came after you, and that it's still out and very present. Yeah, we have every criteria." Looking back on the 2011 nominations process, Jon now tells Billboard it might've been rigged: "There were a lot of conversations about were we legitimately not voted in, was there a little bit of covert action going on, and we'll never know." (The rest of the band doesn't appear to feel as slighted by the Hall as Jon has.)
It was then revealed in a recent controversial Wenner biography that Wenner specifically did not think Bon Jovi belonged in the Hall. "I don't think he's that important," he reportedly said. "What does Bon Jovi mean in the history of music? Nothing." Wenner also alleged that Jon had had billionaire investor Ron Perelman schmooze on Bon Jovi's behalf to get them inducted as part of a repeated campaign. The book's author Joe Hagan elaborated on Wenner and Jon's feud in a separate interview, saying, "I was with Jann at a Bob Dylan concert in New York City two years go and saw Jon Bon Jovi. I said to Jann, 'Hey, there's Jon Bon Jovi' and Jann ducked away, saying '[Bon Jovi] doesn't like me.'"
Hagan noted Wenner's notoriety within the Hall: "Everyone goes to kiss the ring, because they think Jann runs the thing. Jann obviously has a big influence on this thing and I think he has always enjoyed having these people lavish him with attention and campaign for it." He recalled seeing Ric Ocasek of the Cars "trying to butter Jann up" about their potential induction; the Cars were today named a member of the 2018 class. The Rock Hall, however, responded to Hagan's interview saying Wenner is not involved in the nominations process.
Declining to respond directly to Wenner's comments in his biography, Jon instead told the Times, "There's no reason to get into mudslinging. The truth is that they all came around and said, 'You can't deny the facts.'" Indeed, Bon Jovi received more than 1 million votes in the Hall's fan ballot, which counts toward a single vote. He continued: "We're not on the 'Where are they now?' tour. My last three tours were the biggest-grossing tours in the world. We've been blessed that people come and see us and there's a big catalogue of music. I wasn't surprised, but I was pleased." By all accounts from the band — including Richie Sambora —it appears they'll reunite to perform at the induction ceremony, hopefully with an even more colorful speech from Jon included.