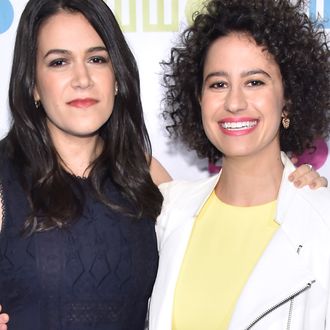 Following the New York Times report confirming the long-running rumors about Louis C.K.'s sexual misconduct, most of the comedians who are represented by C.K.'s former manager Dave Becky have remained radio silent regarding the allegations that Becky intimidated and silenced C.K.'s victims for years, which kept their stories from coming to light and ultimately affected their comedy careers in the process, given Becky's involvement in projects ranging from Difficult People to Broad City to Baskets, Insecure, and Master of None. From NYT:
In the years since, Ms. Goodman and Ms. Wolov have found some success, but they remained concerned about Mr. Becky and took themselves out of the running for the many projects he was involved in. Though their humor is in line with what he produces, "we know immediately that we can never even submit our material," Ms. Wolov said.
The exception came when Pamela Adlon decided to fire Becky last month after releasing a statement saying she was "devastated and in shock" over the C.K. news, but since then, no other big-name comedians who work with Becky have followed Adlon's lead.
During an interview on SiriusXM's Entertainment Weekly Radio, Broad City's Abbi Jacobson and Ilana Glazer were asked for their thoughts on Becky and his involvement in their show as a producer, and they said that despite the fact that Becky is not their manager, it's "this upsetting thing to find out his involvement in the whole thing, and so it's definitely something that we are kind of constantly talking about right now," Jacobson said. "And also, we take accountability for using this white dude power to get our show on TV," Glazer added. "We're accountable for that. We're not accountable for Louie's actions, for Becky's actions, but we are accountable for using his power to get our show on TV."
Listen to the clip below:
With the exception of Bill Burr, who said on his podcast last month that he's standing behind Becky, the only comedians who work with Becky who have spoken up about his involvement in the C.K. story are women. Other clients – including Amy Poehler, John Mulaney, Aziz Ansari, and Kevin Hart – have yet to comment on the news.