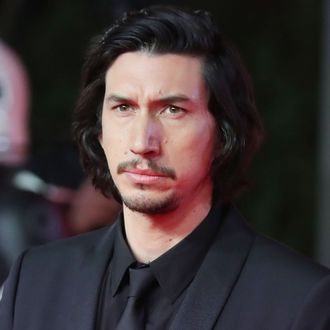 When can we get Daisy Ridley onstage?
Photo: Daniel Leal-Olivas/AFP/Getty Images
Adam Driver, who's been on Broadway twice before (three times, if you count the time his character from Girls did Major Barbara), is coming back to the stage in 2019. In a change of pace from playing the sulky, sexy Kylo Ren in the Star Wars films, Driver will play the sulky, sexy Pale in a revival of Lanford Wilson's Burn This, a role played by John Malkovich in the show's original 1987–88 run. The play, set in downtown New York in the 1980s, follows four New Yorkers who are pulled together after a young dancer's accidental death. Michael Mayer (Hedwig and the Angry Inch) will direct. Jake Gyllenhaal was originally set to play Pale in the revival, but postponed due to scheduling conflicts and ended up doing Sunday in the Park With George instead. We'll have to wait until Burn This premieres to really know who wins this round of the battle of the sulky, handsome, movie/stage stars.