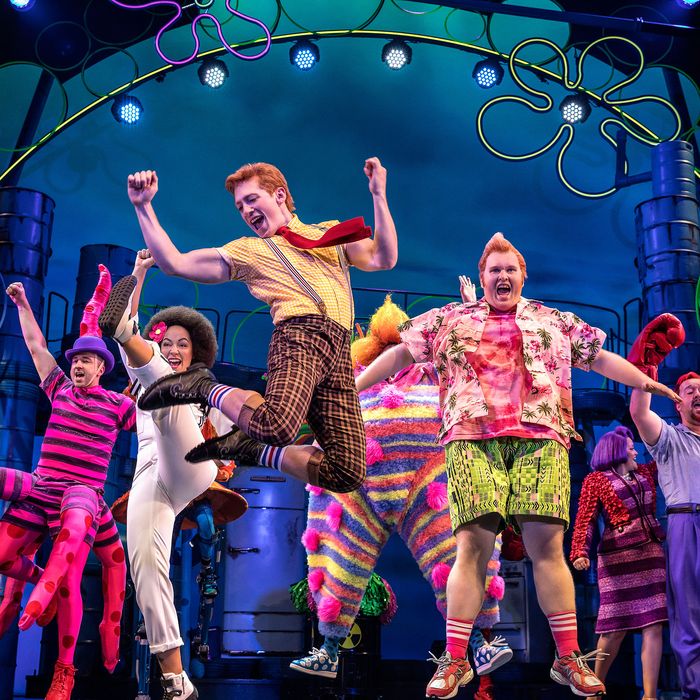 Are you ready, theatergoers?
Photo: Joan Marcus
"When are you going to learn, SpongeBob? The world is a horrible place filled with fear, suffering, and despair … also, dashed hopes, shattered dreams, broken promises, and abject misery."
So sighs Squidward Q. Tentacles, a morose fussbudget of a cephalopod with a minor mommy fixation and not-so-secret dreams of theatrical glory, who's now squelching his way across the stage of the Palace Theatre along with a splashy assortment of fellow sea creatures, in that most improbable and most delightful of musical adaptations: SpongeBob SquarePants. Skeptics better tie themselves to the mast if they want to survive this tempest of effervescent candy-for-the-spirit. Even if you venture into the Palace feeling Squidward-ish, it's a truly gloomy soul who'll be able to leave without mirroring the dopey grin with which the show's absorbent yellow hero responds to his buddy's existential angst: "But it's our horrible place, with the best abject misery there is!"
Stephen Hillenburg began developing the megafamous animated children's series for Nickelodeon in 1996, after the cancellation of his previous offbeat cartoon show, Rocko's Modern Life. SpongeBob's pint-sized episodes — 11 minutes max — chronicle zany adventures in an undersea town called Bikini Bottom, especially those of our porous protagonist and his two best friends, the portly pink starfish Patrick (loyal, lovable doofus) and the chipper, resourceful "land squirrel" Sandy (a diving-suit-wearing mammalian scientist who's literally, if not figuratively, out of her element). Each episode begins with a painting of a pirate whose animated mouth asks an imagined audience of enthusiastic wee ones two gravely important questions: "Arrrre you ready, kids?" and that unforgettable, melodic query that more people could probably recite on demand than the "Who's there?" that begins Hamlet: "Whooooooo … lives in a pineapple under the sea?"
That is the question. And now the big, bubbly, neon-sparkly, multicolor, confetti-covered love boat of an answer has cast anchor on Broadway. Under the joyfully maximalist hand of Steppenwolf vet Tina Landau (who also directed the show's Chicago premiere), Bikini Bottom gets the more-is-more-is-more-is-more treatment, with a DIY twist that's both endlessly charming and integral to the production's spirit. No one is trying to pretend that this SpongeBob isn't backed by massive treasure chests, but that booty isn't put to work trying to create a slick illusion. Instead, Landau and her team have embraced a playful, pack-ratty spirit. Their world is a collage, a crafty collection of flotsam and jetsam piled high into an ingenious, often inspired playground.
The exuberant hodgepodge begins with SpongeBob's score: Its nearly twenty songs are by a range of artists, from Aerosmith to They Might Be Giants, rapper T.I., psychedelic rock outfit the Flaming Lips, and even (yes, it's true) Brian Eno and the late, incomparable genius-from-another-planet David Bowie. The fact that this mélange of tunes is knit together with nary a seam showing is evidence of the increasing genre looseness of many new musicals (classical, hip-hop, and pop, oh my!), but it's also a credit to Tom Kitt — who provided additional music and orchestrations, as well as serving as music supervisor and arranger — and the indie nerd-rocker Jonathan Coulton, who contributed additional lyrics and whose peppy anthem "Bikini Bottom Day" bookends the show.
Out of the score's gleeful mishmash springs David Zinn's overflowing cornucopia of a set. There's not an inch of the Palace that's not covered in curtains of shiny blue tinsel or stuffed with clumps of pool noodles and clusters of red plastic party cups resembling coral growths. Giant Rube Goldberg machines adorn either side of the proscenium arch, like rickety old Coney Island coasters. (Waiting for them to kick into action during the show is a huge treat.) Zinn — who also created the similarly Technicolor costumes — gives us garish headpieces made of plastic drinking straws, skirts constructed out of dozens of rubber dish gloves, crab claws like overstuffed red boxing mitts, and an extra pair of spindly gams attached to Squidward's teal slacks, in a small masterpiece of apparel-puppetry. (Ever wanted to see a four-legged — I'm sorry, four-tentacled — tap solo? Your wait is over.)
Is it too much? Nah, no such thing. While I admit that I raised an eyebrow upon learning the show's runtime — two and a half hours seemed like a whole lot of SpongeBob for a single sitting — I left realizing that I had smiled for literally every minute of it. Even at that length, it's a shameless celebration of short attention spans (there's something new and shiny to look at pretty much every 30 seconds), but its relentless novelty has a sweet earnestness to it, not to mention real inventiveness. It's like a kid running up to you to show you the Super-Powered Extra-Awesome Cybernetic Blaster Raygun she just made out of a cardboard tube and some pipe cleaners. Indeed, Sheldon J. Plankton, SpongeBob's minuscule but nefarious antagonist, cackles over just such a contraption: The Avalanche Maker 3000's construction looks to involve a caulking gun, a camera tripod, and several buckets.
Sheldon — played with simpering Bond-villain wickedness and the mother of all inferiority complexes by the excellent Wesley Taylor — has an evil scheme. (Evil schemes are kind of his thing.) It seems that, despite the poppy optimism of Coulton's opening number, the peaceful oceanic metropolis of Bikini Bottom is in danger: Mount Humongous is rumbling into volcanic life. According to Sandy the scientist squirrel's calculations, it's bound to erupt at "sundown tomorrow," reducing the town — with its array of fruit-based domiciles and fine-dining establishments — to a mere undersea crater. As the fishfolk panic, Sheldon sees his chance: exploit the citizens' fear in order to trick them into evacuating the town. Once they're all packed inside his "Giant Escape Pod," he can mass-hypnotize them all! To what end? Well, obviously to "make everyone love my chumburgers!" (For those unfamilar with the cartoon, Sheldon runs a lousy restaurant called the Chum Bucket, engaged in an eternal battle with "the finest eating establishment ever established for eating," the Krusty Krab — home of the famous Krabby Patty and employer of our dauntless, rectangular hero.)
So it's the old story: A "simple sponge" must set out to save his beloved hometown, and maybe discover that he's not quite so simple along the way. As that sponge, the beaming, ebullient Ethan Slater couldn't be better cast in his Broadway debut. He's so malleable in voice and body that he feels like a living Animaniac. With nothing actually square about him (thank goodness Zinn chooses to anthropomorphize the show's characters, rather than trapping them inside the cartoon's shapes like plush mascots), he captures SpongeBob's signature hand-flapping walk, his springiness, his array of googly-eyed expressions, and, most important, his unceasingly sunny attitude. He's a maritime Candide, devoted to the preservation of his best of all possibly watery worlds.
Slater shines, and he doesn't shine alone. SpongeBob's cast is uniformly outstanding — and not since Natasha, Pierre, and the Great Comet of 1812 have I seen a company so clearly having such a great time. It's contagious. Try not grinning at Lilli Cooper's brainy, plucky Sandy, or chuckling mightily at Danny Skinner's just-too-spot-on Patrick, or whooping and hollering for Gavin Lee's arch and irritable Squidward (a diva's soul in a stage manager's body), as he finally gets to take center stage in "I'm Not a Loser," a glittering kickline fantasia that would make Busby Berkeley and Bob Fosse proud. Try not to crack up at Sheldon's antics with the hilarious Stephanie Hsu as his sardonic, (artificially) intelligent "Computer Wife" Karen (she's a computer, ya'll). Definitely try not to say "Daaaamn" under your breath when Jai'Len Christine Li Josey — the 18-year-old Alabama native making her Broadway debut as the passionate, pining teenage whale Pearl Krabs — lets loose for the first time in "Daddy Knows Best." This whale can wail.
There's more. In SpongeBob, there's always more! From Sheldon's diabolical seduction of Bikini Bottom's citizenry — a hilarious hip-hop number called "When the Going Gets Tough" that's winking cagily at Hamilton — to the showstopping gospel extravaganza "Super Sea Star Savior" (in which Patrick becomes a god to a school of zealous, lemming-like sardines), the glitter bombs just keep on dropping. And they're not just spreading happy-go-fun-times: There's a heart here, too. Like any good material for kids, SpongeBob slips in the adult stuff. Bikini Bottom's got to deal with xenophobia (the frightened townsfolk blame Sandy for their plight, erecting a sign that reads "LAND MAMMALS GO HOME"), science-denying ("Next she'll tell us tidal warming is real!" cackles Sheldon), and the self-serving, gummed-up gears of political bureaucracy: "I'm starting an initiative to assemble a committee to identify a strategy to evaluate the situation!" barks Gaelen Gilliland as the pontificating, purple-coiffed mayor.
But thank goodness that, at least in Bikini Bottom, persistence, optimism, and friendship can still win the day. And a good-hearted sponge can stand with his two best buddies — one of whom happens to be an immigrant woman scientist — and refuse to accept that the world has nothing to offer but fear, suffering, and despair. Is SpongeBob the future liberals want? Whatever the case, it's a boundlessly buoyant temporary antidote to the woes of the present.
———–
Down in the East Village, although there are no confetti cannons or pool noodles to be seen, another musical is using fellowship through song to shine a light in the darkness. Hundred Days, the spare, impassioned concert-play created by the Bengsons (a band and real-life couple), might seem about as far from Bikini Bottom as it's possible to get. But if the shows share anything, it's earnestness. And there's something about that way of moving through the world — chest up, heart open, irony pushed firmly aside — that feels downright daring right now.
Abigail and Shaun Bengson have been developing Hundred Days in collaboration with director Anne Kauffman for several years now. The show's original incarnation premiered in San Francisco in 2014. Since then, the Bengsons have followed an arc that often occurs in the work of the best rock raconteurs: Their story has become more autobiographical, more vulnerable, closer to home. Hundred Days — which, since 2014, has seen iterations at Know Theatre in Cincinnati and, last January, at the Public's Under the Radar Festival — is now a deceptively simple affair: a stage largely unadorned save for musical instruments, a book by playwright Sarah Gancher that gives a voice both wry and poignant to the story of the Bengsons' meeting and marriage, and of course, a collection of lush, plaintive, soaring songs.
Music is the heart of Hundred Days. It's how Abigail and Shaun found each other — "We met at the first rehearsal of a massive anti-folk, folk-punk, old-timey, neo-soul band," the dry, bespectacled Shaun tells us. It's how they committed to each other. (The show's first song is a jubilant anthem called "Vows.") It's how they plan, when the time finally comes, to part — "This is our last song," says Abigail in the show's final moments, "It's the first song Shaun and I ever wrote together … We wrote it for me to sing after he's gone."
It's also how they've dealt with the daily, ungovernable fear of simply being: being alive, being connected to another person, being aware of that other person's mortality. Abigail is made of more volatile stuff than Shaun. She's all feeling, all intuition — all vision, even. When she was 15, her family suffered some kind of mental-health crisis (it's described in rather mystical terms), a period of time when "some of the people in my family lost their minds, and because of that, others in my family ended up hospitalized or dead." In the midst of this "storm," young Abigail had a dream: She'd meet the love of her life. He'd come to her in a beam of light. They'd sit together in a boat — no, a diner booth. This would be her person, her soulmate. And then she'd find out that "the man I love is dying. He has 100 days to live."
Fast forward to several years later. Girl grows up. Girl moves to New York City. Girl meets boy. Girl and boy sit at Astoria diner together (where, in heady defiance of her ultra-dieting and his "insufferable" veganism, they order eggs and bacon and fried chicken and pie). Girl knows it's her dream, happening in the flesh. She moves all her belongings into boy's apartment ("Totally reasonable second-date stuff"), they decide to start a band together, and then, after a car accident on the way to their first gig, girl freaks out. Here's the second part of her dream: Death. Endings. Loss. "I see the dead, I see my dead," intones Abigail Bengson over the music's melancholy throb, "I can't, I can't, I can't …"
Though it's Shaun who's hurt (mildly) in the accident, and though it's Shaun whose death Abigail has envisioned, Hundred Days is in fact the story of coaxing Abigail back to life — out of fear's paralysis and back into the messy, unpredictable, but not loveless world of the living. The rest of the Bengsons (the band, not the couple) provide virtuosic support here, filling the stage of New York Theater Workshop — which has been stripped down to its beautiful bare brick — with a series of ecstatic songs that make the case for living and loving, despite the grief and pain. The voices of Jo Lampert and Reggie D. White soar and pierce, and they play a mean accordion and set of keys (respectively). Cellist Colette Alexander adds velvety weight and depth to the music, and Dani Markham absolutely rocks out on the drums. As for the Bengsons themselves (the couple), Shaun is a model of the classically self-effacing, hella talented indie-rock musician — his guitar holds the show together — and Abigail, out of her roiling anxiety, is able to release a vocal hurricane. In "Three-Legged Dog," her breakdown song, the words feel like wolves ripping their way out of the singer's chest. It's a spine-shaking performance.
What becomes of girl and boy? Does girl overcome her fear? Does boy die? Well, boy will die one day — girl, too — but the existence of Hundred Days is proof that the Bengsons made it. No — are making it, day by day, step by step, through sickness, health, suffering, sadness, salt, and snow. Listening to their raw, celebratory songs echo against the brick walls, as lighting designer Andrew Hungerford's gorgeous array of starry light bulbs glimmered overhead, I heard lines from my favorite poem running through my head: "We must risk delight … We must admit there will be music despite everything."
SpongeBob SquarePants is at the Palace Theatre.
Hundred Days is at New York Theater Workshop through December 31.