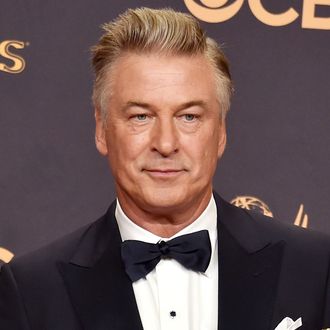 Photo: Alberto E. Rodriguez/Getty Images
It's been a bit of a weird week for Alec Baldwin and his Twitter account. Seemingly prompted by John Oliver, host of HBO's popular Last Week Tonight, grilling Dustin Hoffman about his alleged history of sexual harassment at a Wag the Dog anniversary screening, Baldwin took to his foundation's account to express his displeasure at how late-night programs are evolving. "Talk shows were once promotional pit stops for some blithe chit chat about movies, etc," he wrote at the time. "Now the likes of @iamjohnoliver and @StephenAtHome have flipped that and they are beginning to resemble grand juries." He echoed that sentiment while swinging by Megyn Kelly Today, and he's now offering further clarification about his views.
"I did not suggest that late night hosts 'stick to' blithe chitchat. I merely pointed out that the migration from then to now is striking. And that I believe @iamjohnoliver was rather heavy-handed in his approach to [Dustin Hoffman]," Baldwin wrote. "People have lost their jobs, their reputations and the legacy of their good/great work. Some have deserved that. Some have not. And all without a single conviction in a courtroom. If Weinstein is not convicted in court, this movement may be in jeopardy of derailing." He'll certainly have plenty more to say on his new talk show.