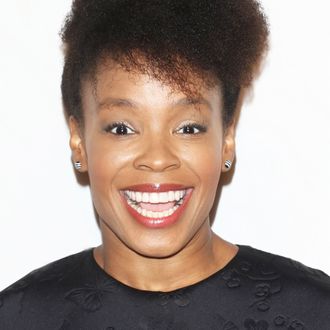 Photo: Jim Spellman/WireImage
While Seth Meyers has signed on to host the 2018 Golden Globes next month, one of his Late Night writers/performers has landed an awards show hosting gig of her own. The Writers Guild of America announced today that Amber Ruffin will host next year's WGA Awards ceremony in New York, which will take place in New York and Los Angeles on Sunday, February 11th. Additionally, the East Coast ceremony will be run by a team of women, with Bonnie Datt and Shannon Walker co-executive producing and Ann Cohen serving as head writer. Here's Ruffin's statement on the news:
I'm so excited to host the 2018 Writers Guild Awards! If you're looking for hard hitting satire on sexual assault allegations, Russia and the Republican tax plan… too bad! This is gonna be all hugs and rainbows! (The hugs will be consensual.)
In addition to her work on Late Night, Ruffin is a writer on Comedy Central's Detroiters, has a show in development at NBC, and appears as a narrator on the upcoming season of Drunk History.