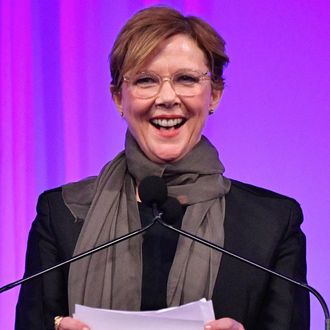 Annette Bening.
Photo: Dia Dipasupil/Getty Images
The process of pulling together American Crime Story: Katrina has been something of a beast. It was supposed to be the first follow-up to The People v. O.J. Simpson in the ACS anthology series, but then it got overtaken by The Assassination of Gianni Versace. There was a tantalizing and socially relevant premise and very exciting casting news — like, ahem, Annette Bening as then-governor of Louisiana Kathleen Blanco — but then in July an ACS producer said the season may not even happen at all. Things got back on track in August when development fired up again, but it was announced that the source material for the season would be changing, which meant new characters, which meant no more Annette Bening. (Cue chants of, "Justice for Annette!") It's a terrible thing to do to fans, tell them Annette Bening is going to be in something and then take her away, but the venerable actress is here to alleviate your blues by telling you why she was cut from the project: It was for the good of a very important story.
Katrina was originally based on Douglas Brinkley's book The Great Deluge, but as Bening explains, creator Ryan Murphy decided a better angle would be to draw from Five Days at Memorial: Life and Death in a Storm-Ravaged Hospital by Sheri Fink, which focuses specifically on what happened at Memorial Medical Center in New Orleans after the hurricane ravaged the city. And Kathleen Blanco doesn't really factor into that story. "He needs to do it thoughtfully and carefully," said Bening, putting the needs of others before her own. "It was a great, great tragedy, and there was so much unnecessary suffering and death because of racism and poverty. So it's important when we're told that story again, that he does it in the way that he thinks is right." So, it's not any less of a bummer that Bening won't be chasing Emmy gold in what would surely be an instantly iconic turn as one of Murphy's complex heroines, but the news does reaffirm that Annette Bening is a class act and a true professional who places the integrity of the story before her own personal glory.