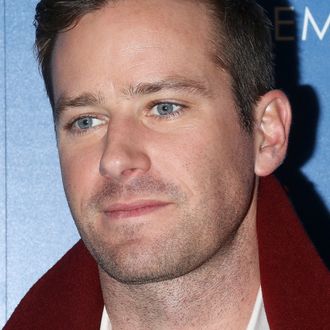 Armie Hammer.
Photo: Jim Spellman/WireImage
In a recent profile of Armie Hammer for The Hollywood Reporter, the actor bemoaned inconsistent treatment for famous men accused of sexual misconduct. Hammer co-starred in Nate Parker's Birth of a Nation, which took a huge publicity hit when Parker's college rape case resurfaced, and the actor asserted that the bad press was "orchestrated for sure" by people behind a competing film. "Nate had the stuff in his past, which is heinous and tough to get beyond. I get that," he said at the time. "But that was when he was 18, and now he's in directors jail. At the same time, the guy who went and won an Academy Award has three cases of sexual assault against him." And yes, he told THR, he was talking specifically about Casey Affleck, "[Parker] had one incident — which was heinous and atrocious — but his entire life is affected in the worst possible way. And the other guy won the highest award you can get as an actor. It just doesn't make sense."
However, Casey Affleck has been involved in zero sexual-assault cases; what he has been accused of is sexual harassment, by two women who worked with him on the documentary I'm Still Here. Now, Armie Hammer would like Casey Affleck to know he is very sorry for not parsing the legal distinctions between the cases before commenting on them. "I would like to sincerely apologize to Casey and his family for my recent comments about him in my THR interview," Hammer said in a statement to THR. "Without knowing the facts about the civil lawsuits at issue (which I now understand were settled), I misspoke. I conflated sexual harassment cases with a criminal case involving sexual assault charges." The civil suits against Affleck were settled out of court and dismissed. Nate Parker was tried and acquitted.