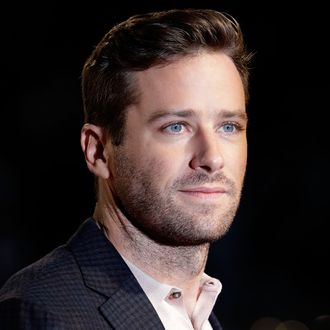 Straight, white, tall man Armie Hammer.
Photo: John Phillips/Getty Images
Armie Hammer's campaign to try new, scary things will continue next summer with a stint on Broadway. The actor is starring in Second Stage Theater's production of the Young Jean Lee dark comedy Straight White Men, directed by Anna D. Shapiro. The play centers on three adult brothers (Hammer among them), who gather with their father (Tom Skerritt) and reckon with the privilege that comes with being straight white men — maybe in this version they also read BuzzFeed articles about themselves. According to Playbill, this will be the first time a play written by an Asian woman has been produced on Broadway. It will not be the first to star a straight white man.