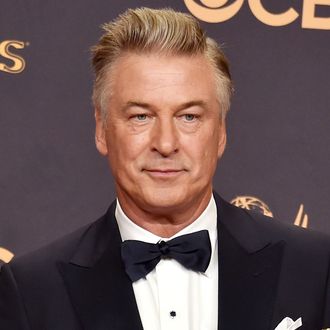 Photo: Alberto E. Rodriguez/Getty Images
Alec Baldwin would like late-night hosts to stick to more "blithe chit chat," please. The actor/Donald Trump impersonator went to Twitter to criticize two hosts in particular: Last Week Tonight's John Oliver and The Late Show's Stephen Colbert. When Oliver moderated a conversation at an anniversary screening of Hoffman's movie Wag the Dog Monday night in New York City, the late-night host pressed Hoffman on a former production assistant's claim that the actor sexually harassed her on the set of Death of a Salesman in the '80s. (Hoffman was not pleased.) Louis C.K. canceled his Late Show appearance hours before a New York Times exposé detailed his serial sexual misconduct. Colbert later said he'd planned to bring up the accusations on air.
Baldwin's two cents: "Talk shows were once promotional pit stops for some blithe chit chat about movies, etc," he tweeted. "Now the likes of @iamjohnoliver and @StephenAtHome have flipped that and they are beginning to resemble grand juries."
If Baldwin makes an appearance, there's plenty to press him about: He repeatedly disrespected Weinstein accuser Asia Argento on Twitter, and recently admitted he's "bullied" women in Hollywood. Should we expect his own talk show to handle guests with gentler gloves?