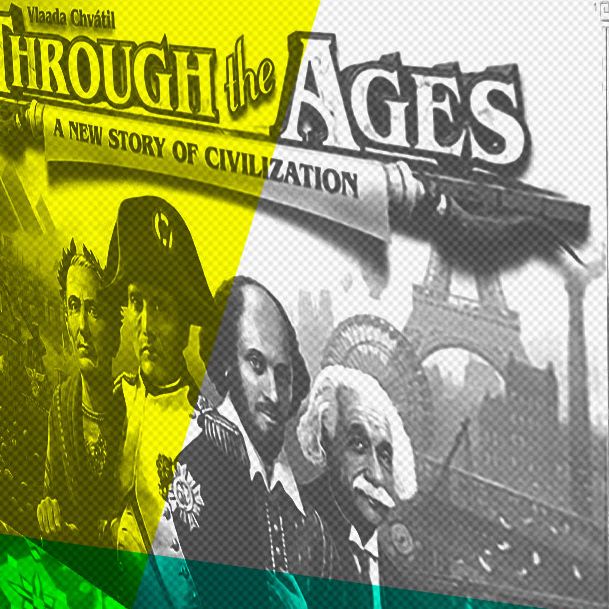 The ongoing boom in tabletop board-gaming shows no sign of slowing any time soon; Boardgamegeek lists nearly 600 titles with a publication year of 2017 and enough user ratings to put them on the global rankings, and over 2,000 other titles that were released somewhere, somehow during the year.
I of course haven't tried them all — I've played or demoed somewhere north of 50 games this year but south of 100, and if I had played more than that I'm not sure I'd admit it anywhere my employers could see it. It is, however, nearly the end of the year, and before the apocalypse descends upon us all, here are my choices for 2017's best games, organized into various categories. It's worth noting that one game I wanted to love was Legend of the Five Rings. It has some of the best art of the year, and was co-designed by one of the folks behind the excellent Game of Thrones card game's current edition, but it's just … so … slow. The game has already found a cult following in the three months since its release, so perhaps it's just not my cup of tea, but I found it just too languid.
With that out of the way, on to the top picks.
Azul
Azul is just the second title from Plan B Games, the new company founded by former Z-Man president Sophie Gravel, and between its simple mechanics, high-quality components, and perfect amount of screw-your-opponent, it's a huge winner. Designed by Michael Kiesling, who made one of my all-time favorite Eurogames, Vikings, Azul asks players to fill out a five-by-five grid on their individual boards by taking tiles in five colors from the central supply. There's a big game-theory aspect to selecting which tiles to take and which to leave for later (or to try to foist on one of your opponents), on top of the challenge of figuring out how best to deploy the tiles you take on your board. It plays quickly and works as well with two players as it does with four.
Wasteland Express Delivery Service
Heavy in the literal sense, Wasteland Express's box is enormous, weighing over seven pounds, with hundreds of cardboard and plastic pieces. The gameplay itself isn't quite as heavy as that might imply, though, and you can finish a game in under two hours. More mid-weight than high complexity, Wasteland Express has players moving around a postapocalyptic map to bring water, food, or weapons from one city to another in exchange for cash or to fulfill contracts. You get to trick out your truck with over a dozen different "mods," things that give you more firepower when you fight neutral raiders, or that let you pass through irradiated areas unharmed, or that let you carry more goods on a single haul. It's a little Mad Max, a little Fallout, and a little Galaxy Trucker all in one.
Werewords
Werewords is a spinoff of the popular One Night Ultimate Werewolf franchise, which has become a brand unto itself. This time it takes the same core deduction and bluffing mechanic and adds a bit of Twenty Questions. Players are assigned roles that they keep secret, other than the Mayor, who runs the show and learns the game's magic word but also has a second, secret role of his or her own. Players must attempt to guess the magic word (it's not please) via yes-or-no questions before the four-minute timer runs out. However, one player is the Werewolf, working at cross purposes to everyone else. The game also comes with extra roles to vary play, and it's tailor-made for expansion packs. The game requires at least four players but, like many social deduction games, it's better with more people around the table (and drinking).
Best Game for Two Players
Santorini
Santorini was first developed by a math professor in the early 2000s, but only saw a limited release as a strictly abstract game this year, when Roxley Games put out this Greek-mythology-themed version that also builds in numerous expansions and variants to make it almost like multiple games in one box. Players work with two builders on a five-by-five board, using one builder per turn to start or add a level to an adjacent building. A player can win by constructing a three-story building and then getting one of his/her builders to stand on top of it — but only if the opposing player doesn't slap a dome on top of the building first, which precludes anyone from moving to that space. It's quite replayable on its own, but the game also includes "god" and "hero" powers that give players one additional power beyond the simple move-and-build mechanic, with 40 different cards that can be played in many combinations.
Stop Thief!
I admit to serious bias on this one, as the original Stop Thief! was one of my favorite board games when I was a kid, not least because of the little electronic "phone" that came with the game and gave you clues that told you when the culprit was running, or when he broke a window or triggered an alarm. The phone is no more, alas, but of course Stop Thief! now works with an app, and the game itself is the same but with updated graphics. Players compete to track down a specific thief by unearthing clues and following the sounds the app gives to represent his movements. Other great games to get reissues in 2017: Torres, London, and Through the Desert.
Photo: Czech Games Edition
Through the Ages
This isn't the best board game to come out as an app this year (that would be 7 Wonders), but it is the best port of any board game to tablets or phones in 2017, and the biggest reason is the tutorial. Through the Ages is a very heavy Eurogame that takes three to four hours to play, taking the 4X concept from video games and trying to bring it to the table top without losing the complexity. Learning it can be daunting. I came into this app without ever having played the physical game, so I started off cold and found the tutorial incredibly useful and quite entertaining. (I won't spoil it, but it has the best joke I've ever seen in a game tutorial.) The developers also did a fantastic job of using the illusion of 3-D perspective on the 2-D screen to replicate the giant tableau a player would have in the physical game. It took me an embarrassing number of plays to finally beat the medium AI, but at least each run-through only took 15 to 20 minutes instead of 180.
Cities of Splendor
Marc Andre had a good year, releasing Majesty — his very good and long-awaited follow-up to his 2014 Spiel des Jahres–nominated game Splendor — this month, as well as the four-in-one expansion Cities of Splendor back in August. Splendor was a fairly closed game with tight, streamlined mechanics, but Andre came up with four mini-expansions that all come in one box, each of which brings one specific twist that alters the base game in a significant way. The Cities expansion replaces the noble tiles with city tiles that you earn by meeting a specific point total and accumulating the right combination of gem cards. The Trading Posts give you new powers. The Orient expansion expands the table from 12 cards for purchase to 18. And the Strongholds expansion gives Splendor a more directly competitive aspect by letting players reserve development cards with their stronghold tokens. Each gives the base game a needed boost, changing the pace and/or making it more interactive with other players.
If you buy something through our links, New York may earn an affiliate commission.