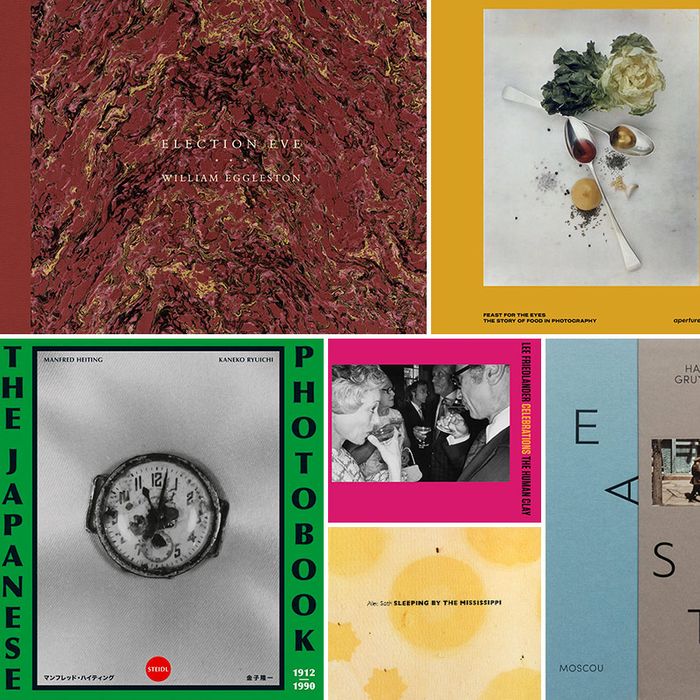 Anything can be a coffee-table book if you put it on your coffee table, but a great photography book can be a coffee-table book that reads like a novel. Unlike art forms like painting or sculpture, the book is often the ideal form for photography, underlining the medium's potential as a storytelling tool. A picture says a thousand words, so here are just two: Good gifts! Below, Vulture picks 20 of the best photography books of 2017, and tells you whom to buy them for this holiday season.
For music fans
The powerful yet graceful photo on the cover of Billie Holiday's 1958 album The Blues Are Brewin', though uncredited, was shot by Jerry Dantzic. This book represents the week of photographs that surrounded that image. Taken over the course of a week-long run of shows at Newark, New Jersey's Sugar Hill in April 1957, the result is an uncommonly intimate portrayal of an artist. (Holiday would die just two years later.) Holiday smiles as her dog licks her face, grimaces when shot putting on makeup before a show, closes her eyes as her godson kisses her good-bye on the cheek. You feel lucky to spend so much time with her.
For fans of, well, photography
Based on a well-received exhibition at the Met, Centennial showcases more than 300 of Irving Penn's beautifully detailed and composed photographs — including some never published before — focusing on his studio and still-life work. Penn was known as a fashion photographer, studio maestro, still-life master, and, simply, one of the most influential photographers of the 20th century. For any photography historian, this book is a must.
For fans of painting
Years ago, Joel Meyerowitz found himself in Paul Cézanne's studio and something clicked. He saw how Cézanne hand-painted the wall a dark gray in a way that flattened space when objects were put in front of it. Meyerowitz then had the idea to capture this phenomenon, with a series of photos of items placed in front of that wall. The result might sound simple, but when all these images are presented together, it offers a unique insight into the post-Impressionist genius brain.
For fans of color photography
Harry Gruyaert isn't the only color photographer on the list, but his work does the most to showcase photography as a medium to celebrate color. He presents unextraordinary settings — whether it is 1989 Moscow (the titular East) or 1981 Los Angeles and Las Vegas (the West) — with an extraordinary array of color. It's not just vibrancy: Gruyaert, who models himself more after painters and directors than his fellow photojournalists, creates compositions with a complex combination of pure color.
For true-crime enthusiasts
As a newspaper photographer who captured the gritty moments of New York from 1929 to 1946, Weegee defined what it meant to have a photograph be the headline, instead of just accompanying a headline. This collection, which includes recently uncovered images of the master, show how Weegee influence both photography and true-crime storytelling.
For foodies
With legions of smartphone owners snapping more pictures of soups and piles of lettuce than anyone could've imagined, it's a ripe time to examine the place of food in photography. It's important to distinguish this from "food photography," where the goal is to make the food look good and appetizing; this book focuses on photographers who use food as a graphic vehicle. The food might look gross, but the images look stunning.
For environmentalists
Sometimes you look at a photographer's work and you can't believe they inhabit the same planet as the rest of us. Rinko Kawauchi's Earth resembles ours — there are trees and birds and snowflakes — it's just airier, more hushed. Many of her books focus on a specific subjects, but this books sees her combines four different subjects — a European bird migration, a Chinese Lantern Festival, a Japanese religious festival, a star — to create an overall feeling of serenity.
For those who don't want to be depressed by politics for a few minutes
You might cry a little, but then it will be all smiles. Former chief White House photographer slash shady Instagram poster Pete Souza used his tremendous access to capture the grand complexity of the life of the American president. Unlike a book of a certain current president, which would be just photos of him watching TV.
For those who don't want to see any images of politicians because it'll make them too sad
In 1977, color-photography game-changer William Eggleston, released a very limited run of his first and most expansive book, Election Eve. It finally has been reprinted, 30 years later, giving a wide audience its first look at the masterwork. Shot the month before the election of Jimmy Carter, it captures Eggleston's journey from Memphis to Carter's hometown of Plains, Georgia. The book captures America on the eve of an election, as the title promises, without showing anything from the election itself. As a result, the tone is complex — calm yet disquiet, hopeful yet lonely. It's quite a book!
For feminists
Literally looking through the lens of 40 international female photographers, Girl on Girl is a refreshing glimpse of the female perspective. This, of course, doesn't mean just one thing, as the book offers an array of artistic points of view, from Petra Collins's intimate photographs of youth culture, to Maya Fuhr's playful fantasy of youth, to Zanele Muholi's photography of the black lesbian and trans community in South Africa, to Juno Calypso's work traveling throughout the U.S. to love hotels.
Instead of getting someone flowers
Flowers are very pretty, but they are pretty much slowly decomposing sexual organs. This book by Tanya and Zhenya Posternak on behalf of the New York–based designers Mansur Gavriel perfectly captures this dichotomy, through a harsh flash close-up tour of the Los Angeles Flower Market.
For fans of photojournalism
Magnum Manifesto is a celebration of 70 years of Magnum, the premier photography agency. Manifesto is separated into three parts: Part I (1947–1968), which focuses on the postwar ideals, Part II (1968–1989), which highlights the division in the world, and Part III (1990–2017), which showcases a world in peril. The result reads as a visual history of the heartache, tragedy, and beauty of the past 70 years.
For fans of fashion photography
Inspired by art history, Erik Madigan Heck has become a sought-after fashion photographer by blending the traditions of both painting and photography, blending the two with a mastery of light and color. All of his work is done in camera, without Photoshop, elevating the magic of the images in the digital era. (Plus, a few of the images in the book were shot for New York Magazine, so we might be a little biased.)
For the party crowd
People have been photographing parties for decades, well before the Cobra Snakes of the world started shining their flash on coked-up club kids. One of those pioneers is street photography legend Lee Friedlander, whose history of party photography has been collected in this edition of The Human Clay series. Being a famous photographer has its perks, subject-wise: Beyond being able to stand on its own graphically, there's the added bonus of seeing what the likes of Ingrid Bergman, Robert Kennedy, Robert Rauschenberg, and Angela Lansbury looked like out on the town.
For fans of famous people
The celebrity portrait can often be an exercise in tedium — dispassionate, impersonal, and generic. This book shows why Duane Michals is one of the great exceptions. From Johnny Cash to Sting, Tilda Swinton to Gilda Radner, Liza Minnelli to Warren Beatty, Michals creates interesting compositions that reveal never-before-seen details about the stars.
For fans of contemporary photography
It's precarious to designate anything as speaking for a generation of artists, especially when you're asking them to define an entire continent. Thankfully, Recent Histories doesn't make such lofty claims. It instead presents 14 African lens-based artists born after 1970 and lets themes emerge organically, through both images and an array of critical essays and conversations. The result is a rich text that aspires to be less an overview and more a starting point.
For fans of Wes Anderson
What a great concept for a book! Fifteen fans of the pioneering color photographer Stephen Shore were asked to pick ten never-before-published images from the time when Shore was shooting what would become the all-time classic Uncommon Places. The result is an interesting look at both the work of a legend and those who picked the images. For instance, Wes Anderson starts the book off with ten very Wes Anderson–y looking images. (Oh, you know they all have the subject in the center!)
For your most melancholic friend
In the time since its first printing, Sleeping by the Mississippi has become one of the most sought-after photography books of the 21st century. Now in its fourth pressing, Soth's portrait of the overlooked parts of the American South and Midwest still resonates as much now as it did 13 years ago when it was initially released. The vibrant color of Soth's large-format images contrast with what is a deeply sad and lonely book, shaping a complicated, rich look at overlooked parts of this country.
For fans of Japanese photography
Japan's tremendous contribution to photography as an art finally gets the definitive text it deserves. The Japanese Photobook captures the evolution of the form in Japan, using the photos themselves to tell the story. Images from 400 photo publications — with a strong emphasis, unsurprisingly, on the postwar era and the revolutionary Provoke style of the '70s and '80s — offers a look at some of the most important and often most rare photo books ever made.
For New Yorkers
Helen Levitt, one of the great American street photographers, started taking photos on the subway in the 1930s with friend and collaborator Walker Evans, and then stopped, only to return 40 years later. Now, another 40 years later with the subway in a state of emergency, this book draws you in, creating a connection across generations of New Yorkers. The subway, when New Yorkers relinquish control over their forward momentum, proves to be an ideal setting for Levitt's sensitive portraiture.
If you buy something through our links, New York may earn an affiliate commission.