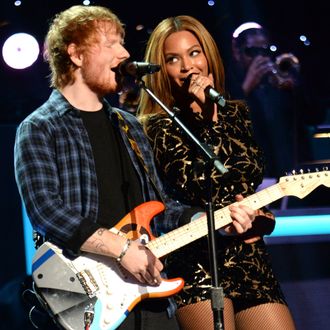 The drought is over.
Photo: Kevin Mazur/WireImage
After nearly a decade, America has finally corrected a great injustice: Beyoncé has another No. 1 song. On this week's Billboard Hot 100, her remix to Ed Sheeran's "Perfect" has debuted on top, giving Bey her first No. 1 song since 2008's "Single Ladies." 2008! Barack Obama hadn't even been sworn in as president yet. Sheeran was still a Who. These were simpler times, when the country used to get it right. "Perfect" is Sheeran's second No. 1 (and second this year) after "Shape of You," and Beyoncé's tenth overall; she recently reached No. 3 with her "Mi Gente" remix. (Reminder: Lemonade only streamed on Tidal, hurting her chances at higher chart placement for its singles.) To quote Beyoncé quoting Warsan Shire: If we're gonna heal, let it be glorious.