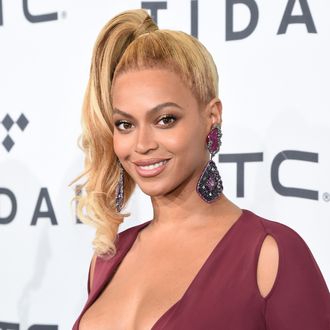 Photo: Ilya S. Savenok/Getty Images
Beyoncé had glowing words of praise for football player Colin Kaepernick during the Sports Illustrated Sportsperson of the Year Awards on Tuesday. According to Fader, Bey was the surprise presenter for the magazine's Muhammad Ali Legacy Award, which this year went to the quarterback activist. Beyoncé introduced Kaepernick by speaking about his widely publicized protests in which he, as a quarterback for the San Francisco 49ers, kneeled during the national anthem. The singer said:
Colin took action with no fear of consequence or repercussion, only hope to change the world for the better, to change perception, to change the way we treat each other, especially people of color. We're still waiting for the world to catch up.
According to Fader, the Muhammad Ali Legacy Award is given to "individuals whose dedication to the ideals of sportsmanship has spanned decades and whose career in athletics has directly or indirectly impacted the world." Kaepernick refused to stand during the "Star-Spangled Banner" as a way to protest the unequal treatment of black Americans and other people of color in the United States, especially in regards to police brutality. The protests cost Kaepernick his job in the NFL — after his contract ended last season, no team has signed him — and his actions were criticized by President Trump.
In his acceptance speech, Kaepernick said, "With or without the NFL's platform, I will continue to work for the people."