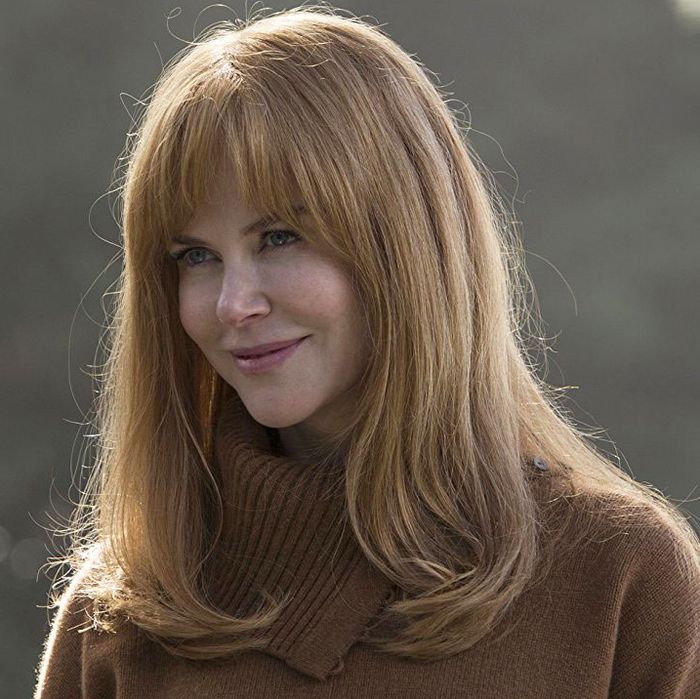 More sweaters!
Photo: HBO
Big Little Lies was a gem of a TV show, a rare self-contained achievement with a great ending, which of course means that HBO decided to green-light a second season. The good news: Executive producers Reese Witherspoon and Nicole Kidman will return to star in the project, alongside David E. Kelley, who's writing a script based on a story from the original novel's author Liane Moriarty. Even better: Andrea Arnold (American Honey) will direct every episode. Whether or not you wanted more Big Little Lies, this sure sounds like an intriguing follow-up.
With a second season, there's also a chance to shake things up in Monterey. According to a casting breakdown obtained by Vulture, Big Little Lies is looking for four new characters, which hints at some exciting story possibilities. With that in mind, a few of our dreams for season two.
Bonnie's Parents
Big Little Lies is a showcase for actresses at their best, so if we're going to bring on new talent, let's make it some big talent. The casting breakdown includes details about Bonnie's parents, Elizabeth and Martin Howard, noting that her mother passed on her outwardly Zen qualities to her daughter, but ultimately reveals herself to be controlling and abusive. In a dream world, she'll be played by Kravitz's actual mom, Lisa Bonet (with a cameo from her donkey), but we'd also happily accept Bonet's TV mom Phylicia Rashad. Lenny Kravitz, who was once actually engaged to Nicole Kidman, better play the dad.
Jane's New Friend
American Honey's Sasha Lane could definitely play the school-administration employee who befriends Jane (Shailene Woodley), especially since the casting breakdown notes that the two women will learn about each other's "deepest secrets." (Lane's American Honey co-star Riley Keough would also work if it's a really dark secret.)
Renata's New Enemy
The casting breakdown also mentions a new second-grade teacher at Otter Bay Elementary, who infuriates Renata after his lessons on global warming give Amabella a panic attack. Do you know what that means? This a great chance to get Dev Patel on Big Little Lies! His hair would be a perfect fit for this teacher's presumed NorCal crunchiness. Other viable options: Andrew Garfield, Daniel Kaluuya, Jamie Bell, and Jason Mantzoukas (he can hang with Adam Scott).
A Totally Different Story
Last season, Big Little Lies put its leading ladies on a collision course and then ducked into more interesting territory once they united. There's no need pit the women against each other again, or to mimic the same story line a second time. We don't need another Stranger Things 2 situation. To that end…
No More Murder!
The last seconds of the finale had Merrin Dungey's detective peering at the assembled women on the beach from the distance, sensing that they were hiding something. Surely it's tempting to return to the same crime-drama well, but do we really care about whether the women will get caught for an act of self-defense? It's hard to imagine that story line won't play a role in the second season, but it's time to move on from murder mysteries.
No More Teen Drama!
Big Little Lies is great because of its intricate parental drama, not because of Madeline's teen daughter's absurd plan to auction off her virginity. If they can't come up with a better plot for Abigail in season two, lets hope they ship her off to college and be done with it.
Robin Weigert As Celeste's Therapist
If only because we want to see her on TV more often. Plus, Celeste surely has more to work through. Let us see that onscreen.
Another Great Soundtrack
Luckily, that should be covered: Andrea Arnold knows what to do, so little Chloe Mackenzie is sure to expand her taste even further. (And hey, we could always use more Sade.)
More Real-Estate Porn
Bonnie's parents better live in a so-perfect-it's-creepy bohemian paradise. We demand at least one more infinity pool, and of course, lots of wine.
An Accurate Tour of Monterey
Do it for the locals.
A New Community-Theater Production
Last season, against the odds, Madeline Martha Mackenzie mounted a production of Avenue Q. For her follow-up act, she'll need to outdo herself. Can she pull off Spring Awakening?