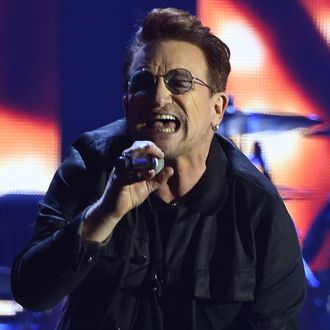 Bono.
Photo: Kevin Winter/Getty Images
In Bono's perfect world, a rock-and-roll revelation is just around the corner. Hell, it has to be, because music as a whole doesn't have as much raging testosterone as he would like. Interviewed by Jann Wenner for Rolling Stone's newest cover story, the U2 front man expressed concern that one too many women have infiltrated the modern radio waves with their singing and general instrument playing. "I think music has gotten very girly. And there are some good things about that, but hip-hop is the only place for young male anger at the moment — and that's not good," he explained, arguing that it all boils down to negative emotions.
"When I was 16, I had a lot of anger in me. You need to find a place for it and for guitars, whether it is with a drum machine — I don't care. The moment something becomes preserved, it is fucking over," he continued. "You might as well put it in formaldehyde. In the end, what is rock & roll? Rage is at the heart of it. Some great rock & roll tends to have that, which is why the Who were such a great band. Or Pearl Jam. Eddie has that rage." Look out, Haim! Bono's coming after ya!