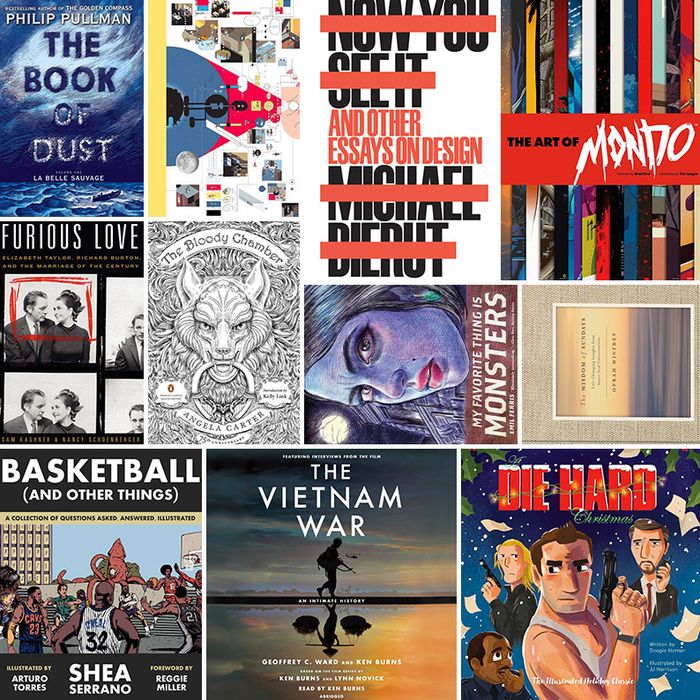 If you look closely at the intersection of the Venn diagram of "affordable gifts" and "meaningful gifts," you'll find it's mostly populated with books — and just the right book gift making its way into the hands of just the right person is one of the more pure and satisfying transactions of the holiday season. Here's what to buy your tricky-to-buy-for friends and relatives, as recommended by Vulture's staff and contributors.
For Anyone in Need of Escapism (That Is, Everyone): The Book of Dust: La Belle Sauvage
My new favorite way of calming myself about our current sociopolitical hellscape is reading about quantum theory and pretending I understand it (and then imagining an alternative universe where Hillary is president and everyone agrees that Nazis are bad). Philip Pullman's original His Dark Materials trilogy (The Golden Compass, The Subtle Knife, and The Amber Spyglass) and his new fourth installment, La Belle Sauvage, all paint an extremely soothing picture of parallel universes wherein people get real worked up about abuses of power. Far-fetched but fun! —Rachel Handler
For Friends Who Crave More Reese Witherspoon–Approved Thrillers: In a Dark, Dark Wood
If someone in your life loves page-turners that keep them up past their bedtime, spring for any of Ruth Ware's three great female-driven thrillers. Her first book, In a Dark, Dark Wood begins with a young woman who gets invited to an intimate hen party for an old, distant friend. Guilt, peer pressure, and a little bit of intrigue coax her to the party being held inside a glass cabin surrounded by, you guessed it, some creepy woods. Reese Witherspoon, who produced Gone Girl and Big Little Lies, is currently developing it into a movie. Hard to get a better nod of approval than that. —Devon Sherer
For the Person Seeking '80s-Movie-Related Christmas Reading Traditions: A Die Hard Christmas
Sure, you could gather around the hearth on Christmas Eve and enjoy Clement Clarke Moore's A Visit from St. Nicholas. But why do that when you can read the story of John McClane and Hans Gruber — the hero/villain in the best Christmas action movie ever made, Die Hard — laid out in picture-book form and written in the style of Moore's classic? "When what to his wondering eyes should appear — HOLY CRAP! THERE ARE TERRORISTS HERE!" Yeah, it's a little darker and bloodier than most holiday tales, so, um, don't give this to the kids. —Jen Chaney
For Your Cousin With an Emerging Interest in Gender Studies: Mrs. Fletcher
Love is a many-splendored thing, and an infinitely faceted one. That's the moral of Mrs. Fletcher, though from its vicious, juicy premise —newly empty-nesting single mom Eve gets hooked on MILF porn when her lax-bro son Brendan leaves for college! — you might not guess it. As Eve and Brendan both find themselves in radically new environments, the relationships and friendships that blossom around them populate Mrs. Fletcher with a multitude of compassionately drawn characters, like a once-celebrated athlete who's since transitioned from male to female, a lonely teen in search of his Mrs. Robinson, a party animal with a secret conscience, and a college feminist with a thing for jocks and frat boys. Perrotta, in a radical departure from works like his HBO-series-inspiring The Leftovers, writes with a refreshingly open mind about a wide variety of sexualities and experimentations. And his laser vision into the psyches of dirty freshmen frat-pledge types is as wickedly delightful as it is surprising. —Ashley Fetters
For Lovers of Dark Fairy-Tale Retellings: The Bloody Chamber
When The Bloody Chamber was published in 1979, fairy-tale retellings that injected the darkness and intensity back into these narratives weren't common. Now, the elements that define British novelist Angela Carter's take on characters like Little Red Riding Hood — including a keen interest in female desire — are seen throughout pop culture. But no one since Carter has quite mastered the blend of complex psychology, historical detail, and lush prose the way she did. Carter's use of language has a musicality and texture that's unparalleled. These stories are unabashedly feminist, boldly sexual, and undeniably entrancing. —Angelica Jade Bastién
For Anyone Skeptical That Comics Can Be Serious Literature: My Favorite Thing Is Monsters
This hefty graphic novel is an instant classic that can be held alongside Maus, Fun Home, and Persepolis as a tome that can win over even the harshest doubters of the medium. In its story of a 10-year-old girl who investigates her neighbor's mysterious death in 1968 Chicago, the reader gets heaping helpings of historical insight, preadolescent pathos, and sketchbook visuals that stretch the boundaries of what a comic book can be. —Abraham Riesman
For Loved Ones Who Loved Wonder Woman the Movie: Wonder Woman Rebirth Comics
When writer Greg Rucka returned to writing Wonder Woman in 2016, I couldn't have been happier. His work with the famed Amazonian is a great introduction for those interested in enjoying more of her exploits after seeing the Patty Jenkins–helmed origin story which dominated the multiplex this summer. While his run ended earlier this year, Rucka's work takes a fascinating approach to Wonder Woman with two contrasting story lines. Volume One, "The Lies," sees Wonder Woman wrestling with the truth of her origin. Volume Two, "Year One," is a lighter affair, depicting Diana's childhood and first heroic feats. Whether you're looking for psychologically dense takes on Greek mythology or a powerful mother-daughter story, this is Wonder Woman at her most blistering and feminist. —Angelica Jade Bastién
For Basketball Novices Who Are Visual Learners: Basketball (and Other Things)
I grew up in a basketball-watching home, but I wish I loved the sport as thoroughly and obsessively as Shea Serrano does. His guide to basketball (and, sure, some other things) is laced with extremely silly but definitely serious stats and goofy illustrations (you need to see the book's imaginary Kawhi Leonard's love story). Even if you're a basketball novice or die-hard Spurs fan like Shea, this is a perfect companion to his Rap Year Book: full of myths, what-ifs, and hyperspecific fanaticism. —Hunter Harris
For Romantics Who Love Classic Hollywood Gossip: Furious Love: Elizabeth Taylor, Richard Burton, and the Marriage of the Century
Hollywood history is full of grand romances, but no union before or since has reached the heights of Elizabeth Taylor and Richard Burton. No couple in the public eye has been as fascinating, excessive, or as good for gossip. When they met on the set of Cleopatra, a film which almost bankrupted 20th Century Fox and garnered Elizabeth Taylor a record-breaking $1 million paycheck, Burton was married and still new to the rigors of Hollywood while she was involved with Eddie Fisher and had a trail of high-profile marriages and glamorous escapades already behind her. What other Hollywood couple could boast being condemned by the Vatican? Sam Kashner and Nancy Schoenberger create a deft portrait of these two larger-than-life actors as well as the Hollywood milieu that produced them. —Angelica Jade Bastién
For Classic Hollywood Buffs Who Love a Good Romance: Film Stars Don't Die in Liverpool
When Liverpool native Peter Turner was in his 20s, he fell into a most unlikely romance with film noir femme fatale Gloria Grahame. She never reached the iconic status of a Marilyn Monroe or Audrey Hepburn, but Grahame was a star in her own right, even winning an Oscar in 1953. Turner writes their unconventional love story with affection: Almost 30 years' Turner's senior, Grahame was shrouded in lovely mystery, and at that time in the '80s, Turner was embarrassed that he'd had male lovers before, but she didn't mind. In a narrative that bobs between their romance and breakup, Peter doesn't figure out why they couldn't make it work. But when Grahame was near death, she returned to Liverpool and to Peter, her home. —Hunter Harris
For Millennials Finally Old Enough to Understand Nostalgia: Meet Me in the Bathroom: Rebirth and Rock and Roll in New York City 2001–2011
Impress your cousins (or kids) with 600-plus pages of gossip about the most recent (if not last) great rock resurgence, dug up by a journalist who always knew the score. (Like that time Ryan Adams was banished for scoring drugs for Strokes drummer Albert Hammond, nearly derailing the supposed saviors of rock.) Interpol, LCD Soundsystem, and the Yeah Yeah Yeahs — musicians whose artistry almost justified their attitudes — all get significant play. And unlike the stars of other rock-scene histories, they had more than sex and drugs to contend with: They had gentrification. A tomeful of dirt that's almost as fun as the music, and much less arrogant. —Boris Kachka
For Music Lovers With Leather Jackets and Punk-Rock Pasts: Lou Reed: A Life
Lou Reed might've lived a dozen lives: the disaffected teen whose despondence led to electroshock therapy, the Velvet Underground front man and star of Andy Warhol's Factory scene, the "Godfather of Punk," the pop-smart singer-songwriter, the avant-garde experimentalist, the witheringly funny queer New York nightlife fixture, the married man, the druggie, the mystic. Longtime Rolling Stone contributor Anthony DeCurtis knew Reed as a friend and compiled this fall's Lou Reed: A Life to unpack the singer's knotty history as a poet of the wastes, haunted by his own fixation on the seediness of downtown street life. The story has been told before, but rarely in such honest, unnerving detail. —Craig Jenkins
For Your Boomer Dad Who's a Big Doors Fan: The Vietnam War: An Intimate History
If he's the right age, he probably steeped himself in Ken Burns's The Vietnam War when it aired on PBS. To tide him over in between pledge-week reruns, the tie-in book and DVD have arrived. —Christopher Bonanos
For the Oprah Obsessive in Every Family: The Wisdom of Sundays
Oprah's new, beautifully designed book features a personal essay from Oprah as well as excerpts from her conversations with high-profile guests ranging from Tony Robbins to Shonda Rhimes to Cheryl Strayed. The collection is a soothing antidote to a tumultuous, difficult year. —
Maria Elena Fernandez
For Meticulous Bookshelf Curators: Picador Modern Classics
To very liberally paraphrase Thomas Edison's adage about genius: Books are one percent stimulation and 99 percent decoration. Even volumes that get read multiple times still spend most of their lives peeking out from a shelf. With that in mind, you might as well stock up on books that excel at both purposes. The second set from Picador's Modern Classics series features a formidable quartet of nonfiction works — Joan Didion's Slouching Towards Bethlehem, Susan Sontag's Regarding the Pain of Others, Hilary Mantel's Giving Up the Ghost, and Barbara Ehrenreich's Nickel and Dimed — in striking 6-inch editions with painted covers that are primed to claim the title of most-discussed books in your collection. Buy them individually on Amazon, or look for a complete set at your local bookstores. (And if fiction is more your speed, check out Modern Classics Series One.) —Neil Janowitz
For Lovers of Tasteless Comedy: Zonzo
Take care in selecting who you give Zonzo to. Comics artist Joan Cornellà's collection of brief and utterly obscene strips chronicles humanity's worst impulses with stabbing wit and unmistakable imagery, but it's not for the easily offended. However, those who can look past surface impressions and appreciate daring satire will find much to love in this button-pushing little volume. —Abraham Riesman
For the Art Lover With a Really Big Bookshelf: Monograph
Chris Ware — one of our greatest living artists — is incapable of being self-congratulatory, which is why this massive monograph (seriously, it's huge, if you get this for someone maybe also get them some kind of custom shelf or second apartment to store it in) is such a treat. Charting Ware's entire artistic career — from his early indie-comics days through his landmark achievements Jimmy Corrigan: The Smartest Kid on Earth and Building Stories to his ever-expanding series of New Yorker covers — this book is the best way to take in Ware's work, short of seeing it in a museum. It's also annotated by Ware himself. Predictably, he's self-deprecating throughout, but it makes for an honest, unstuffy, and illuminating read. —Sam Hockley-Smith
For the Manga Fan: Koshanda's Akira Box Set
There are few sci-fi epics with the scope and ambition of Katsuhiro Otomo's seminal Japanese comics series Akira. Originally released between 1982 and 1990, it's been collected into a gorgeous 35th-anniversary box set that features a book of rare artwork. In addition to being a must-have for diehards, it's also a beautiful first taste for someone who's ready for their introductory dive into manga. —Abraham Riesman
For the Film Fanatic: The Art of Mondo
Mondo is an Austin, Texas–based memorabilia producer that issues beautiful limited-edition toys, vinyl pressings, and various other collectibles for film, TV, and comics obsessives. But it's most famous for its movie posters — unique, small-batch prints created by commissioned artists that will make the Tron and Big Trouble in Little China fans in your life lose their minds. Best of luck buying one, though: High-demand Mondo releases will disappear in seconds, with runs of around 200 vaporizing before you can click "complete purchase." So while that $800 Aaron Horkey print of There Will Be Blood might haunt someone forever on eBay, at least this way they can put a version of it on their coffee table and dream. —Jordan Crucchiola
For That Person Who Won't Stop Making Her Own Versions of the Stranger Things Title Card: Now You See It
Michael Bierut, a partner at the design firm Pentagram, is a hugely entertaining writer on the subject of graphic design (not to mention a great talker; see this walk I took with him last year). This collection of his essays for the Design Observer blog is frequently hilarious and often permanently illuminating. You'll never think about the Brannock Device the same way again. —Christopher Bonanos
For Wood: Wood
The sprawling digital bog we all inhabit, the one in which we trudge from screen to screen to screen until sleep pries us away, is exhausting. That's why it's so refreshing to immerse yourself in the analog experience of flipping through beautiful photos of the world's most analog substance. Part of publisher Phaidon's series of building-material-themed coffee-table books — perhaps you've enjoyed Brick, or maybe Concrete? — Wood presents an array of stunning, ambitious achievements in architecture and design, all created from the title stock. —Neil Janowitz
Editor's Note: We'd be remiss not to mention some of the greats works by our TV critic Matt Zoller Seitz, including Guillermo del Toro's The Devil's Backbone and Mad Men Carousel: The Complete Critical Companion.