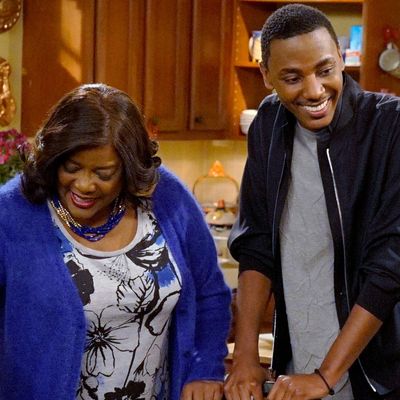 Photo: NBC/NBCU Photo Bank via Getty Images
As 2017 draws to a close, we take a closer look at a few of the notable sitcoms that aired their final episodes in 2017. To some we say a tearful goodbye, and to some we come only to bury them, not to praise them. And we hold out hope that 2018 will be a year with no premature cancellations whatsoever.
When Girls premiered on April 15, 2012, Hannah (played by series creator Lena Dunham) was working on completing a book of autobiographical essays. She had a few done, she told her parents, but she needed to continue living her life to create more stories for her book. For some audience members, Hannah's declaration that she may be the voice of her generation, or at least a voice of a generation, captured the urgency and anxiety of big-budget art projects made by young artists. Coming off of her feature Tiny Furniture, Dunham gave voice to a demographic that was perhaps ill-described (or at least, overly-broadly described) by the title Girls. Its first season, in particular the declaration that titled its third episode, "All Adventurous Women Do," allowed Hannah and her friends (played by Allison Williams, Jemima Kirke, and Zosia Mamet) to make big mistakes, struggle with unsupportive partners, and fight for their own autonomy. Also, remember when we didn't know who Adam Driver was?
By the time the series ended exactly five years later, on April 16, 2017, Girls had somewhat lost its way. Hannah's career was all over the place, including publishing deals (which fell apart when her editor, played by John Cameron Mitchell, committed suicide in the third season), gigs at GQ, and a brief and funny stint at the Iowa Writers' Workshop where everyone in her cohort (including Desiree Akhavan and Marin Ireland) hated her. Lena Dunham became a TV creator in her early 20s, and Hannah never completely felt like someone who was struggling as a writer after that first season. In retrospect, some of the series' best episodes were standalones that seemed to exist in a world outside of the series' story arcs. "One Man's Trash" and "American Bitch" were both two-handers about Hannah uncomfortably dealing with older men; "Love Stories" felt entirely like a step out of time to relax with Jenny Slate. When revisiting the series to see this launching pad for Adam Driver and Allison Williams's careers, audiences will hopefully find the opportunity to revel in terrific performances from Zosia Mamet, Alex Karpovsky, and Becky Ann Baker especially. And if you're missing the world of Girls, there are now countless more series about Brooklyn gentrifiers to choose from.
We owe it to future generations to remember Last Man Standing and its legacy of speaking "truth" (men are superior to women) to "power" (the women that Last Man Standing believes run the world). Particularly now that Tim Allen believes himself in mortal danger because of his political convictions, we must end the culture of silence: this series was canceled too soon, a mere 130 episodes into its run. Last Man Standing arrived on October 11, 2011, part of a wave of series bravely denouncing a culture that lionizes women and marginalizes men. While Work It! and Man Up! (on which I actually worked in a previous career as a production assistant) were cut down in their prime by political correctness gone mad, Last Man Standing somehow survived six seasons on the air of Tool Man Tim Allen telling his wife, daughters, and community that today's young people have it too easy.
In many ways, Last Man Standing predicted the politics of the year it ended. In the pilot, Tim Allen's outdoorsman shop takes him off the road and puts him in charge of their website. He starts recording angry vlogs about how dogs should be vicious and women should complain less, and he's a viral hit. He would fit right in in 2017, when white men are being heavily radicalized by vloggers and social-media-addled presidents. In the series's bravest episode, Tim Allen's employee/son-in-law grows confused by the philosophy his wife (Tim Allen's daughter) is studying in college. The gang from Duck Dynasty comes by to explain that philosophy can confuse you, so it's better to stick with the only book worth reading: The Bible. The episode ends with the main cast bowing their heads in prayer with the Ducks. The final season featured Jay Leno in a recurring role as a mechanic or something. While Last Man Standing may be forgotten by nearly everyone, I'm sure we'll all be revisiting it when Tim Allen runs for President.
Mindy Kaling has a hugely busy year ahead of her, including starring roles in two huge movies and a new series Champions (with a few other series in development). It's possible that The Mindy Project, her first series after leaving The Office, will end up a blip in the arc of her career. When it started on September 25, 2012, its romantic comedy influences were obvious (and Kaling fans may still remember when she blogged under the name "Mindy Ephron") and it set Mindy's OBGYN protagonist (named "Mindy Lahiri" after Jhumpa Lahiri) up with an enviable love triangle between her coworkers Danny (Chris Messina) and Jeremy (Ed Weeks). The first few seasons told the story of Mindy and Danny falling in love: their chemistry really was dynamic, though far outpaced by the show's best moments, which featured Mindy, Danny, Danny's mother (Rhea Perlman), and Danny's mother's best friend Dot (Jenny O'Hara). The core cast shuffled constantly, losing Anna Camp as Mindy's friend outside of work, and adding Ike Barinholtz and Xosha Roquemore, whose romantic drama became a central feature of the series. Then, midway through the fourth season, Mindy and Danny broke up somewhat suddenly, and the series never settled down.
As the office staff shuffled (including briefly bringing in Adam Pally as Mindy's coworker-turned-BFF who returned once a season to help Mindy decompress), so did the details of Mindy's love life, leading to her marrying and divorcing a nurse (Bryan Greenberg). In its final season, The Mindy Project returned to its romcom roots, bringing Mindy and Danny back together to care for his mother. The series ended not dissimilarly to Gilmore Girls: TOS, leaving room for Mindy and Danny to find one another again, but for now, letting them relax and watch television together. Mindy was often one of TV's funniest characters with unearned self-confidence, and while the show never quite found its footing, almost every single episode had plenty to laugh at. We're lucky to have so much more Mindy Kaling ahead of us.
Fans of 2 Broke Girls and Episodes probably didn't expect the shows' final seasons to have so much in common. In the case of Episodes, a metacomedy about British writers adapting a series for American audiences, starring Matt LeBlanc as himself, the final moments were likely expected. The final season mostly checked off boxes reuniting characters and getting everyone the job they want (with a brief detour where Matt LeBlanc masturbates on a livestream), and ultimately leading to the expected final moments: Matt LeBlanc will play himself in a show-within-the-show about the events of the show. The series never quite matched the creative energy of its first season, which took unexpected turns demonstrating the power of sitcom cliches, but Matt LeBlanc was a surprisingly strong lead, Tamsin Greig and Stephen Mangan were terrific, and Kathleen Rose Perkins gave an all-time great performance. And fans of Episodes will likely never forget the faces and noises made by Daisy Haggard.
2 Broke Girls was one of two Whitney Cummings sitcoms to premiere in 2011, and wasn't necessarily the favorite to last. The series had a strong setup (action taking place mostly in a crowded New York diner) and a lot of terrific actors. The writing, however, never rose to the occasion, and the pilot was roundly derided for its reliance on ethnic stereotypes and broad laughs. In the show's final season, a movie was made about Caroline (Beth Behrs)'s life, so the 2 Broke Girls's lives briefly became more glamorous. It would seem that the final season was not intended to be so, so it remains up to audiences to imagine the day the Girls are no longer Broke.
The exact cause of The Carmichael Show's cancellation is somewhat in dispute. Jerrod Carmichael, the producer and star, suggested that NBC's choice to postpone an episode about mass shootings led to his decision not to move forward with the series. NBC, however, insisted that it was a choice the network made based on ratings. Regardless, the loss is a huge one. The Carmichael Show drew heavily from Norman Lear series like All in the Family and Maude, allowing the central family to work out their disparate feelings on specific political issues. Always challenging and bracing, the series's third and final season was unquestionably its best; The Carmichael Show got better at letting the characters work through emotional and personal dynamics with political connective threads (e.g., Jerrod's refusal to admit that witnessing a mass shooting traumatized him). The passing of The Carmichael Show leaves a huge hole in the television landscape, and one can only hope that the stars of its performers (like Tiffany Haddish and Lil Rel Howery) continue to rise.
Man Seeking Woman was only improving, particularly with the addition of Katie Findlay to the cast. The first season put some viewers off with its casual misogyny, but the second and third seasons allowed the world of Man Seeking Woman to become deeper, richer, and more thoughtful. While Simon Rich has expressed plans for a fourth season, it's hard to disagree with a show about a single guy wrapping up with his wedding. It was also a relief to finally watch something where Findlay doesn't die.
Playing House and Difficult People each leave behind many devoted fans. Both partly based on the friendships of their stars, both shows had incredibly strong final seasons that engaged more with the real world than the shows had in seasons past. For Playing House, this meant writing in Jessica St. Clair's real-life cancer story, including anecdotes she and Lennon Parham told frequently while promoting the show. In the case of Difficult People, the world got even more surreal to match the feeling of living in Trump's America. Billy pretended to convert to heterosexuality, Julie did a Woody Allen movie, and perhaps most significantly, Billy started dating John Cho. Difficult People always cast some of the most charming men opposite Billy, but his multi-episode arc with Cho suggested something more could have come in future seasons. While disappointing to lose both shows this year, it'd be surprising if the future didn't hold more series for these dynamic duos.
Lastly, Dr. Ken, The Odd Couple, and The Great Indoors free up their respective talented casts for better work in the future. In the case of The Odd Couple, perhaps its cancellation will help Matthew Perry realize that he should have been Felix, not Oscar. For Starz's Blunt Talk, the airwaves will be missing Jonathan Ames's particular brand of heteroflexible male intimacy. The show's second season got heavily into environmental issues, and more seasons would have likely been exciting and strange, like the third season of Bored to Death, but there will be a time when an Ames series catches on and lasts four seasons. Hopefully soon.
Also, we will not be eulogizing Vice Principals. While its second season finale was supposedly the series finale, every single season of Eastbound and Down was touted as the show's final season and that series lasted approximately six hundred years, long enough for the fictional asshole at the center of it to advertise sneakers in real life. Maybe this was the last season of Vice Principals, but don't count on it. If only all your favorite shows held such possibilities.