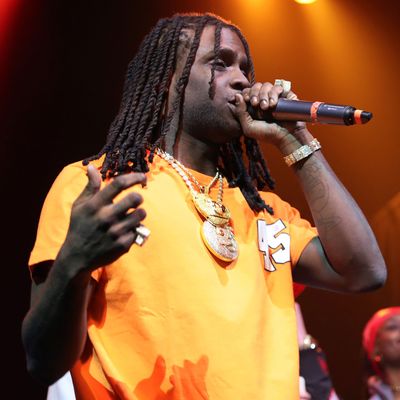 Photo: Johnny Nunez/WireImage
There's a curse involved in a being an innovator; present audiences are often unprepared to greet the future. Few understand this better than Chief Keef, the human catalyst who changed rap in 2012 with a single video. "I Don't Like" didn't put Chicago drill music on the map so much as it burned the map and signed its name in the ashes. Five years later, the anthem and its kinetic, bare-bones video still carry the thrill of the new. At 16, Keef (born Keith Cozart) and his music gleamed with a charisma that was fully fledged. He was a star unveiling a new genre right before your eyes.
It's here, perhaps, that the curse comes in. To be sure, the "I Don't Like" video went viral, rapidly racking up tens of millions of views; it gained Keef the attention of literally anyone who cared about rap, down to and including conservatives terrified of the weed smoke, black bodies, gun-flaunting, and joy it displayed. The enthusiasm and opprobrium combined to make Keef into an urban legend. His name became shorthand for the violence of Chicago's poor black neighborhoods, and though infamy is a form of fame, it didn't pay too well back in 2012. Scads of YouTube views amounted to minimal revenue, and didn't count toward the record charts; online popularity in general amounted to nothing in Billboard's eyes. Radio wouldn't touch new street rap with a 40-foot pole. People had to download .zip files to listen to it. Streaming services were in their infancy. In other words, the golden road from online rap sensation to pop supersaturation walked by countless artists in the past two years simply didn't exist.
If the music world and record industry were in 2012 what they are now, "I Don't Like" would have been a contender for Billboard No. 1 and a consensus song of the year. It was the "XO Tour Llif3" and "Bodak Yellow" of its day. Instead, the closest Keef came to the mainstream was as a minor component in the Kanye West machine: "I Don't Like" got the Kanye remix treatment and Keef made a brief guest appearance on Yeezus. Interscope did come knocking, signing Keef to a three-album deal worth $6 million, but when his first album, Finally Rich (which turns five in two weeks) came out, the label either wouldn't promote the album or didn't know how. The reviews ranged from uncomprehending to tepid. File-sharing further sapped potential sales. Finally Rich still managed to sell over a hundred thousand copies, but that wasn't enough to keep the label from dropping Keef in 2014.
The depictions of Keef's demeanor as chilly, dead-eyed, or numb that accompanied the album's release missed the point entirely; looking back, what stands out is Keef's preternatural confidence, his ability to tuck his voice into any beat with fluent ease. He's never anything less than vitally poised, and his beat selection is superb. The album is hard and heavy, but never rigid or stupid. Anchored to an artist whose presence is nimble, unfailingly intelligent, and above all, thorough, it's supple and compulsive throughout. Together with its mixtape predecessors Bang and Back From the Dead, Finally Rich marks the debut of an artist so assured and complete as to be a little scary. Halfway through his teenage years, Keef had managed to pioneer and perfect his own distinctive mode of music. What was left to do but wait for the world to catch up to him?
Meanwhile, things went weird and sometimes bad. The police knew all about "I Don't Like," and they really didn't like him. Arrests, charges, and impending trials weighed him down; he couldn't even perform in hologram form because the state feared his influence. Turning down a chance to be the first artist inked to Apple Music, he signed with an oddball Greek billionaire whose vanity label had even less clue how to support him than Interscope and seemed every bit as exploitative. His friends got killed. None of this meant that he stopped making music; he even found time to branch out into producing. Hundreds, if not thousands, of songs were recorded and many collections were released; his experiments continued, often with striking results, but the overall quality varied.
Yet this rough patch for Keef coincided with a boom in his influence. The world really was catching up to him. No one could sound exactly like him, but every youth aspiring to rap had something or another to learn from Keef circa 2012. Whether it's 21 Savage's austere tone or Lil Pump's clipped delivery, Lil Uzi Vert's dreads or Travis Scott's six-pack abs, the posse-heavy, street-level, cinéma vérité music videos exemplified by Bobby Shmurda's "Hot Nigga," or the industrywide fetish for citing and sporting designer fashion, Chief Keef in his prime has been a model and a trailblazer for nearly every rising rap artist today. And his example went well beyond the surface. No one demonstrated better the importance of fully integrating one's sound, look, and persona, and nor had anyone else proved so completely how this could be done immediately, without asking permission or waiting to grow older.
In other words, after a quiet 2016, Keef's resurgence this year — four mixtapes building up to an album, Dedication, released last Friday — takes place in a landscape he has already transformed. His foundation — neutral emotion applied to standard street material, delivered with unshakable authority over hypnotically invigorating beats — is too stable, and too effective to need changing. But the differences from 2012 Keef are real, albeit subtle and incremental: a greater frequency of melodic delivery, an uptick in metaphors and other comparative language, less brass and more bass in the beats. These are changes consonant with current hip-hop trends, but they're not driven by a thirst for popularity; rather they mark the successful fusion of his best experiments with his primary strengths.
Together with the passing of time, what these changes help reveal are elements of the artist that have always been present but easy to overlook. What makes a Chief Keef track special is more than confidence and menace: it's balance, sensitivity — delicacy, even. (These latter traits are especially hard to deny on Thot Breaker, a mixtape from June where Keef calmly and deftly re-created R&B romance in his own image.) Perhaps the time has finally arrived for Keef to finally be appreciated in full, a time when he can secure enough personal and institutional support to evolve further without undue interruption.
If not, it would certainly be a great loss — not just for hip-hop, but for music in general. It's amazing to recall that, at 22, he's actually younger than many of the artists he influenced profoundly, and it seems unlikely, given everything he and they have shown in 2017, that someone with his level of talent could conceivably be past his prime. His voice has always had the mystique of restraint, the sense that he possessed a state of being that his audience couldn't dream of and that he couldn't speak on — not yet. What Dedication, Thot Breaker, and the rest of his output this year indicate is that he still possesses a gift for seeking out ways to say the unsaid, modes of expression at once seamlessly unified and genuinely new. Innovation can be a curse, but after years of turmoil, it looks as if, for Keef, the blessings of invention come first once again.